SWAC Report for Chinook School Division: a lot of volleyball
Posted on 6 November 2022 by Ryan Dahlman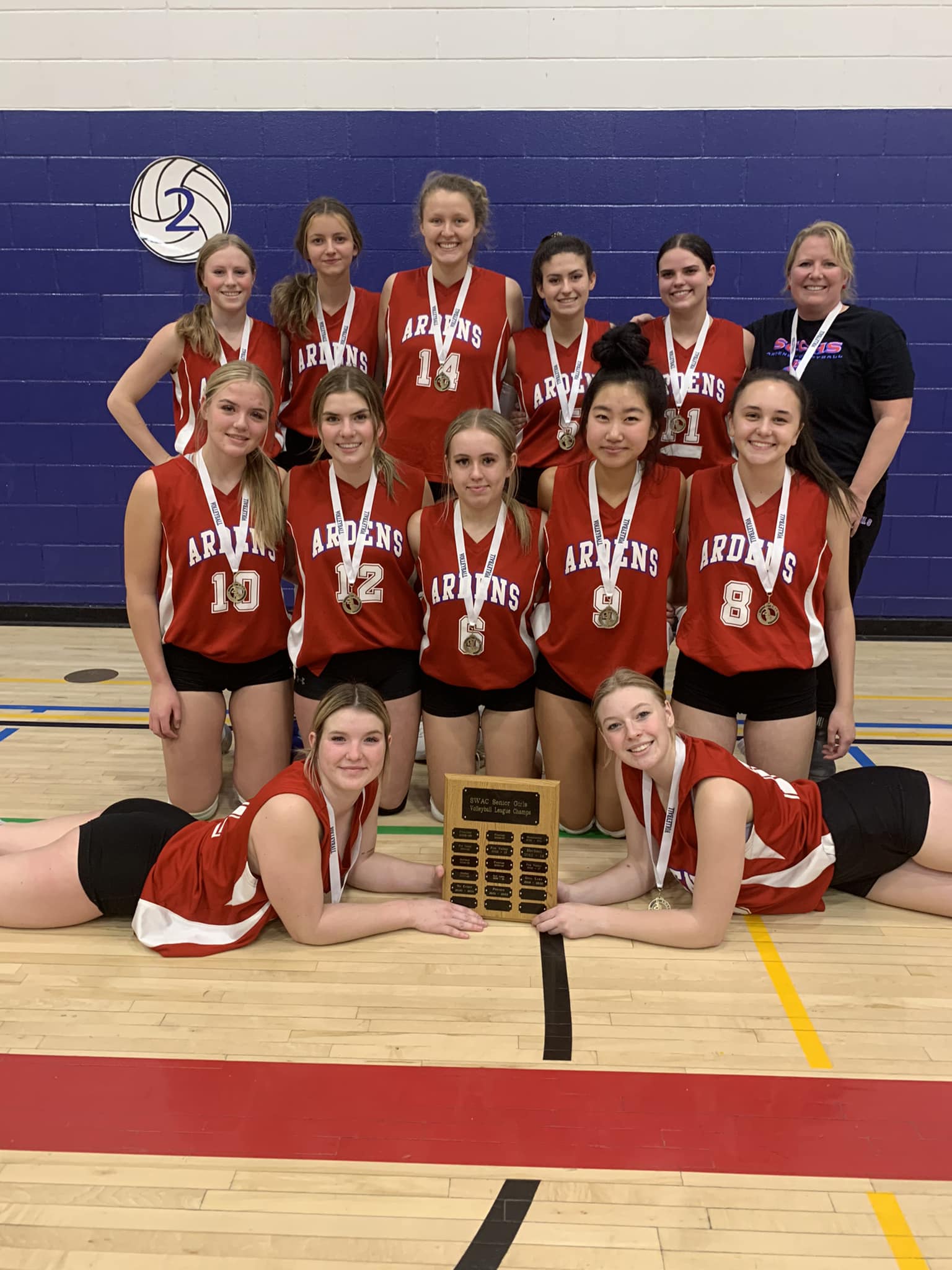 Senior Ardens first in league.
Wow… it's obvious Mother Nature is not a volleyball fan. Thank you to our coaches and school administrators/superintendents who made safe decisions about Chinook school team travel this past week.
Shout out to our volleyball commissioners on Saturday for adapting draws/match times and communicating effectively with teams to get the events completed as quickly as possible (in anticipation of the incoming storm).
VOLLEYBALL
SENIOR LEAGUE:
The SR girls volleyball league playoffs were hosted by SCCHS girls on Tuesday, Nov 1. In the semi finals, SCCHS defeated Ponteix (2-0) and Frontier defeated Vanguard (2-1).
SCCHS Arden Sr B team defeated Frontier in the final to take the league title. Vanguard defeated Ponteix to finish in 3rd place.
The SR boys league playoff was canceled on Wednesday, Nov 2 due to freezing rain and high winds. Frontier will host SCCHS Gr 9/10, Eastend and Hazlet sometime this week. The top four teams have advanced to the league finals.
JUNIOR SWAC Volleyball Championships
Frontier hosted the SWAC boy's championship. There were two teams that could not make it, so a revised four team round robin was organized. In the final, Fox Valley took on Consul in a best of 5 match. It was a very entertaining final with Fox Valley coming away with the junior district title.
Fox Valley was the site of the gir's championship. All the teams were able to attend, so the 6 team tournament proceeded as normal. In the final, Ecole Centennial defeated Leader to win the district championship. This is the second year in a row that Ecole Centennial has won this title.
SHSAA SENIOR volleyball provincial playdowns
All senior teams are placed into Sask High School Athletic Association categories (1A-5A) according to combined gender school enrollment grade 10-12. This means teams will be playing against teams of similar size, though some categories have a large enrollment range. The first level of qualifying competition is conferences, then regionals, and then the provincial tournament.
SHSAA Volleyball Playoffs are staggered (mainly to accommodate all the officials needed). Girls conferences are first, then all girls regionals and 5A boys regionals plus boys conferences are on the same weekend, 5A boys provincials and girls provincials plus 1A-4A boys regionals the following weekend and then the 1A-4A boys' provincial finals complete volleyball season. It is a very busy month of November for volleyball competitions.
Our 1A-3A senior girl volleyball teams competed in SHSAA conferences playoffs on the November 4/5th weekend.
Eastend was to host a six team 1A conference girls tournament, but one team couldn't make it due to travel and one team had to forfeit due to illness. The draw was revamped to become a four team round robin. It was an excellent day of very competitive volleyball.
Hazlet was to play Fox Valley in the 3rd place match, but both teams wisely decided to forfeit the match and get on the road early. In the final, Vanguard defeated Frontier 2-0 to be crowned conference champions. Vanguard went through the tournament undefeated. Both Vanguard and Frontier will advance to the Regional championship hosted in the WestCentral district next Saturday.
A seven team-2A girls tournament was held in Ponteix. Ponteix finished pool play with an 0-2 record (losses to Leader and Gravelbourg) and was eliminated from playoffs. Leader placed first in their pool (wins over Gravelbourg and Ponteix). Gull Lake finished second in their pool (wins over MJ Riverview and Eston, loss to MJ Cornerstone). Leader came up against Gull Lake in the pool crossover semi final, and Leader took the match 2-0. Gull Lake was eliminated from the playoffs, but will attend the provincial championship as host. Leader played MJ Cornerstone in the final and won 2-0. Leader is the conference champion and will attend Regionals in MJ on Saturday, Nov 12.
SWAC 3A girls teams, Shaunavon and Maple Creek, were in Assiniboia and were to compete against 3 other teams from across the southern province. Again, the impending storm made it impossible for one team to attend, so the draw became a 5 team round robin. Briercrest Christian Academy took first place in the tournament. Shaunavon and Maple Creek were tied for second and their final match decided who would place second or third. In this battle of SW teams, Shaunavon prevailed 2-1 over Maple Creek (score of 15-13 in third set). Both teams will advance to Regionals, hosted by Maple Creek, because this conference championship advanced 3 teams to regionals.
The senior boys provincial conference playoffs and 5A regionals playoffs begin on the Nov 11/12 weekend. Hazlet is the site of one of the 1A boys conference tournaments (Fox Valley, Cabri, Frontier are attending). Ponteix will host a 2A tournament against three SouthCentral teams. 2A Leader will travel to Davidson for their playoff against four WestCentral teams. Shaunavon 3A boys will be in Outlook. That conference championship is an 8 team event.
In Regional volleyball action, the 5A SCCHS Colts are in Weyburn and 5A SCCHS Ardens are at Moose Jaw Peacock.
In other great volleyball news, Gull Lake is the host for the SHSAA provincial girls 2A volleyball championship on November 18/19. Gull Lake will host at their school and Fairview school in SC will be used as their second court. SCCHS will host the 5A boys provincial championship on those same dates (running two courts in their gym). If you love watching volleyball, you are in for a treat on this championship weekend.
Follow SWACSports on Facebook, Twitter and Instagram for updated results.