Swift Current Chamber of Commerce hands out SCBEX awards
Posted on 2 November 2022 by Ryan Dahlman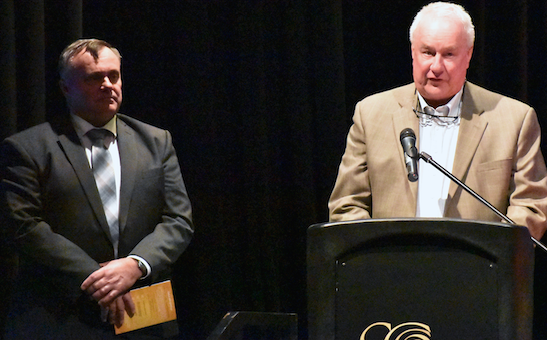 Swift Current Broncos Alternate Governor Al Stewart received the Business Hall of Fame award on behalf of the team. Standing behind is Swift Current Mayor Al Bridal.
The Swift Current & District Chamber of Commerce hosted the 24th annual SCBEX Spirit of Swift Current awards gala at the Living Sky Casino Event Centre, Oct. 28.
The winners in eight award categories were announced at the event. Awards were also presented to recipients in two previously announced categories.
The SCBEX awards recognize the contributions of businesses, not-for-profit organizations and individuals to the community through their entrepreneurship, innovation and dedication. This year's award recipients are:
Start-up/New Business of the Year: The Fill
Small Business of the Year: Riverdene Garden Centre
Medium Business of the Year: Vision Care Clinic
Large Business of the Year: Shoppers Drug Mart
Home-based Business of the Year: Flatland Foods
Employer of Person(s) with Disabilities: Swift Current Broncos
Not-for-Profit of the Year: Swift Current SPCA
Member Business of the Year: Pioneer Co-op
Business Hall of Fame: Swift Current Broncos
Community Impact: Shaun Hanna