Swift Current food bank keeps busy to meet growing need for food support
Posted on 26 October 2022 by Ryan Dahlman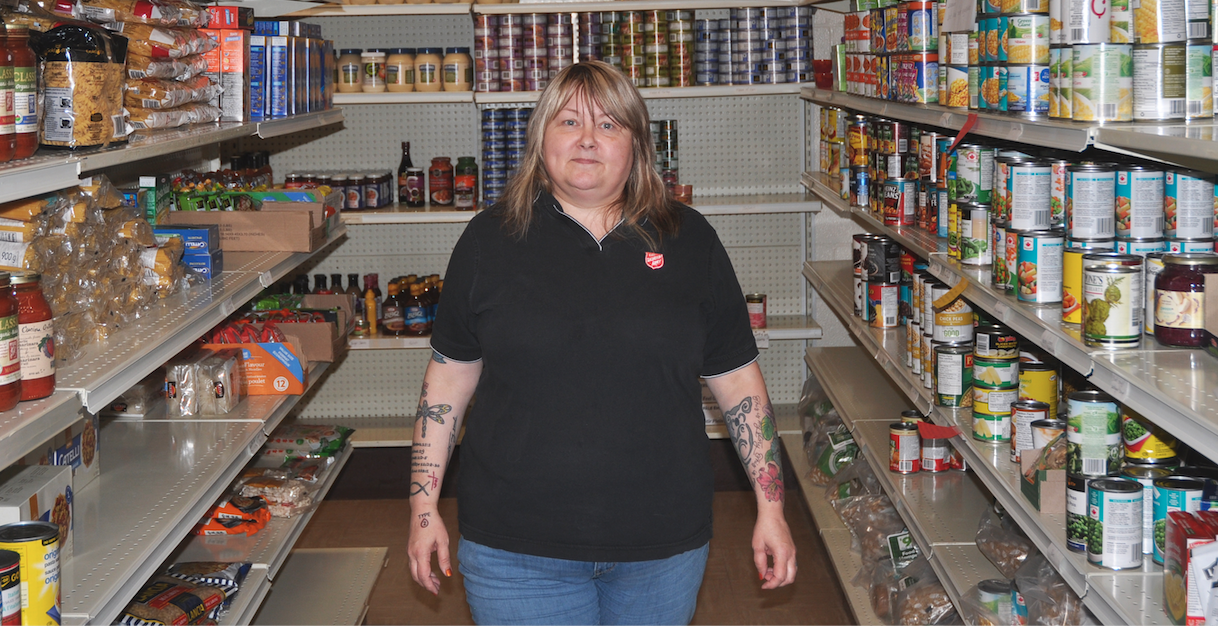 Sue McKeown, the Salvation Army food bank manager in Swift Current, stands next to stocked shelves.
By Matthew Liebenberg
The Salvation Army food bank in Swift Current continues to make improvements to the way services are provided to meet a growing need for food support.
It is a busy daily operation with volunteer teams carrying out a variety of tasks before clients can select food items for their hampers from shelves, pick up pre-packed hampers or take food made available daily to Sally Ann's free market.
Then there is also the receiving side of the operation where donations are weighed, categorized, recorded, sorted and stored.
Sue McKeown, the community and family services worker for the Salvation Army in Swift Current Saskatchewan, is familiar with all the details. She manages the daily operations of the food bank and supervises three teams of volunteers.
"It's a lot, all at once," she said. "Every day is different. You just never know who needs what for assistance."
Appointments and visits to the food bank for support take place four days a week from Monday to Thursday.
"In between those appointments of people coming up and picking up stuff, there are other people who have appointments to come in and shop," she said. "They'll pack up their own groceries, we'll weigh them and let them know what the value is, and they're on their way. So it's running in sync with each other."
The organizational details help to keep things running smoothly, but the essential purpose of all the different arrangements is to ensure that people will have a sense of dignity when they visit the food bank for assistance.
It is the reason behind the different methods of service provision offered to food bank clients. It provides them with choice and they can decide how to use the service.
McKeown was closely involved with the introduction of the shopping model at the food bank in Swift Current, which allows clients to select their own items from shelves, similar to the experience anyone will have when they visit a store.
"Someone else isn't picking it out for them," she said. "They only take what they're going to use or what they like, what their preference is."
She referred to a recent appointment when a client was standing between the shelves while she explained how the model works. He looked at what was there and then asked if he could take some honey.
"I said yes, and he said 'That's the first time I've had honey in years, because I can't afford it,'" she recalled. "So it just gives them a choice."
An added benefit of the shopping model is it cuts down on waste, because there are no unwanted items in hampers.
"It's starting to really catch on with the smaller food banks," she noted. "So far I don't know of any big centres that have it, but for smaller centres it's just a better way of doing things."
There is still a choice of a pre-packed appointment for people who prefer to just come in to pick up their hamper. Even the use of this option has become more efficient due to the rearrangement of the food bank floor plan for the shopping model.
"Our volunteers who are doing the pre-packs for people are like a personal shopper," she said. "So everything is already set up in the store. They get their list and then they'll come and shop through the store, just like anybody else would, but they're selecting and pre-packing things for people. So it's really well organized."
The shopping model was originally introduced at the Swift Current food bank in early 2020, but after the start of the COVID-19 pandemic it became necessary to limit the number of people entering the area and only the pre-packed model was used.
Recently the shopping model was reintroduced at the food bank and she said it is going very well, even in cases where people decide to continue to pick up pre-packed hampers.
"People are specific," she said. "People kind of know what we have. … When I set up the appointments, I put in the notes what they've asked for and what they don't need."
McKeown has seen a definite increase in the number of appointments since she began working at the food bank. From 2018 to 2019 there were around 18 appointments a week, but now there are up to 18 appointments a day for four days a week.
The food bank provides in various needs of clients. There is a special diet section with food items suitable for those with a gluten free, diabetic or halal diet. There are food items such as noodles, cup of soups and Kraft Dinner cups available to individuals who live in motels in the city, where they can only store food in a small bar fridge and do food preparation in a microwave.
The food bank also has a section for baby items to provide diapers, baby formula and food. In addition, there is a special section for personal care times. As with everything else in the food bank, the availability of items in these special sections will depend on donations.
"People just don't really think of that when they think of donating to a food bank and that's actually what we're low on quite frequently," she said.
Since 2020 the food bank has remained open during the Salvation Army's Christmas campaign in Swift Current, and as a result the content and size of the Christmas hamper has changed.
Christmas hamper registration is due to start very soon (check the Facebook page of the Salvation Army Swift Current food bank for updates). Something different will be to provide choice by including gift cards in these hampers for use at grocery stores. The Christmas hamper program will therefore have a need for grocery store gift cards in $25 increments or monetary donations to purchase gift cards.
The operation of the food bank in Swift Current will not be possible without the generous support of the community. It is open every week except for one week after Christmas and one week in summer, which means it needs the ongoing support of the community throughout the year to be able to provide in the needs of clients.
"We're so grateful to the community, all the businesses that support us, and I'm so grateful for our volunteers," she said. "They are a great bunch of people."
Anyone who needs a food hamper can contact the food bank by texting or calling to leave a message at 306-741-0480. Someone who wants to make a contribution or a donation to the food bank can call the Swift Current Salvation Army's main office number at 306-778-0515.