Central School students write a song for Remembrance Day
Posted on 21 October 2022 by Matthew Liebenberg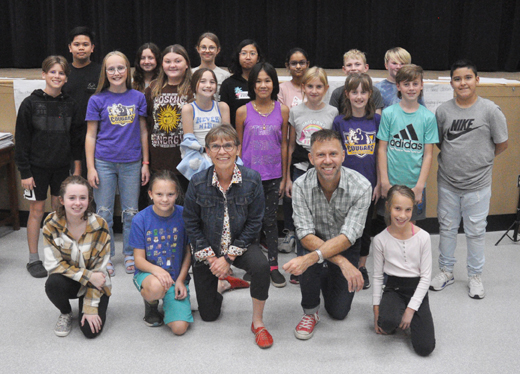 Grade 5-8 Central students with music teacher Celia Hammerton and singer-songwriter Jeffery Straker after the conclusion of the songwriting workshop, Oct. 4. Matthew Liebenberg/Prairie Post
By Matthew Liebenberg
Central School students in Swift Current learned more about songwriting and created a Remembrance Day song that will be performed by the entire school.
A group of Grade 5-8 students participated in a day-long songwriting workshop with Saskatchewan singer-songwriter Jeffery Straker, Oct. 4.
"It was a good day," he said afterwards. "We had 19 students, who had not written a song before, go from no song to full song that they learned and sing really well in a school day, and it's a really good song. So the day was uplifting."
They initially worked in small groups and then came together during the last workshop session to finalize the verse details and melody.
"I took them through this exercise to give them hints to guide them to write the words," he explained. "They wrote all the words themselves and they came up with the rhymes and the repetitions and things."
Thereafter he assisted the group to select a melody for the new song through a collective process.
"When it comes to the melody, that's almost a whole separate thing," he noted. "So I gave them options and they yay or nayed the options to hone in to how we would do it. That started the big picture of the melody. Then what we did, just like any songwriting process, you just sing it a whole bunch of times until you're almost sick of it, but that helps you understand what about the melody works and doesn't work."
The students were fast learners and he was surprised by the speed at which they completed the entire songwriting process.
"They totally understood the essence of Remembrance Day and what it's all about, but I think the surprise with them was the speed at which they started writing the poetry," he said. "It was kind of startling, in a good way."
Central School music teacher Celia Hammerton also felt the songwriting workshop was a resounding success.
"We had a fabulous day," she said. "The kids were totally engaged and had a lot of fun, and learned a lot about the writing process and wrote a song."
The songwriting already started before the workshop with a brainstorming process that involved the entire school.
"I have Jeffery sent me questions on the topic and then I will brainstorm with every class in school so that every child gets the opportunity to offer some of their ideas," she said. "So when they hear the song and they get to sing the song, they might think that was my idea."
The results from this brainstorming process provided the basis for the group of students who participated in the workshop with Straker.
"That's the ideas that the actual songwriting starts with," she noted. "So they're not starting from a blank page. They actually have a sheet of brainstorming ideas to get them going as a starting point."
The title of Central School's new Remembrance Day song is Take Two Minutes. The process after the workshop was to create a backing track for the new song, which was done by local musician Ken Friesen, and thereafter students began to learn the song in preparation for its performance at the school's Remembrance Day assembly on Nov. 10.
Hammerton was able to arrange this songwriting workshop with Straker after receiving a grant from the Saskatchewan Music Educators Association.
"He does such an amazing job with the kids," she said. "I'm just always amazed by what we achieve in a day with them and that's I think down to the way he presents it and the way he works with the kids."
This was the fifth time since 2014 that Central School students participated in a songwriting workshop with Straker. He previously guided them to create a song for the school's centennial celebration, a song for a TeleMiracle performance by the school choir, an anti-bullying song to perform on Pink Shirt Day, and a Cougar Strong song to reflect the school's culture and values.
"It's a great opportunity for the kids to learn about the process of songwriting and realize that they themselves can be songwriters," Hammerton said. "They often think I can't do this, but this gives them an opportunity to try it out and Jeffery is so good at engaging the kids and teaching them about the whole process and helping with it."
Straker is an award-winning singer-songwriter with a busy tour schedule, but he enjoys doing songwriting workshops with both students and adults.
"I've done them for all sorts of things, like recently a centennial of a town," he said. "I've done them for school themes and mottos, but I've never done one for Remembrance Day. So it was really cool."
He released a new acoustic five-song EP titled Just After Sunset a few days after doing the workshop at Central School and he will be going on a two-week concert tour to England in November. These songwriting workshops serve as a reminder of his own experience.
"I was a late bloomer, because I never understood for the longest time that anybody could write a song," he said. "The reason I do this is because I can see little light bulbs go off in some of these young heads. … It's really enabling to create the next generation of musicians and songwriters, because as a songwriter at some point you've got to think about this. Who's going to do this next and how do we keep this wheel rolling. So I'm trying to plant seeds, and not every kid is going to write songs, but I saw a few lightbulbs go off and there are some who I know is going to write more."