Pandemic gave Broncos a financial hit in 2021/22
Posted on 20 October 2022 by Matthew Liebenberg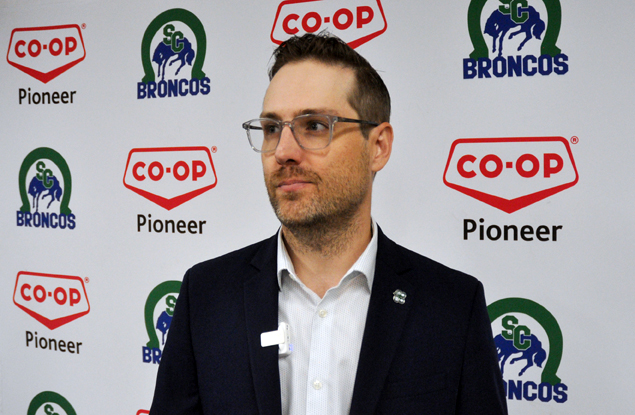 Nathan MacDonald
By Matthew Liebenberg
The Swift Current Broncos is hoping fans will return to the arena to help them overcome a rough 2021/22 financial year with a net loss of $349,295.
Nathan MacDonald, the Broncos executive vice president of business operations, was not surprised about the financial outcome of the 2021/22 season during a media interview after the organization's annual general meeting, Oct. 4.
"Our coffers haven't been emptied by the pandemic and that's a sense of pride for us and something that we are using as our starting point going forward with an exciting team and a lot of optimism in the community," he said. "We're now in a position where we need people to come back to the rink and be a part of the experience going forward and with more commitments to season tickets and more commitments to bums in seats, we'll be fine. We're certainly at a point where those people need to return and need to support the club so that we can replenish the balance sheet from where we were after the championship season."
This significant financial loss was still an outcome of the COVID-19 pandemic, which influenced fan attendance and the team's ability to generate revenue. Attendance figures only began to improve after pandemic-related health restrictions were lifted in Saskatchewan at the end of February.
"While we have a fairly substantial loss for the year, it was better than we projected," he said. "The last third of the season was really positive. We had great fan turnouts coming to our last few games post restrictions and with the playoff push. That really provided a big shot in the arm for us."
Game attendance only became consistently higher than 1,000 people in March. The club sold 1,116 season tickets, which was a decrease of 549 tickets compared to the last full season played in 2019/20.
The club was able to cope with the challenging operating conditions through income from those fans that did buy their season tickets, corporate support through sponsorship and suite rentals, the federal wage subsidy program, and other sources of income.
"We run a very efficient operation," he said. "The costs that we incur are basically just a factor of the ecosystem that we're in. There isn't a lot of areas that we could cut cost from without sacrificing the core product and the core experience for the fans, and so at this point it's a matter of getting bums in seats."
For MacDonald the strong team within the Broncos organization, both the staff in the office and in the dressing room, was a real highlight during the past year.
"I think the culture of our organization is in a really good spot," he said. "We're really fortunate to have the people that we have within the organization at this point and I think from that perspective last year was a good year. They all did a great job and they all worked as hard as they possibly could."
He added the club tried out things last year that worked really well and it helped the organization's bottom line.
"Our 50/50 is now online, it's province wide, and that really increased the sales per person that we've seen over the last year," he said. "Our concession was run really well last year. Everybody did a great job with their role and I think that I can pretty comfortably say that we're in a great position from an organization perspective so that when those fans come back, they really enjoy the experience."
There were some noticeable changes to the hockey operations leadership during the 2021/22 season. Former General Manager and Head Coach Dean Brockman resigned in October 2021. Chad Leslie served in an interim capacity until he became the new full-time general manager at the end of January 2022. Devan Praught was the interim head coach until he was appointed as head coach in early March 2022.
"I felt we were competitive last year," Leslie said during a media interview after the annual general meeting. "It was a hectic year, there's no doubt. We had a lot of things fall in our lap and you never really know how you're handling it until you're going through it. So I learned a lot and I still have a lot to learn, but for the most part we felt that we went in a positive direction."
The team finished the 2021/22 season with a 26-35-5-2 record and was just two points out of a playoff position. He noted that it is still a developing team going into the new season with one of the youngest group of players in the Western Hockey League.
"Potentially we'll have 18 players on our roster that are 18, 17 and 16 years old," he said. "The teams that really make noise in the league have anywhere between nine and 12 guys that are 19 and 20 years old. So we're still considered to be a very young team. … It is a developmental year again, but one that we're going to be competitive. Our guys are poised to get into the playoffs. That's our goal, and there's a lot of pride within our group. So there's a lot of ways to look at it, but I think our guys are competitive. They're going to compete. We have an exciting young group and we'll just take our steps as they come."
While the financial results from the 2021/22 financial year is certainly not what the organization wants to see, he prefers to focus on the hockey side of things and to build the group to a point where they can regularly be in the playoffs.
"I think when you're at that point, that's when you make money, and you put yourselves in a good position," he said. "So we've been building here for three or four years. It's been tough, but we're hoping to take that step and help alleviate some of the strain on the financial aspect of it as well."
Leslie did not feel the team's on-ice performance will be under additional pressure due to the need to attract more fans to the arena.
"We have a lot of pride within our group," he said. "Our players have a ton of pride, but on the hockey upside, our scouting group, and myself, we take pride in the job that we do. So I don't put the burden of the financial aspect into that equation, because to me it still won't amount to the amount of pressure that I put on myself to do a good job."
There were many highlights from the 2021/22 season, of which the fan support towards the end of the season was certainly the main one.
"That was huge for us, having the big crowds, the excitement being that close to the playoffs, and then obviously all the accomplishments of our players," he said.
Those player achievements included seven Broncos representing their countries at the World U18 championship in Germany. Rayan Bettahar played for Team Germany while Mathew Ward, Josh Filmon, Josh Davies, Owen Pickering, Connor Hvidston and Reid Dyck played for Team Canada. It was the first time in Canadian Hockey League history that six players from one team represented Canada at the World U18 Championship.
Five Broncos players were selected during the 2022 NHL draft, which equaled the previous high of five players at the 1993 NHL draft. Ten Broncos were also invited to NHL development camps.
"Obviously the NHL draft was really special for our organization, the players and their families," he said. "There were a lot of highlights for me within the season and it's a testament to the players and the coaching staff and the families involved. So I thoroughly enjoyed the year."