Flag raising at Chinook Education Centre symbolizes commitment to reconciliation
Posted on 20 October 2022 by Ryan Dahlman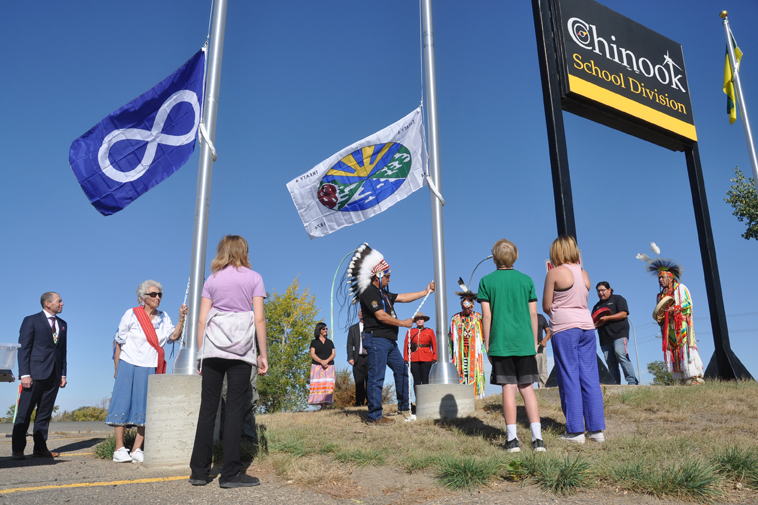 Métis elder Cecile Blanke and Nekaneet First Nation Chief Alvin Francis raise the Métis Nation and Treaty 4 flags during the ceremony at Chinook Education Centre, Oct. 4.
By Matthew Liebenberg
The Treaty 4 and Métis flags are now flying next to the flags of Canada and Saskatchewan at the Chinook Education Centre in Swift Current.
The two flags were raised for the first time at this location during a ceremony hosted by the Chinook School Division, Sept. 4.
The event celebrated the Chinook School Division's educational partnerships with the Nekaneet First Nation and Métis Nation of Saskatchewan Western Region 3. The ceremony was symbolic of the school division's commitment to ongoing engagement that will promote reconciliation through education.
The flags were raised by Nekaneet First Nation Chief Alvin Francis and Métis elder Cecile Blanke. Several speakers addressed the invited guests and students from Central and Maverick schools.
"We celebrate this today because the history of this flag is very important to us," Chief Francis said about the Treaty 4 flag. "It originated here in the southwest on our First Nation."
He spoke about the importance of respect for each other, to get along, and to respect each other's background.
"It's just important that we get along and make the best of all our futures, because if we can move together in a good way, the future will be good for all," he said. "That's what we want to strive for. That's the only thing that's really important here, is striving together in the best way possible."
Irene Oakes from the Nekaneet education committee presented a lesson about the history of the Treaty 4 flag directed at the students in attendance.
Francis is her brother and their father is the late Gordon Oakes, who had a dream about this flag. He served as chief of the Nekaneet First Nation, and the details of his dream was used to create the flag.
The flag's design includes a yellow area representing the sun, the green area is the grass, and the blue area is the rivers. There is also a buffalo on the flag.
"In the Cree way and as well as other First Nations and even the Métis, we see the buffalo as our education," she explained. "It used to be our sustenance, it kept us going, but now it's education that's going to carry us forward. It's only with young people like you that you're going to carry it forward."
Tekeyla Friday, the vice president of Métis Local #35, thanked the school division for honouring Treaty 4 territory and the Métis people of the area. She noted that Métis people have their own unique culture through a blending of French, Scottish and Cree practices.
"Like our cousins, due to racial historical events, we have lost some of our culture and our language, but this is a new era in which we all can preserve everything that we can from our elders and carry on the work that they have started," she said. "We honour both our Métis and Cree elders for their knowledge and respect of the land and stand beside them when it comes to voicing the needs for truth and reconciliation. We all must acknowledge the harms of the past and take actions to correct the mistakes that were made so that we as one people, every Canadian, every culture can share the beauty, resources and prosperity of this abundant land."
Elder Cecile Blanke spoke about the history of the Métis flag and she said a prayer in Michif to bless the flag that was raised during the ceremony.
She traced the origins of the Métis Nation flag back to the voyageurs and the early fur trade. She mentioned that there are two variants of the flag. The infinity symbol is featured on both, but on one version it is against a blue background and on the other version it is against a red background.
"These flags were used many years ago," she mentioned. "It is said it was established in 1700 and predates any other flag in Canada. So when we look at the history, our flag is the oldest flag in Canada."
She spoke about the importance of this event hosted by the Chinook School Division and that it is a special day for her to raise the flag.
"I'm a Métis elder and when I see this flag flying, it gives me a great feeling, because I know it belongs to us," she said.
Chinook Board of Education Chair Kimberly Pridmore said the board is proud to work in educational partnership with Nekaneet First Nation and Métis Nation of Saskatchewan Western Region 3.
"We are committed to answering the Truth and Reconciliation Commission's Calls to Action, especially those specific to education," she noted. "This flag raising relates specifically to Call #63 as a way to build student capacity for intercultural understanding, empathy and mutual respect."
She added that this ceremony will also help to further Call to Action #10 to close learning gaps and increase educational attainment by building relationships with parents and communities while respecting and honouring Treaty relationships.
She described the flag raising ceremony as an outward demonstration of educational partnerships and the event represents the school division's commitment to continue with authentic engagements.
"We hope that the flying of the Treaty 4 flag and the Métis Nation flag acts as a reminder that we will work to create new attitudes and understanding," she said. "We look forward to systemic transformation that will come through our positive mutually beneficial relationship. We are committed to making room for First Nation and Métis influence through the teaching and learning of our shared history for the benefit of all learners."
Chinook Director of Education Mark Benesh said the school division is very proud of this moment and he felt honoured to be part of this special event.
"At the Chinook School Division it's an essential that we create safe and welcoming spaces for all of our students and we need to continue this work by integrating Indigenous knowledge in classrooms," he said. "We will continue to provide opportunities for Chinook staff members to increase their understanding of Indigenous history and we will work to provide resources to support educators in this important work."
He spoke about the school division's commitment to building and promoting cultural awareness and understanding through the inclusion of First Nations, Métis and Inuit content in teaching.
"We will be a place where students are supported and encouraged to strengthen their cultural identity, and experience pride and belonging through inclusion of ceremonies and practices like we're witnessing today," he said.
He referred to the progress already made within the school division through initiatives such as the elder program, the school liaison in Maple Creek, staff meeting presentations, Pow Wow 101 presentations at Maple Creek Composite School, the teepee raising involving students from Fairview and Irwin schools in Swift Current, and multiple classroom presentations happening more often on topics such as Treaty understanding.
Benesh emphasized that Indigenous education goals are not just add-ons. They need to be infused into curricula so that all students can see themselves as belonging in the learning journey.
"The instruction on social leadership demonstrated through the partnership with Nekaneet First Nation at our Maple Creek schools provide a model to expand across the Chinook School Division, helping all of us to become more cultural responsive educators where all students are engaged and prepared for a prosperous future," he said. "We also look forward to building a closer relationship with elders and educators for our Métis Nation to include the rich history, culture and prepare Chinook students to be informed adults who see strength in diversity."