Business chamber reveals SCBEX award finalists
Posted on 20 October 2022 by Matthew Liebenberg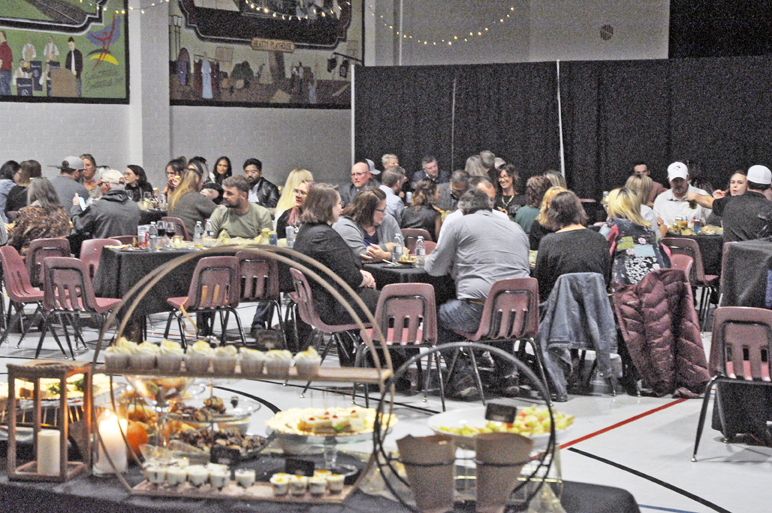 Attendees of the Big Reveal mixer event enjoyed refreshments before the announcement of the SCBEX awards finalists at Great Plains College, Oct. 6. Matthew Liebenberg/Prairie Post
By Matthew Liebenberg
The finalists for the 2022 Swift Current Business Excellence Spirit of Swift Current awards were announced at a Big Reveal mixer event at the Great Plains College, Oct. 6.
Swift Current & District Chamber of Commerce CEO Karla Wiens revealed the three finalists in eight award categories.
The winner in each category will be announced at the 24th annual SCBEX Spirit of Swift Current Business Excellence awards ceremony, Oct. 28.
This was the first time since 2019 that the Big Reveal event took place in person due to the COVID-19 pandemic. Wiens was happy to see nominees and other members of the business community attend in person.
"We've done it virtually for the last couple of years, which is far more impersonal," she said. "I am pleased and lots of people are meeting new people tonight. The Chamber is in the business of connecting people. So I think tonight is mission accomplished, when we can provide a platform for people to come together and celebrate some success. … That's what we strive to do. So yes, I'm thrilled to be back in person."
She noted that 139 well written nominations were received during July and August from the community, which was an indication that the hard work and dedication of nominees were not going unnoticed.
"This year we revamped our nomination form and made it more substantial so that people had to check off certain boxes and write some background about what this business is being nominated for and why," she explained. "So the quality of the nominations that we've received this year were astounding. … Very, very well written and heartfelt astounding nominations for these people that we recognized tonight."
There were 78 individual nominations and some of them were nominated multiple times through different submissions. Some of the award categories had a large number of nominees, for example there were 25 nominees in the small business category, 15 medium business nominees and 10 start-up/new business nominees. There can only be three finalists in each category, but it certainly is still an achievement to receive a SCBEX nomination.
"There's far more people that are not finalists than are, but that certainly shouldn't take away from their accomplishments and recognition by any stretch," she mentioned.
A selection committee that consisted of last year's SCBEX winners had the difficult task of narrowing down the top three finalists in each award category.
"The selection committee has a heck of a job," she said. "They're reading pages and some of those categories had 25 nominations in them. So to pick your top three, that's a tough job, and last year's SCBEX award winners take it seriously. They know how much it means to people and there was a lot of really high-quality words written about each of them."
The final decision on the winner in each category is made through a secret ballot at a meeting of the chamber's board of directors. This process is entirely anonymous and the award winner will not be known until the formal announcement at the SCBEX awards gala.
According to Wiens the annual SCBEX awards process is significant, because it fits in with the business chamber's goal to connect people.
"Celebrating business excellence of any kind highlights from an awareness perspective the things the community may very well not be aware off," she said. "So from our perspective, that's why we celebrate it. It's a very public thank you and kudos, hopefully great exposure for the businesses and non-profit individuals who are nominated here tonight. And anything we can do to say thank you and highlight the great things going on, helps us all in southwest Saskatchewan."
Below are the three finalists in each award category announced during the Big Reveal mixer event.
Start-up/New Business of the Year: Curry Town Fine Authentic Indian Cuisine, Haubie Yard Maintenance & Landscaping, The FILL.
Home based Business of the Year: Allure Nail Salon & Boutique, Flatland Foods, Sletten Residential Contracting.
Small Business of the Year: Brunswick Creek Psychology Services, Riverdene Garden Centre, The Social Bowl.
Medium Business of the Year: Nightjar Diner Co., Railway Health Clinic, Vision Care Clinic.
Large Business of the Year: Shoppers Drug Mart, S3 Group Ltd, Southwest Terminal.
Employer of Person(s) with Disabilities: Elmwood Golf Club, Super 8 by Wyndham Swift Current, Swift Current Broncos.
Not-for-Profit of the Year: Canadian Mental Health Association Swift Current, Southwest Youth Emergency Shelter – Dorie's House, SPCA Swift Current.
Community Impact: Shaun Hanna, Devon Oman, Poppy Parsons.
Two other awards will be presented at the awards gala. These recipients have already been selected by the Chamber of Commerce board of directors. Pioneer Co-op will receive the Member Business of the Year award and the Swift Current Broncos will be inducted into the Business Hall of Fame.
The 24th annual SCBEX awards gala takes place at the Living Sky Casino Event Centre, Oct. 28. Tickets are $100 each, which includes a cocktail reception hour, plated dinner, and awards ceremony.