Curling Club holds prestigious event
Posted on 20 October 2022 by Matthew Liebenberg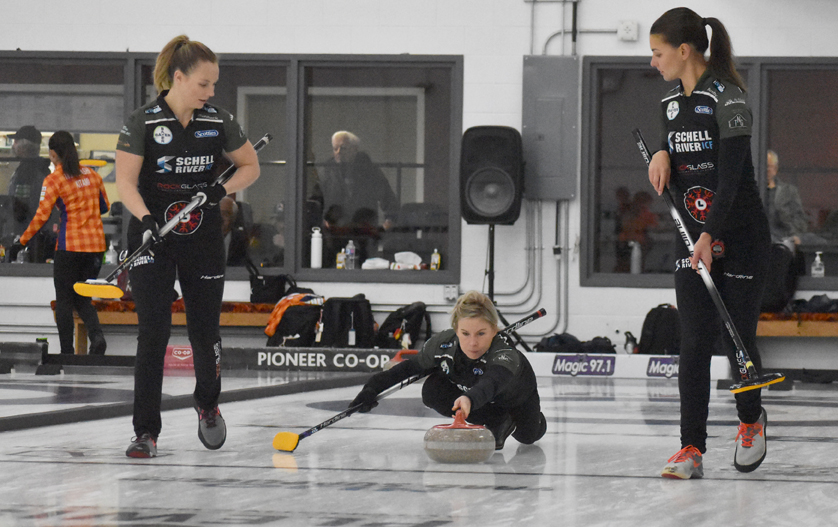 Swift Current curler Kelly Schafer (centre) played with Winnipeg's Team Abby Ackland at the Women's Western Showdown. She is pictured releasing a stone to teammates Sara Oliver (at left) and Mackenzie Elias.
The Swift Current Curling Club hosted an international field of 28 women's teams at the inaugural RBC Dominion Securities Western Showdown, Oct. 13-16.
There were teams from Canada, Germany, Italy, Japan, South Korea, Scotland, Sweden and Switzerland. Among the competitors were three-time world champion Silvana Tironzoni from Switzerland, two-time Swedish champion Isabella Wrana, the 2018 Winter Olympics silver medalist Eun-Jung Kim from South Korea, and two-time Saskatchewan Scotties chamption Penny Barker. Curling fans can look forward to another world class event at the InnovationPlex in Swift Current from Oct. 28-31.
The 2nd annual IG Wealth Management Western Showdown will feature men's teams from various countries, including three-time Olympic medalist Niklas Edin from Sweden, the 2021 Western Showdown champion and 2019 Brier champion Kevin Koe and other top Canadian curlers such as Matt Dunstone, Colton Flasch, John Epping and Steve Laycock.