Four new supportive living units open in Swift Current
Posted on 11 October 2022 by Ryan Dahlman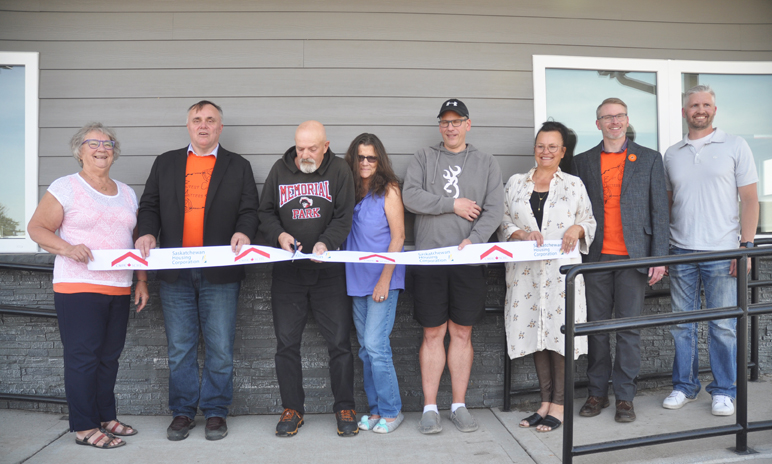 A ribbon cutting took place during the grand opening of four new supportive living units in Swift Current, Sept. 30. From left to right, PPIH Board Chairperson Betty McDougall, Swift Current Mayor Al Bridal, residents Johnny Bainbridge, Denise McSherry and Craig Schuett, PPIH CEO Deborah DeMars, Swift Current MLA Everett Hindley, and contractor Mike Lundgren from Bridal Builders.
By Matthew Liebenberg
Four new supportive living units are providing modern and quality housing for individuals living with an acquired brain injury in Swift Current.
A formal ribbon-cutting ceremony celebrated the completion of the project on the city's south side, Sept. 30.
Prairie Pioneers Independent Housing Inc. (PPIH) received $656,000 in funding through the Canada-Saskatchewan Bilateral Agreement under the National Housing Strategy for this project, which was constructed by Bridal Builders of Swift Current.
PPIH CEO Deborah DeMars said these units fulfill a real housing need in the community and all four are already occupied.
"These units were filled before they were even built," he said. "And I could easily fill another one with clients that have a brain injury."
She noted that individuals with acquired brain injury have previously been tenants in existing PPIH units, but it was not really suitable to their needs.
"We were unable to accommodate them, as our units were not suitable for accessibility with a wheelchair and to some extent limited for tenants who require a full-time use of a walker," she said. "Those prospective tenants then had to submit applications to other places and we soon discovered Swift Current was limited in barrier-free and accessible homes."
These new units have been built to be barrier-free and various design elements are included to support ageing in place.
"The duplex four-plex style lends itself to a greater feel of independence and the opportunity to be more private than a high-rise or a multi-level communal type of property," she said. "In discussions with both Mental Health and health officials in the acquired brain injury field, it is a preferred option where they can live a more private existence by the nature of the design."
Three of the new residents attended the ribbon-cutting ceremony. Johnny Bainbridge enjoys his new home and he felt it is an improvement on his previous place, which was in a high-rise tower.
"It's better designed," he said. "You have more storage and stuff, like bigger cupboards. The bathroom is really spacious and you got a little laundry room in there. Otherwise, it's pretty good."
Denise McSherry previously lived in a PPIH rental unit. She has been living in her new place for a few weeks and feels happy with it.
"It's new and I'm still getting accustomed to it," she said. "It's my home."
Dignitaries and other guests attended the ribbon-cutting ceremony. Several speakers brought greetings during the proceedings.
Mental Health and Addictions Minister and Swift Current MLA Everett Hindley brought greetings on behalf of the provincial government. He expressed thanks towards PPIH for their work in the community.
"Our government is very proud to be part of this important project that makes a difference in the lives of people living with brain injuries or disabilities and will continue working with organizations like Prairie Pioneer Independent Housing to help more people become connected to affordable housing and live in our communities to their fullest potential," he said.
He said the provincial government knows that safe and affordable housing will contribute to the health and well-being of people. The government also appreciates the importance of offering housing options that meet the needs of those who require some additional supports in order to live independently.
"This kind of housing model breaks down the barriers that people with complex needs often face when they're trying to access housing," he said. "It also offers dignity and security and helps foster a sense of community that contributes to residents' wellbeing, participation and success."
Mayor Al Bridal brought greetings on behalf of the City of Swift Current. He congratulated PPIH on the grand opening of the four additional housing units.
"The work you do in our community is vital in ensuring there are affordable housing options for seniors that need some supports, and we know affordable housing is a huge factor in quality of life," he said. "Feeling safe, supported and proud of where one lives is something many of us take for granted, but we must not assume everyone has the same opportunity."
PPIH Board Chairperson Betty McDougall expressed thanks to everyone who contributed towards making this project a reality.
"Our board truly believes that the quality of life in a safe and caring community is vital and that everyone deserves affordable housing options," she said.
The four new housing units are located on the site of the former Prairie Pioneers Lodge, which closed in 2016 after the opening of The Meadows long-term care facility. PPIH purchased the site in 2018 and demolished the old building in order to prepare the lot for future development.
DeMars said afterwards during a media interview the construction of the four new housing units is the first phase of a larger project on the site.
"We're totally dependent on funding from the government," she emphasized. "We as a non-profit can't go at these projects by ourselves. We just don't have the ability to do that financially. So hopefully there'll be to keep this going, but if there aren't funding opportunities, it will take time for us to finally realize our vision here."
PPIH's vision is to have a total of 14 units on the site at the completion of the entire project, of which 10 units will provide long-term housing and four units will offer temporary housing.
"We really identified a need for transition housing, whereas it will be a studio type, like large hotel room, meant to be a temporary housing opportunity for individuals that can then someday move into permanent housing. It just gives them a roof over their heads until we can get them in somewhere else, whether it be our organization, whether it be Swift Current Housing. That's what our next goal is, and it's a real need in our city. There is a lot of seniors, and I don't think everybody knows that, who do face homelessness on a regular basis."
She has already seen the clear benefits and importance of the completion of these new four housing units during the initial phase of the project.
"It's just realizing an opportunity to provide a successful comfortable tenancy for individuals who otherwise find it hard to find appropriate housing," she said. "Let's be honest, market housing is expensive and there isn't a lot out there. When you're on a limited income and you have a disability, it's just an added stress for these people. And since they've moved in, I've just seen the weight of the world off their shoulders. They know that they have a safe place."