Electric vehicle owners share their experiences at Swift Current gathering
Posted on 6 October 2022 by Matthew Liebenberg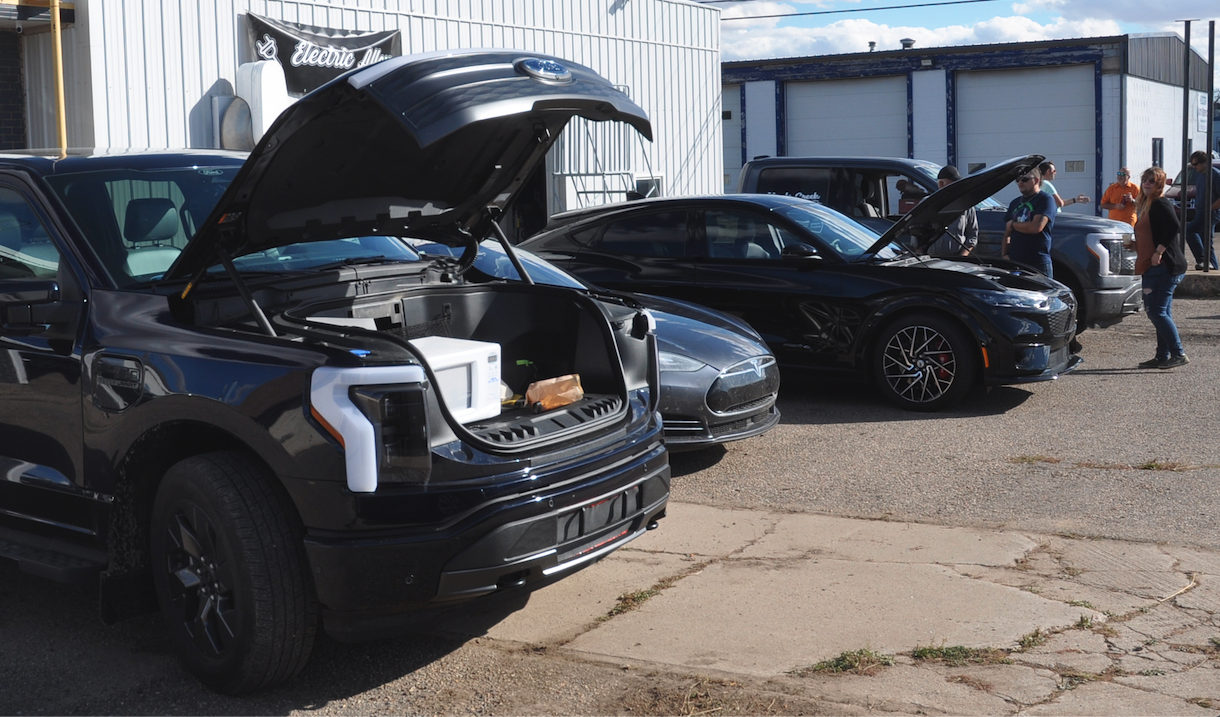 There were all-electric trucks, sedans and sporty hatchbacks at the National Drive Electric Week event in Swift Current, Sept. 24.
By Matthew Liebenberg
It looked like any regular get-together of people interested in cars, with owners chatting about technical details and how fast their vehicles can accelerate.
But there were also a few differences. A truck owner popped the hood of his big Ford truck to plug in a microwave oven and heat up a bag of popcorn. Terminology thrown about included details about regenerative braking, range and charging times.
This was a gathering of electric vehicle owners in Swift Current, Sept. 24. It was held as part of National Drive Electric Week, which took place from Sept. 23 to Oct. 2 to raise awareness about all-electric and plug-in hybrid vehicles.
The event in Swift Current was organized by local resident Lloyd Fehr, who is an avid fan of electric vehicles. Similar events have taken place previously in the city during National Drive Electric Week.
He felt attendance at this year's event compared to the previous one in 2018 was a reflection of the changing electric vehicle market.
"There were only I think six cars last time," he said. "There are over 14 here today and they're not all Teslas. There's a whole bunch of things from Ford to Hyundai to Chevy. The whole gambit."
It is an indication that electric vehicles are becoming more than simply a fringe interest for a few individuals and more people are going electric.
"I'm not that crazy!" he laughed. "I might have been onto something 10 years ago. I'm glad that people are starting to enjoy what I knew back then."
His first electric vehicle was a project carried out a decade ago, when he converted a 1986 Porsche 944 Turbo into an electric car. He has owned a Tesla Model S since 2016 and a few months ago he added a new Ford F-150 Lightning all-electric truck.
This truck was on display at the event and he used the on-board generator function to heat up popcorn in a microwave oven.
"So when the power goes out, you can plug your truck in to power your home," he said.
Fehr believes more people are becoming interested in electric vehicle ownership and they also feel it is more realistic to do it.
"People are realizing that the vehicles are quick, they're very cheap to operate, and there's a lot of different options for people," he said. "I know people are now realizing that you can own an electric vehicle in Saskatchewan. When I started this 10 years ago, I just had to even prove that electric vehicles would work. I bought the Tesla and I wanted to prove that mainstream electric vehicles could work in Saskatchewan in winter. Now we're seeing trucks that are doing truck things that are electric. It's wonderful."
He acknowledged that electric vehicle ownership can still present some challenges during a long-distance trip, when a battery needs to be charged along the way.
"We need to work on the infrastructure more, but back when I bought the Tesla, there were 12 chargers in the entire province," he said. "Now we're over 400 and they're even quick chargers as well. So that means in a matter of six years they have scaled quite a bit. We still have a lot more work to do, but you can travel."
The electric vehicle owners at the Swift Current event came from various locations, including Maple Creek, Shaunavon, Gull Lake, Gravelbourg, Moose Jaw and Saskatoon.
Peter Prystasz came from Eastend in his 2022 Hyundai Ioniq 5 full-electric vehicle. He is satisfied with the purchase and enjoys driving it.
"It's very fast and it's all low to the ground," he said. "So it handles great."
It can accelerate in four seconds from 0-60 miles per hour, which is only a second slower than his motorcycle. It has sport, normal and eco modes, which changes the nature of power delivery and influences the distance one can travel on a fully charged battery.
The vehicle's range on a fully charged battery in summer is 480 kilometres, but he has travelled as far as 500 kilometres with a tailwind. Its range will drop to about 350 kilometres during winter months.
He bought an electric vehicle because it is a greener option. His only concern so far is not with the vehicle itself, but with the lack of charging infrastructure. Another issue is that fast chargers at charging locations are not always working properly.
"You really have to plan your trips," he said. "Distance wise you got to know where you're going."
Dylan Christiansen came from Maple Creek in his Ford F-150 Lightning. The other electric vehicles at the event were clean and shiny, but his truck was covered in dust and dirt. He uses it daily in the family-owned contractor business and it will often travel on gravel roads.
His motivation for buying an all-electric truck is due to potential cost savings with frequent use to travel to various work sites in the area around Maple Creek.
"I'm just getting tired of high fuel prices," he said. "You can save quite a bit of money driving this, now that there are no diesels. … It's a fun vehicle to drive and you're saving money. It's just a nice truck."
His only wish is that it has more range. The travel distance can also shrink when the truck is loaded or pulling a trailer.
"Trailers are the worst," he said. "We have a couple of flat decks that are really efficient. So we try and primarily haul it with this, but we have a couple of trailers that are just like bricks. So we won't even haul with it."
It therefore requires some route planning when undertaking trips with this truck to ensure it is within the available range, but he still felt it is a good buy.
"It's definitely more planning," he said. "You can't just get in and go, like a normal vehicle. That would be the biggest downfall, but you're saving a lot of money. So the pros are definitely outweighing the cons."
He has already saved $9,000 on fuel costs since purchasing the truck three months ago. This saving will continue as the vehicle's mileage increases.
"So it will pay for itself," he said. "That's why I want half a million miles. I feel when it gets to half a million miles, it will 100 per cent pay for itself."
He felt a decision to purchase an all-electric truck should be based on the type of work it will be used for, because it might not be practical when charging stations are not available.
"I'd always recommend it, but it has a time and a place," he said. "It's not good for everyone. If I long-hauled, I wouldn't buy it, but that's just our infrastructure right now. It's not there yet, but we do a lot of short hauls every day. So it works for my situation."