Taking it to the Streets proceeds benefit two non-profit organizations
Posted on 5 October 2022 by Matthew Liebenberg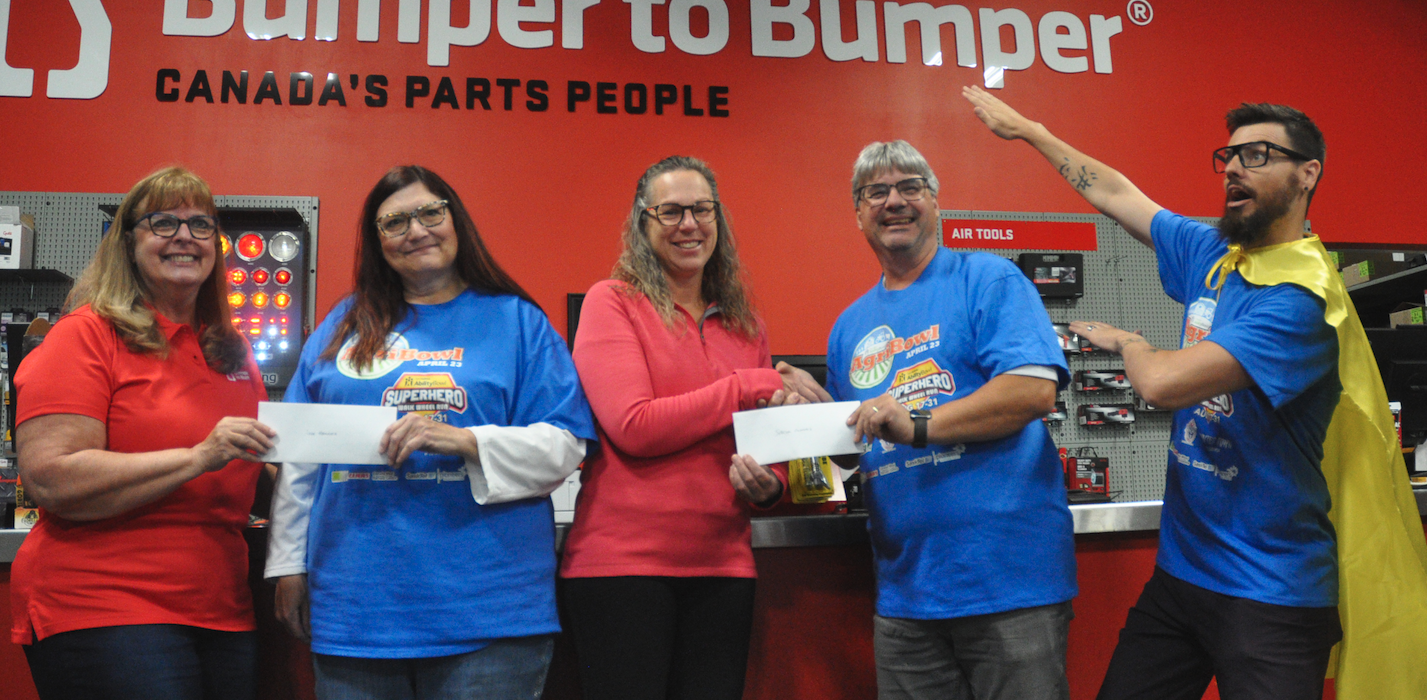 Taking it to the Streets concert proceeds were donated to two Swift Current not-for-profit organizations, Sept. 26. From left to right, Leanne Tuntland-Wiebe (concert co-organizer), Kimi Duzan (SaskAbilities), Rhonda Gleim (Special Olympics), Gord Frank (concert coordinator), and Chris Martens (SaskAbilities), who is depicting the Superhero Walk Wheel Run fundraising theme.
By Matthew Liebenberg
Two local community organizations are the recipients of funds raised at an outdoor summer concert in Swift Current.
The 2022 Taking it to the Streets concert took place at Kinetic Park on Aug. 20, featuring country musicians Gord Bamford, Duane Steele and Karissa Hoffart.
This was the fourth consecutive year that Bumper to Bumper Great West Auto Electric partnered with other businesses to host the event.
"Every year when we do Taking it to the Streets, we always hope that we make a little bit of money to donate back into the community and we made some again this year," event co-organizer Leanne Tuntland-Wiebe said.
The SaskAbilities Swift Current branch and Special Olympics Swift Current were selected as beneficiaries. Each received a cheque of $1,500 during a presentation at Bumper to Bumper Great West Auto Electric, Sept. 26.
The entire purpose of Taking it to the Streets is to be a community event providing entertainment and raising some funds.
"For us and the 56 businesses that partner with us, it's about putting on something that everybody can come to," she said. "We keep the tickets at $20 to that everyone can come. We give away 250 tickets I think this year to special interest groups and to non-profit groups so that they could come there for no cost at all. That blesses us when we see these groups come. … That's what the concert is all about, to be able to see the community there. And if we can make some money and give back out, that just really blesses us to do that."
These two organizations were selected as beneficiaries of the concert proceeds due to their involvement as community partners for the event. SaskAbilities Swift Current have been involved since the inaugural Taking it to the Streets concert took place in 2019.
"They partner with us in that they're there, they're at our concerts, they promote us, we promote their Walk Wheel Run week and they clean up for us afterwards," Tuntland-Wiebe explained. "And these guys went through the grandstands and the arena and it was cleaner than it was beforehand."
She added that this year's concert was really a great success with benefits on different levels for those involved.
"This year really surprised us at how tremendous it was," she said. "The crowd was great, the food truck wars went over huge, the response to Gord Bamford and Duane Steele and Carissa Hoffart was beyond what we had expected. We just want to give the citizens of Swift Current and the southwest a good evening to attend and it really happened this year. It went really well. The Swift Current 57's made a very good proceed off their beer gardens."
Rhonda Gleim received the cheque on behalf of Special Olympics Swift Current. She expressed appreciation for the donation and said it will help to make their activities more financially feasible during the year.
"This money will probably be used to help fund the rental costs to help keep our athletes participating in all the sports that they do and to make it economically available for them," she noted. "[For] lots of them, financials are a trouble for them, but this will definitely help to lower their costs to be able to participate in all the sports that they do."
SaskAbilities Regional Director Kimi Duzan was grateful for this donation on the final day of the 2022 Superhero Walk Wheel Run fundraising event.
"It just means to much, and each opportunity reminds us of the support that we have and the opportunity we have to create employment, recreation, skill development and community involvement for persons who experience disability," she said. "That's what this is all about, creating a place for everyone."
This Taking it to Streets donation was added to the fundraising total for Superhero Walk Wheel Run, and it will be used to support recreational and youth orientated programming.
Duzan mentioned that SaskAbilities wanted to be part of Taking it to the Streets from the outset, because it is a community event.
"It's a perfect alignment with SaskAbilities, because we're about community and building our community together," she said. "So being here and accepting this generous donation with our fine partner in Special Olympics is such a joy for me."