Exhibition highlights the trauma of Sixties Scoop survivors
Posted on 5 October 2022 by Matthew Liebenberg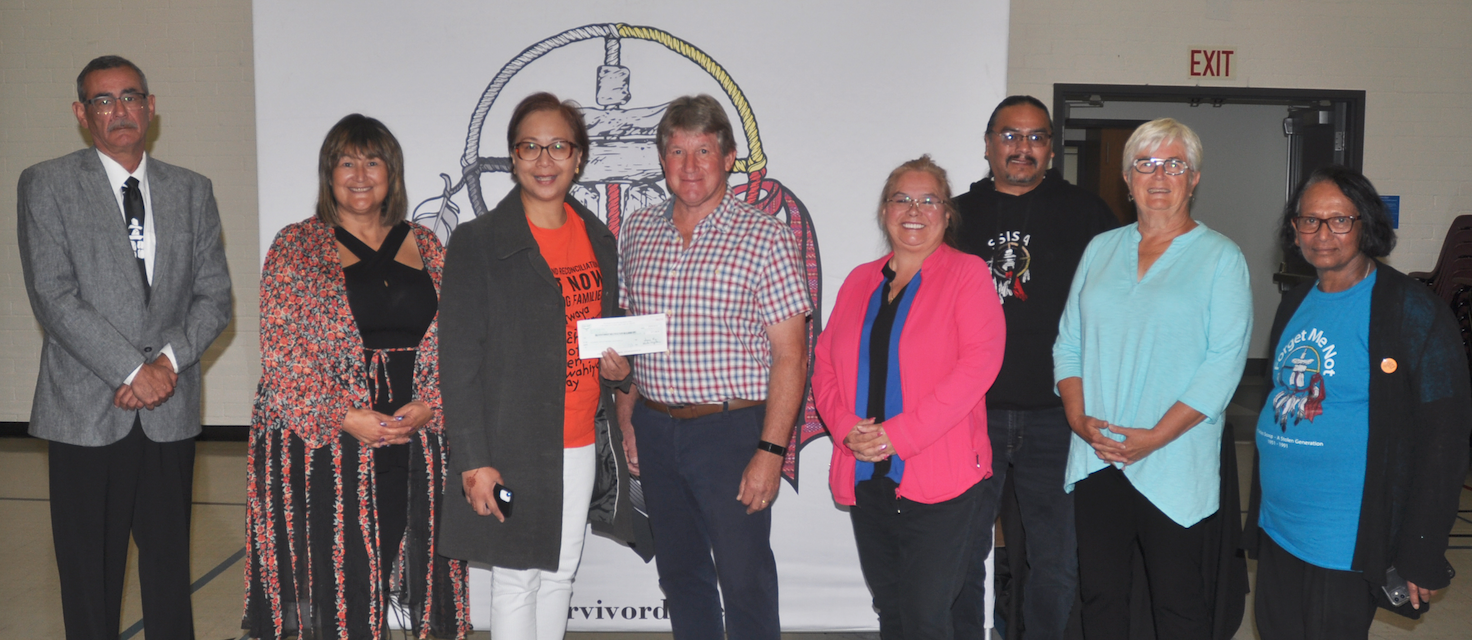 Sixties Scoop exhibition sponsor Pioneer Co-op made a cheque presentation of $1,000 after the conclusion of one of the interactive presentations, Sept. 26. Pictured, from left to right, SSISA Director Lew Jobs, SSISA President Sandra Relling, Southwest Multicultural Association President Catherine Aguilar, Pioneer Co-op Director Mac Forster, SSISA Board Secretary Lorraine Champagne, exhibition technician Daniel Campbell, Pioneer Co-op Board Secretary Donna Bourgoin, and Southwest Truth and Reconciliation Committee representative Bula Ghosh.
By Matthew Liebenberg
An exhibition held in Swift Current as part of various Culture Days events gave a perspective on the importance of culture as part of every person's identity and the traumatic impact experienced by those who were removed from their culture and families.
The Southwest Truth and Reconciliation Committee hosted the exhibition Bi-Giwen: Coming Home – Truth Telling from the Sixties Scoop at the Great Plains College, Sept. 26.
It was presented in partnership with the Sixties Scoop Indigenous Society of Alberta (SSISA). Several members of the organization's board of directors were present at the event.
"When we do take it to communities, we generally get a very positive response with the exhibition," SSISA Inuit board member Lew Jobs told the Prairie Post. "It's also quite emotional for some people that might not be aware of what happened. It could be more emotional if we have survivors coming in and they get triggered by reading similar stories to life experiences of their own and a lot of sorrow. … We hope to have people leave in a more positive way, to understand that this is a very tragic event that happened in our history, but we're working on moving forward."
There were four interactive presentations during the day and attendees at some of the sessions included Great Plains College staff and Grade 8 students from École Centennial School.
The exhibition explores the impact of the Sixties Scoop through the first-person testimonies of 12 survivors. Bi-Giwen is an Anishnaabe word that means "coming home". An honour chair was set up as part of the exhibition for those children from the Sixties Scoop who have been unable to reconnect with their original family and community.
This first-of-its-kind exhibit about the Sixties Scoop was created by the Legacy of Hope Foundation, a national Indigenous charitable organization that promotes healing and reconciliation. It has a mandate to educate and create awareness about the intergenerational impacts of the residential school system and the Sixties Scoop on survivors, their descendants and communities.
The Sixties Scoop was the result of child welfare policies towards Indigenous children in Canada from the 1960s to the 1980s. It resulted in the removal of thousands of First Nation, Inuit and Métis children from their families. They were placed in foster homes and adopted by non-indigenous families.
According to Jobs the Sixties Scoop is still new information for many people. They might have become more aware of residential schools in recent years, but they do not realize there is this legacy from the past that also caused severe trauma.
The impact of the Sixties Scoop has been far-ranging. Children were even sent to other countries for adoption and they have never returned to Canada. Sixties Scoop survivors in Canada continue to live with the trauma of abuse and the loss of their identity, language and culture.
"We don't know our families, we don't know our languages," he said. "A lot of us don't even know where we're from, for that matter. So that's really important that 130,000 of us were taken at one point from 1951 to 1991, and about 25,000 of us are left. I think it's an important part that people understand that this did happen."
He noted that all the SSISA board members who were present for this exhibition in Swift Current are Sixties Scoop survivors.
"I was born in Tuktoyaktuk, Northwest Territories, but raised in Alberta," he said. "I didn't meet my family until I was 26 years old. It took a lifetime to find me. So many times, they took us as far away as they could to try to misplace us, to put us in homes where we wouldn't have any contact with our families, to try to make sure that we forgot about our culture, our language and did their best to assimilate us."
This exhibition has been displayed in many communities since its creation several years ago. Jobs is hoping it will help to create a better understanding of the impacts of intergenerational trauma due to past and present policies.
"This is one big chapter of our history in Canada, starting in the late 1800s with the industrial schools and the residential schools, and then the Sixties Scoop came along," he said. "Millennial scoop is happening. That's our children being taken away and put into foster care. That's still really relevant. I would like people to be more aware of that. It's still going on, it still happens. There's still 70 per cent of our kids in foster homes and group homes across Canada and that number really has to come down. We need more people to be aware of that. It's an industry."
He therefore considered it important that there are ongoing efforts to address the impacts of policies on Indigenous communities.
"The history and the past and moving forward in the future with our kids and our grandkids to try to break that cycle," he said. "And try to bring them back into our communities to ensure that they're welcome and they know where they're from and that they understand their rich history."