Special Olympics provincial awards presented during ceremony in Swift Current
Posted on 29 September 2022 by Ryan Dahlman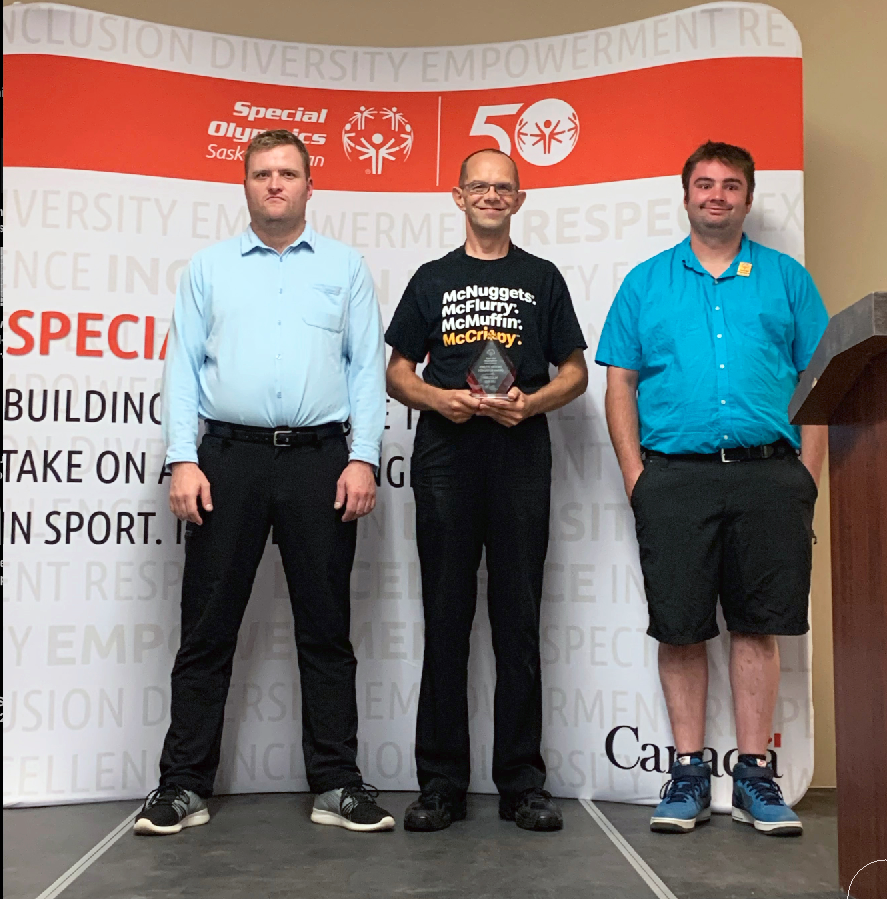 Swift Current's Malcolm Goebel (centre) received the Athlete Lifetime Dedication Award at the 2022 Special Olympics Saskatchewan awards ceremony, Sept. 16. He is pictured standing with the event emcees Carl Paulhus (at left) and Tyler Piercy-Servant. Photo courtesy of Special Olympics Saskatchewan
Contributed
The achievements of athletes, coaches, volunteers and organizations were celebrated at the 2022 Special Olympics Saskatchewan SaskTel Awards ceremony, which took place at the InnovationPlex in Swift Current, Sept. 16.
This year's awards night was held in person and also streamed live for those unable to attend. Swift Current MLA Everett Hindley brought greeting on behalf of the provincial government and SaskTel.
"Special Olympics Saskatchewan is an amazing organization and it truly does some wonderful work encouraging and empowering athletes who have different abilities right across this province," he said. "And not only does this work enrich the lives of children, youth and adults, but it also helps to make our communities more inclusive, more welcoming and educated on the challenges faced by others."
The evening's program was emceed by two athletes, Tyler Piercy-Servant from Swift Current and Carl Paulhus from Moose Jaw.
Several of the awards presented during the evening gave recognition to individuals with an affiliation to Special Olympics Swift Current.
Malcolm Goebel from Swift Current received the Athlete Lifetime Dedication Award, which is presented to a long-standing athlete who exemplifies the spirit, philosophy and goals of Special Olympics Saskatchewan and the Special Olympics movement over the course of their career.
He has been an athlete with the Special Olympics program in Swift Current for 35 years. He has competed locally, provincially and nationally in a variety of sports, including basketball, track, ball, speed skating, bocce, floor hockey and bowling.
Goebel is a dedicated and valuable member of the local program. He serves as a role model for others and he helps new athletes to learn the sport.
Eric Lautsch from Swift Current, who currently coaches in Saskatoon, won the Coach of the Year Award. He was a training coach for an athlete scheduled to attend the 12th Special Olympics World Winter Games in Russia in January 2023, but the event was cancelled over safety concerns due to the Russian invasion of Ukraine.
Eric also received a 10-year pin during the awards night, while Theo and Stan Lautsch received their five-year pins.
The Special Olympics Swift Current committee received the Community Excellence Award. The recipient of this award is selected by the Special Olympics Saskatchewan provincial office. It is awarded to a community for their effort to have high-level and quality programming and for supporting provincial initiatives and fundraisers.
Below are the winners in the various award categories presented at the 2022 awards ceremony:
Athlete Lifetime Dedication – Malcolm Goebel (Swift Current); Athlete of the Year – Billy Wesley (Regina); Bob Pedde Memorial Award – Linda Kapasky (Regina); Coach of the Year – Eric Lautsch (Saskatoon); Community Excellence – Swift Current; Honorary Life Member – Ted and Janice Hamm (Saskatoon); Junior. Coach of the Year – Ben Rayner (Regina); LETR Outstanding Service – Rhonda Meakin (Prince Albert); President's Citation – Sobeys; Shining Star – Candace Bates (Regina); Team of the Year – Special Olympics Saskatoon basketball; Unsung Hero – Phyllis Madigan (Regina); Volunteer of the Year – Melissa Romanow (Moose Jaw); Unified Sport Spotlight – Dr. Martin LeBoldus High School (Regina).