City of Swift Current Community Services Division creates communication initiative
Posted on 28 September 2022 by Prairie Post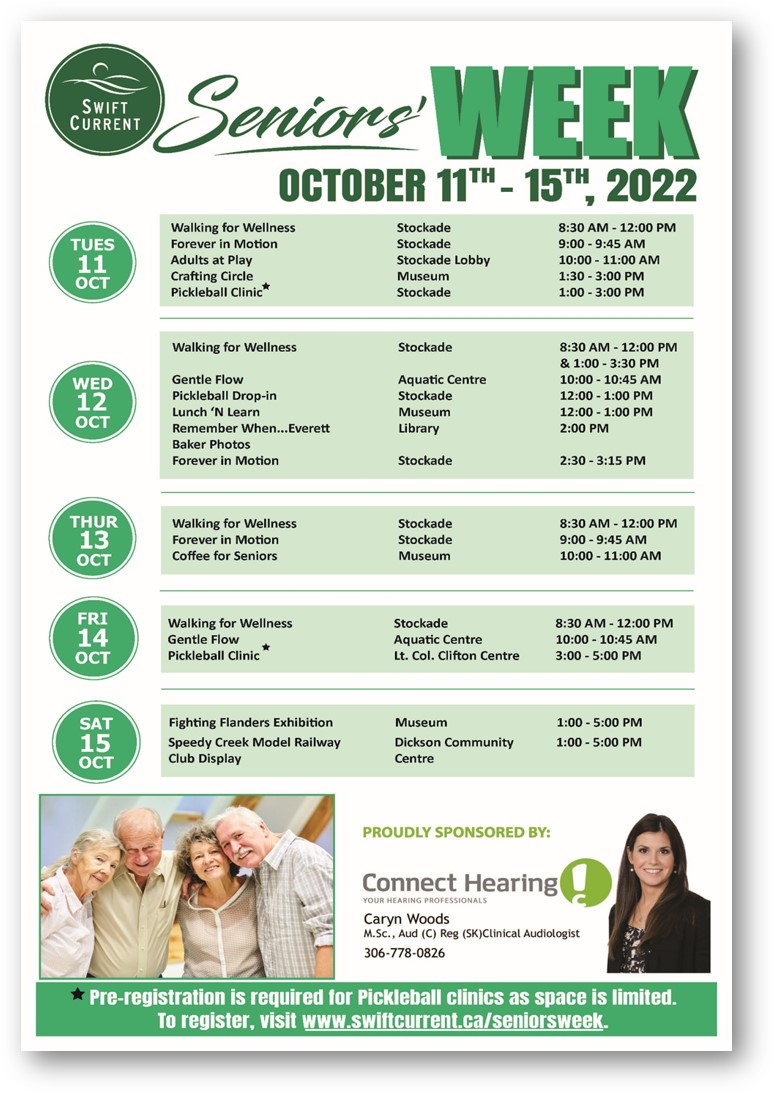 The City of Swift Current Community Services Division is excited to announce the creation of Seniors' Source! This communication initiative is all about supporting Adults 55+ who are looking for ways to get involved in recreation. Community Services will provide a monthly calendar detailing all the recreation options seniors can access in City facilities. They will also be issuing three Seniors' Source newsletters per year, providing community information and announcements celebrating our community members 55 years and older.  These communication pieces will be available on the City website, as well as available in paper copies at City Hall.
A highlight of this initiative in the month of October is Seniors' Week which runs from Oct. 11th to 15th in Swift Current. This special week encourages all of us to come together to recognize how important seniors are every day in our community by providing programs and supports in the areas of art, culture, sport, and recreation.
Connect Hearing is proud to be sponsoring Seniors' Week in Swift Current. There are a wide variety of activities and programs for our seniors to participate in, free-of-charge, throughout this period. Most of these activities can be enjoyed throughout the year on a regular basis in the City's facilities. The schedule for Seniors' Week is outlined in the attached graphic, and it is recommended that participants wear appropriate clothing, footwear, and bring a water bottle for the physical activities. Anyone 55 years of age and older are welcome.
* To register for the Pickleball clinic, please visit http://www.swiftcurrent.ca/play, then click "Recreational Programming".
For more information, contact Community Services at 306-778-2787 or visit http://www.swiftcurrent.ca/play.