SWAC Report for ChinookSD (September 18)
Posted on 21 September 2022 by Prairie Post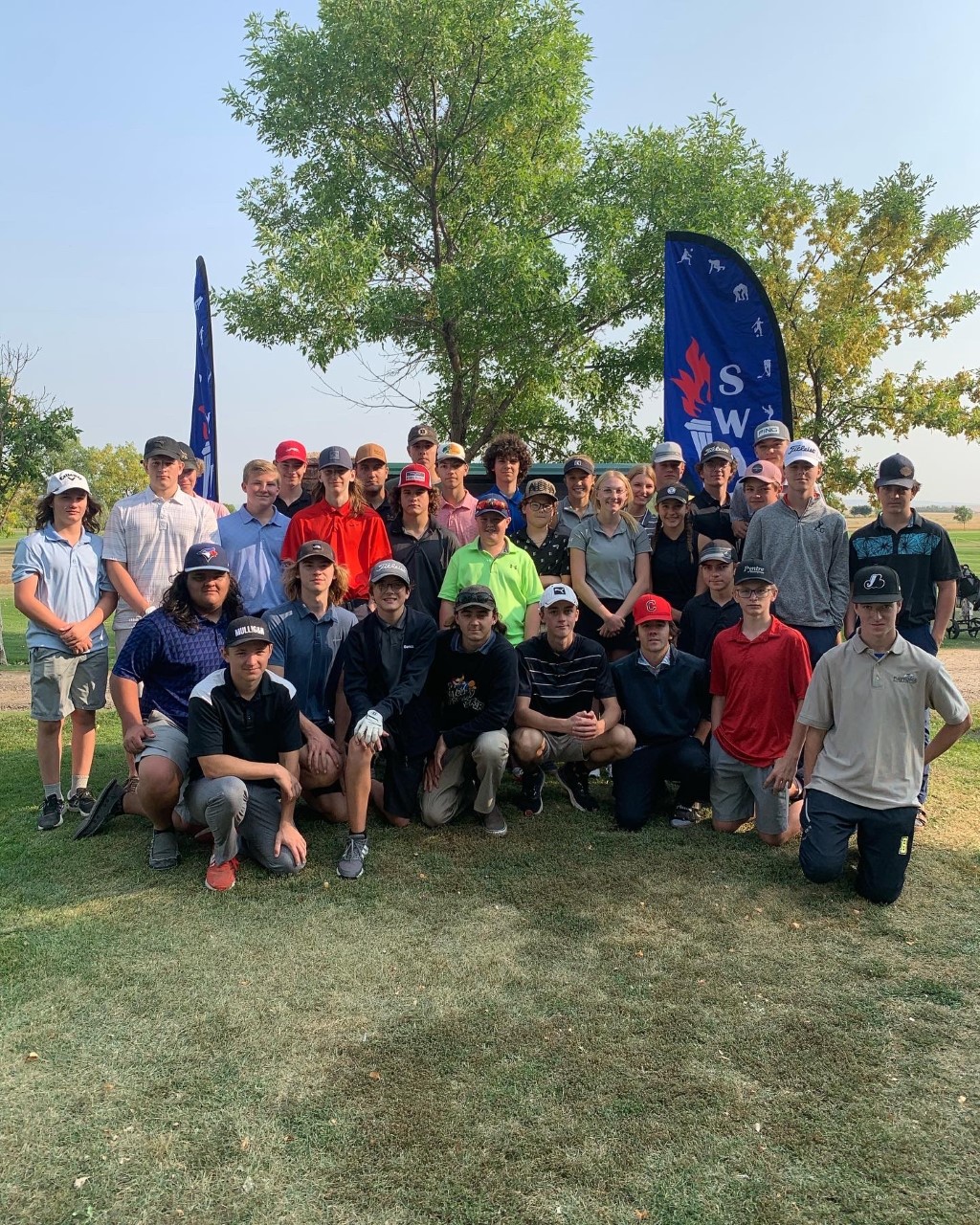 Golfers who participated in the championship tournaments in Maple Creek recently.
Follow SWACSports on Facebook, Twitter and Instagram for up-to -date results from league play.
GOLF:
SWAC had an amazing turn out for the championship on Wednesday, September 14. We had 38 male and female golfers from 8 different schools take part. That is the biggest group of golfers we've had in recent memory.
Thank you to Tyson Krause for being commissioner of the event and Maple Creek for being the host site. Maple Creek golf course was in awesome shape and the volunteers Tyson organized were top notch.
SWAC can send four girls and four boys to SHSAA provincials. Swift Current golfers took the top four places, in each category, after 18 holes of play. The SCCHS golfers, and coach Karin Langendoen, will represent SWAC at the provincial competition in Wapiti (Melfort) on September 23/24. Congratulations and Good Luck!!
Girls Championship:
1st – Niya Friesen (79 score)
2nd – Lyla Thiessen (86 score)
3rd – Mia Riegel (95 score)
4th – Caitlin McGregor (99 score)
Boys Championship:
1st – Ryder Woods (75 score)
2nd – Makstr McIntyre (76 score)
3rd – Ayden Ross (78 score)
4th – Logan Lenz (79 score)
FOOTBALL:
The Swift Current 12 man football team had a bye in the 12 man league schedule this week. The Colts will play in Yorkton on Saturday, Sept 24 (2:00 kick off).
In the 9-man football league Maple Creek hosted Gull Lake "under the lights". Maple Creek won this battle of SWAC teams by a score of 24-13. Shaunavon was on the road to Indian Head. The Shadows were on the losing end of a 41-13 score.
On Friday,September 23, Gull Lake will host their first home game against Notre Dame. Shaunavon will host a battle of SWAC teams with Maple Creek traveling to play the Shadows.
SOCCER:
The SC Ardens hosted Centennial Collegiate (Saskatoon) for three exhibition games on the weekend. The Ardens continued their winning ways and won all three matches. Their next MJ league game isn't until Sept 28.
SCCHS Colts lost their first league game to Moose Jaw Central by a score of 2-0. The Colts followed that match with two soccer games in Moose Jaw on Saturday, Sept 17. They boys won a nail biter over Yorkton Sacred Heart (3-2) and then dropped the next game against Yorkton Regional (5-0). The Swift Current squad's next Moose Jaw league game is October 1.
VOLLEYBALL
SWAC senior volleyball leagues start this week. We have eight girls and eight boys teams entered. That is the biggest participation SWAC has had in many years.
Host/participating teams for girl's league on Tuesday, Sept 20 are Vanguard (Eastend attending), Frontier (Shaunavon and Ponteix attending), and SCCHS (Herbert and Hazlet attending).
Hosts/participating teams for the boy's league on Wednesday, Sept 21 are Consul (Hazlet attending), Cabri (SCCH gr 9/10 and Frontier attending), and Shaunavon (Eastend and Herbert attending).
In other great volleyball news, Gull Lake is the host for the SHSAA provincial girls 2A volleyball championship on November 18/19. SCCHS will host the 5A boys provincial championship that same weekend. If you love watching volleyball, you are in for a treat that weekend.
Cross Country:
The SWAC championship (gr 4-12) will take place on Wednesday, October 5 at Lac Pelletier. Races are run for Pee Wee, Bantam, Intermediate, Junior, and Senior categories. Those who are Intermediate/Junior/Senior runners will advance to the SHSAA championship at Wapati on October 15.