City unveils new strategic plan – "In Good Hands"
Posted on 20 September 2022 by Prairie Post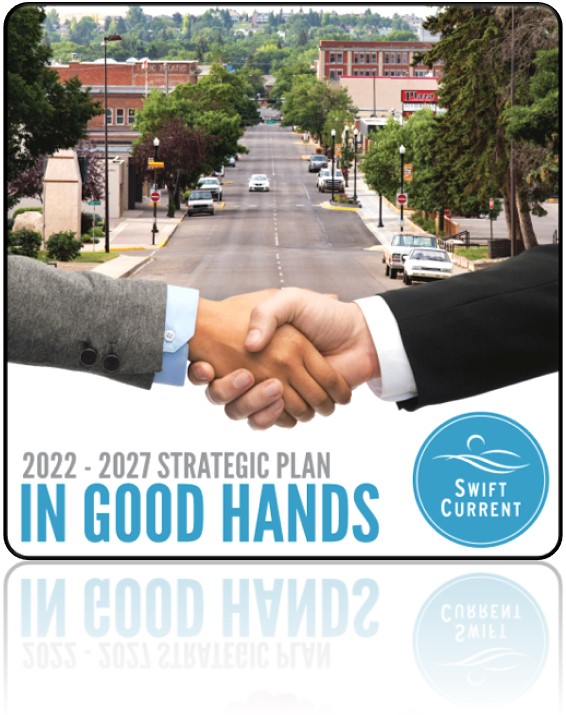 Contributed
The City of Swift Current Council and Administration have put forward a new five-year strategic plan.
The strategic priorities were developed based on consultation with focus groups, community engagement surveys, internal workshops, and planning sessions.
Advancing the community with enhanced quality of life, strengthening the City's economic position, enhancing operations and services, and improving the municipal organization are just some of the goals outlined in the plan.
"The Strategic Plan is all about putting trust in one another," explains Mayor Al Bridal. "We didn't build this alone; we asked for as much feedback as we could gather from our community and our administration. The theme conveys our commitment to the public that they're In Good Hands, and we are too, because we've co-created these strategies with the people we serve."
City of Swift Current Chief Administrative Officer, Tim Marcus, explains further, "We are excited to implement the City's new Strategic Plan into everyday business, at every level of our operations. Our core values are represented in the strategic goals, so it's easy to see who we are, what we're trying to accomplish, and where we're going – the plan is like a map reminding us how to get there. As we integrate the plan into all aspects of our service to the public, we will communicate our progress."
The Five-Year plan "In Good Hands" can be viewed in full on the City of Swift Current website at swiftcurrent.ca/stratplan, and through the City's social media accounts. Print materials are also available at City Hall.