Handcycling journey raises awareness about mental health
Posted on 14 September 2022 by Ryan Dahlman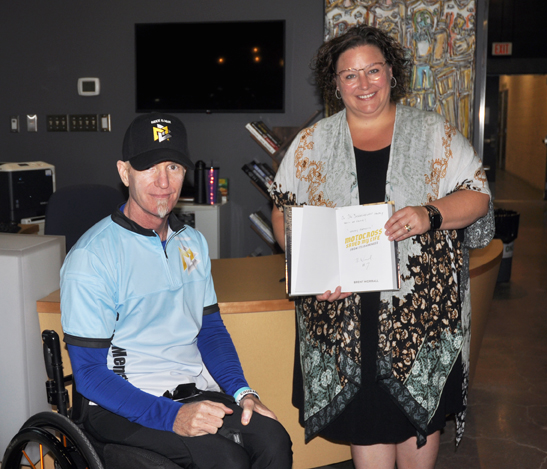 Handcyclist Brent Worrall presents a signed copy of his book to the Ted Knight Saskatchewan Hockey Hall of Fame, Sept. 7. The book is received by Swift Current Museum Director Melissa Shaw.
By Matthew Liebenberg
Multiple trauma and brain injury survivor Brent Worrall from Penticton, B.C., undertook a 400-kilometre handcycle ride from Swift Current to Humboldt to share his personal story of living with post-traumatic stress disorder (PTSD), overcoming trauma and the importance of mental wellness conversations.
His journey started at the Ted Knight Saskatchewan Hockey Hall of Fame in Swift Current on Sept. 7 and concluded in Humboldt on Sept. 12.
He felt excited and happy about the start of the journey after months of intense preparation for the trip. He logged 7,700 training kilometres since October 2021 on his handcycle.
"It was almost in a way, without trying to be too cliche, like Sylvester Stallone training to beat Ivan Drago, because all winter long out in Coldstream, B.C., I would ride in minus five to minus 10-degree temperatures," he said. "As long as the roads were clear of snow, the cold never stopped me and that's actually quite dangerous, because being a T3 complete paraplegic I don't have what's called a body thermostat. So I could go from zero to hypothermia in a heartbeat, but my wife and I were prepared."
His intention was to carry out the 400-kilometre trip in the same way than his approach during the many months of preparation.
"It's just one day at a time, one step at a time, much like my training," he said. "I've just taken it day to day, because with my personal life and some of the things that I've processed and overcome, a daily commitment is required and truly the only thing of any value is today, because it is the only reality. I learned that and started to live it and stopped staring back at the things that I'm unhappy with, and there were some pretty tragic things, but those things weren't going to change. I had to change."
Worrall is a former Canadian national champion motocross racer. He struggled for many years with depression, alcohol, drugs and compulsive gambling before making a comeback to the sport. He had a near fatal crash as a result of a mechanical malfunction during a race in 2011, and he flat-lined four times on the operating table. He broke his back and neck in six places and suffered from several other fractures and collapsed lungs.
He had a long recovery and had to adjust to a new life as a T-3 complete and below paraplegic with no voluntary movement or feeling below his arms. He was diagnosed with PTSD in 2017. He began to write a book during that same year, which was published in 2019 with the title Motocross Saved my Life: From its Darkness.
He began training and participating in events with a handcycle, which became part of his process of recovery and healing.
"It's taken me this long to get here, and at the same time in a body at one time that I thought was at wits end and ready to pack it in," he said. "It's the opposite now. I do everything in my power to make it as good as it can be, and I won't say it's a struggle, but it's a challenge and the challenge keeps it real. … . Part of this for me too is showing what the handcycle has done for me, and how good it makes me feel about my life and how it enhances my physical health."
He believes it is important to give back through talking about his personal experiences and trauma.
"I consider my recovery in PTSD to be fairly young and new," he said. "My accident was 11 years ago, but I was involved in some other things that were probably more responsible for my PTSD than my accident. Just to get it all out and not to be ashamed of it has really helped. … Some of that stuff hurts, some of it might leave a scar forever, but that's OK. We're all human. PTSD recovery doesn't mean that stuff goes away. It means that our brain and body are able to process it and then put it in remission or be at peace."
He was looking forward to his arrival in Humboldt at the end of the 400-kilometre handcycling journey, where he was scheduled to speak to 450 high school students.
"It's just really special to me to know that I have an opportunity to maybe be the first person they've heard share openly about some things that they're not used to them sharing about," he said. "I think it's a great way to plant the seed, and if not for today, maybe down the road, because we all have a story. … I believe more people need to tell their stories, because it's very healing and it's also a good way to give back and I don't think people realize that."
He hopes that his efforts will contribute to mental wellness conversations and to increase respect for mental health.
"My mental health is the most important thing in my life, because when I get up in the morning, everything that I do, every concerted action that I take starts in my brain," he said. "I just don't want people to give up. Keep the conversation going, you're worth it. Life is gold. My favourite hashtag is life is gold. I've looked everywhere for it and I'm starting to feel it inside."