New trustee appreciates opportunity to represent community on education board
Posted on 7 September 2022 by Matthew Liebenberg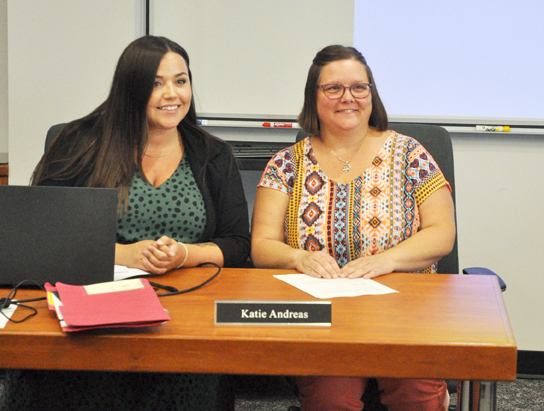 New trustee Keri Hudec (at right) with Chinook School Division Executive Assistant Katherine Andreas after taking the oath of office during a regular Chinook Board of Education meeting, Aug. 22. Matthew Liebenberg/Prairie Post
By Matthew Liebenberg
The new Chinook School Division trustee for Subdivision 1 appreciates the opportunity to represent the community at the board table.
Keri Hudec took her oath of office at the start of a regular meeting of the Chinook Board of Education in Swift Current, Aug. 22.
She was elected in the Aug. 10 by-election for Subdivision 1 in the northwest part of the school division. The schools in this subdivision are located in Burstall, Fox Valley and Leader, and include Haven and Estuary Hutterian schools.
The trustee position became vacant after long-time school board trustee Dr. Shane Andrus resigned from the board due to his relocation. He served for nine years as trustee for Subdivision 1.
Hudec felt it was an opportunity to serve the community in a different role than being a parent or a teacher, and therefore submitted her name as a candidate in the by-election.
"I just thought it was something that I could do to help my community, to help my kids, the students of the school, the families in the area, and just another way I could advance education and serve my community," she told the Prairie Post.
She is a long-time resident of the area and currently works as a municipal employee in Fox Valley. She has been the administrator for the Village of Fox Valley for seven years and she has also been the R.M. of Fox Valley administrator for over two years.
She was a teacher before her current career in municipal administration. She obtained a teaching degree at the University of Saskatchewan and began her teaching career in Piapot.
"I finished teaching in Fox Valley with some time in Golden Prairie and some time in the Haven Hutterian Colony," she said. "I quit to have kids and went back subbing. When it was time to go back to work, there was no teaching opportunities for me, unless I wanted to travel, which I did not. So I went back to school and I'm now the administrator for the R.M. and the Village of Fox Valley."
She spent in total about 15 years in the teaching profession and she values the importance of education in everyone's life.
"You won't get anywhere in life without some quality of education and that begins in your home town in your elementaries and your high schools," she said.
Hudec is grateful for the support of the voters who elected her in the by-election to represent them as their trustee. Her first priority is to learn how the process works and to become familiar with the functioning of the Board of Education.
"I do think I can make a difference," she said. "I have a very logical voice, I think a common-sense voice, and I think along with the members of the board we together can make some very positive decisions for our schools and for our communities."
She felt the provision of educational services to rural communities is a key challenge for the education system.
"The rural communities are becoming less and less populated," she said. "So it's getting very difficult to get funding and to keep and retain our people, whether that's our students or our teachers. I feel Chinook has done a very good job with this, but another reason that I wanted to join the board and join the program is help keep our families and keep our communities strong."
She expressed appreciation for the contribution of her predecessor, Dr. Shane Andrus, during his time as trustee for Subdivision 1.
"He had one of the most eloquent and graceful terms," Hudec said. "He was very good to talk to, he was just very well educated, and great representation for our area."