Nomination submissions open for Queen Elizabeth II Platinum Jubilee Medal
Posted on 1 September 2022 by Prairie Post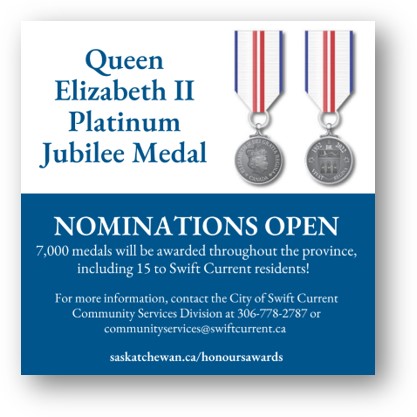 In Honor of Queen Elizabeth II, and the 70th anniversary of her Accession to the Throne as Queen of Canada, a commemorative medal is being struck by the Government of Saskatchewan. This will be a tangible way to recognize 7,000 outstanding members of the province, including 15 from right here in Swift Current. These medals will recognize Saskatchewanians of all ages and from all walks of life, who have contributed to their community and province through their service and achievements.
Eligibility Criteria:
• Must be a resident of Saskatchewan or have a tangible link to Saskatchewan, at the time the medal is granted.
• Have made a significant contribution to Canada, Saskatchewan, or to a particular region or community in the province; and
• Been alive on February 6, 2022, the 70th anniversary of Her Majesty's Accession to the Throne.
Recipients should be those who have helped build the Saskatchewan of today. When nominating individuals, nominators should highlight which areas their nominee has benefitted the community in, such as arts, health care, education, agriculture, volunteer service, etc.
Anyone from the public can nominate anyone if they qualify through the above criteria. The City of Swift Current Community Services Division is accepting nominations for Swift Current residents. Nominations for residents of smaller municipalities will be administered by Saskatchewan Urban Municipalities Association (SUMA), Saskatchewan Association of Rural Municipalities (SARM) and New North – Saskatchewan Association of Northern Communities.
Nomination forms will require the following information of the individual being nominated: name, address, contact information, field of contribution and a nomination statement.
Nomination forms and a list of partners accepting nominations can be found athttps://www.saskatchewan.ca/government/heritage-honours-and-awards/queen-elizabeth-ii-platinum-jubilee-medal.
Completed nomination forms can be submitted to Community Services, either by email at communityservices@swiftcurrent.caor to the Community Services desk at City Hall. Nominations will be accepted until October 31, 2022 @ 4:30 pm.