Fire caused extensive damage to Stewart Valley school and community centre
Posted on 29 August 2022 by Matthew Liebenberg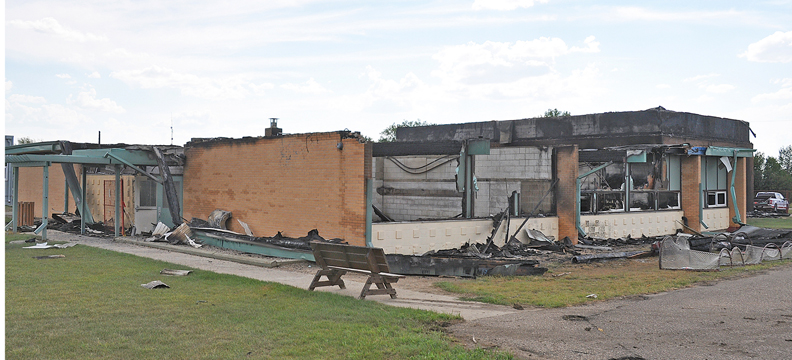 The fire damaged structure of the Stewart Valley school building.
By Matthew Liebenberg
A major fire caused significant damage to the school and community centre in the village of Stewart Valley, located 35 kilometres north of Swift Current.
The fire broke out between 6 a.m. and 7 a.m. on Aug. 26. Firefighters from several fire departments battled the blaze with support from farmers, businesses and community members who came to help and brought water on trucks. The cause of the fire was still under investigation at press time.
The Chinook School Division announced in a a media statement released late afternoon on Aug. 26 that the school building suffered extensive damage and it will not be functioning for the upcoming school year.
"This is a devastating and traumatic loss for our Stewart Valley School community," the statement said. "Chinook will be providing counselling and supports in the community for staff, students and school families. The division's Emergency Management Plan has been implemented and we are currently working on an operational plan for the upcoming school year. We will be meeting with staff and school families as soon as possible."
The importance and significance of the school and adjacent community centre to the community was also highlighted in a post on the Village of Stewart Valley Facebook page on Aug. 26.
"This complex was the centre of activity for our residents of the village and the neighbouring community," the post said. "The loss of this complex is devastating for all who utilized it."