Memorial tank in Swift Current receives fresh coat of paint after graffiti damage
Posted on 17 August 2022 by Matthew Liebenberg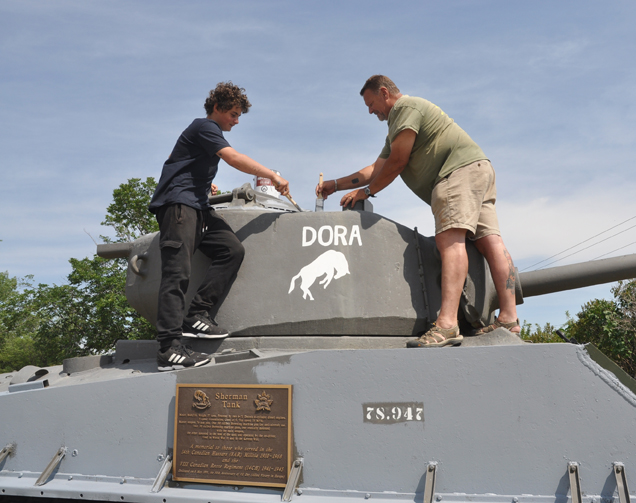 Andy Keys and his grandson Max Kelly apply primer during the repainting of the Sherman tank, Aug. 3. Matthew Liebenberg/Prairie Post
By Matthew Liebenberg
Volunteers in Swift Current helped to give a historic Second World War tank a fresh coat of paint after it was recently covered with graffiti.
Local Legion member and British Army veteran Andy Keys organized the clean-up of the Sherman tank, which is located at the Lt. Colonel Clifton Centre.
The work took place over three days from Aug. 3-5. The vandalism occurred a week earlier, which left several areas of the tank's exterior covered in graffiti.
This act of vandalism was even more unfortunate due to the significance of the tank. It is a memorial to those who served in the 14th Canadian Hussars militia from 1910-1968 and the 8th Canadian Reconnaissance Regiment from 1941-1945.
For Keys it is important to honour the past and to remember those who have served, which is also his motivation for taking care of Swift Current's memorial tank.
He did it before, when he was an armoured engineer with the British Army's Royal Engineers. He participated in the refurbishment and painting of a British Churchill Mk IV AVRE tank, which stands at Juno Beach as a memorial to those Second World War landing operations.
"That tank stands there to this day," he said. "It's still there, and my squadron goes back every couple of years to refurbish it."
After taking a closer look at the extent of the latest vandalism to Swift Current's memorial tank, he realized this was an opportunity to repaint the entire vehicle. This was the second time in recent years that it was vandalised with graffiti, and then he also organized a clean-up.
"That was about three years ago, but it wasn't as much graffiti," he recalled. "So we managed to just paint over it, because the paint hadn't faded as much at that time. It matched up pretty good. We just touched up a few spots a few years ago, but this time it needs a complete workover."
He was originally responsible for coordinating a more detailed week-long refurbishment of the tank in August 2017.
"It hadn't been touched since the 1980s and it was looking in a bit of a poor state," he said. "Everything needed doing. There were weeds all around, the runoff down the hill silted the backside in. So we had to clean all the silt out."
The work done five years ago included the interior, which was filthy and also needed attention as part of the overall refurbishment.
"We cleaned it up as much as we could, because people put rocks through the holes on the top and they put garbage inside and somebody had actually lit some paper and made a fire on the inside," he said. "I think that might have been before the hatches were welded up. The kids used to go in there and light fires."
Only the top hatch can now be opened, but it is kept locked. There was an opportunity to take a peek inside when the latest repainting took place. Keys opened the hatch for any curious visitors.
"It's original, but it's mostly been stripped," he said. "There's no engine. The transmission is in the front. So the transmission is still in here, but there's no engine."
This Sherman tank (Model M4A2E8) originally weighed 37 tons. It was powered by two Detroit 6-71 six-cylinder diesel engines with a five-speed transmission and a top speed of 33 miles per hour (53 kilometres per hour). Its main armament was a 76-millimetre gun and it was also equipped with several machine guns.
The interior is very cramped and housed a crew of five. The Sherman tank was widely used by Allied forces during the Second World War and it was also in service during the Korean War.
He did some research about this specific tank when it was refurbished five years ago. It was built at a tank manufacturing plant in Michigan during the Second World War, and was supposed to be shipped to the Soviet Union as part of a lend-lease program. However, the war ended before that could happen and instead it came to Canada, where it served with the King's Own Calgary Regiment in Stettler from 1952 to 1963 and then in Calgary with the same regiment from 1963-1965.
It was then removed from service and eventually brought to Swift Current as a memorial. It serves as a reminder of the history of the 14th Canadian Hussars, which operated three Sherman tanks in Swift Current from 1955 to 1965. Historic regiment photographs showed that those tanks were named Dora, Dolly and Doreen.
The name Dora was painted on this memorial tank during its refurbishment in 2017 to create a link with those other Sherman tanks that used to be stationed in Swift Current. The paint used for the latest repainting job is the same colour as before, and it was donated by Pioneer Co-op.
"When we started doing this, we did some extensive research to find the correct paint codes," he said. "So that is the actual correct paint colour as it would have been 1945."