Author Lee Gowan visits Swift Current during prairie tour for new novel
Posted on 17 August 2022 by Ryan Dahlman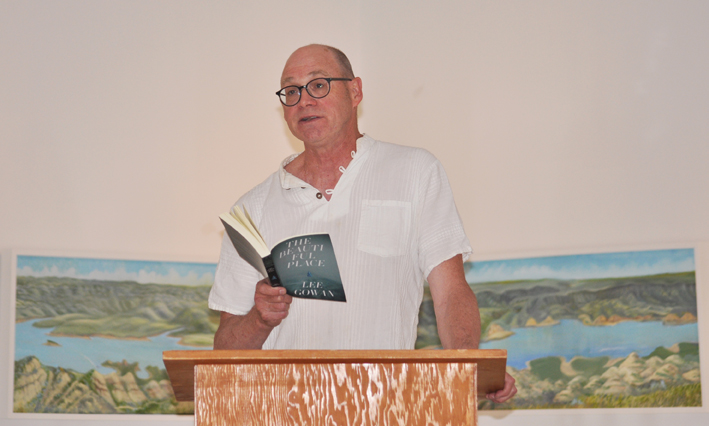 Acclaimed author Lee Gowan did a reading in his hometown as part of a mini tour to promote his latest novel.
He now lives in Toronto, where he is the program director for creative writing and business communications at the University of Toronto's School of Continuing Studies, but he grew up on a farm near Swift Current.
His latest novel The Beautiful Place was published in 2021, and he recently visited Swift Current during a three-city tour to do an in-person launch of the novel.
His prairie tour started with an author reading at the Saskatchewan Festival of Words in Moose Jaw, July 16. He then did a reading in his home town at an event hosted by the Art Gallery of Swift Current, July 21. Thereafter he travelled to Alberta for an author reading and book signing in Calgary, July 26.
The original launch of the novel took place virtually last fall due to the COVID-19 pandemic, and he appreciated this opportunity to actually meet with people again to talk about the book.
"It's unusual right now just to be talking to people face-to-face, because we've gone through this pandemic and we were doing everything online," he said. "So it's exciting, because I'm really happy with the book, I'm really pleased with how it turned out, and so excited to try and get some readers for it."
His previous publications were Going to Cuba (1990), a collection of short stories, and the novels Make Believe Love (2001), The Last Cowboy (2004), and Confession (2009).
His debut novel Make Believe Love was nominated for a Trillium Book Award, an annual literary award presented to writers in Ontario. His screenplay for the 1994 film Paris or Somewhere received several awards as well as a Gemini Award nomination for best writing in a dramatic program or mini-series.
His latest novel The Beautiful Place is a tribute to the influential 1941 novel As For Me and My House by Canadian author Sinclair Ross.
"That novel was an important one to me," Gowan said. "I think he's an important prairie writer. … He's a guy who came from here, but was able to make a reputation as a writer, and he was important to me and inspired me on the path that I chose."
He was already working on this novel when a University of Toronto colleague made a suggestion that gave additional direction to his writing.
"He said to me one day 'Lee, you should write a sequel to As For Me and My House' and I thought about the book that I was working on," he recalled. "And I thought, well maybe I already am, and I started working that into it. It became a new layer in the novel that I had already started. So that's how it formed."
Rev. Philip Bentley is a minister in a prairie town during the Great Depression in the 1941 novel. The main character in Gowan's novel is Bentley's grandson, a middle-aged cryonics sales manager with a growing sense of self-doubt about his life.
"This is really a book about mortality more than the other books," Gowan said about his latest work. "I mean, he's a cryonics sales manager. So it really is a book about mortality, and examining and becoming really aware of one's own mortality and that we're not here forever."
The book's title is a reference to the state-of-the-art cryonics facility in the story, and its location is only revealed to readers towards the end of the novel.
Gowan imagined in this novel how the life of Philip Bentley might have turned out beyond those years working as a clergyman in a small prairie town. Some of those details are based on what he discovered about the actual life of author Sinclair Ross during his research for this book.
The process to get his latest novel published was quite challenging, because it took a while to find a publisher. Eventually he was approached by Saskatchewan poet Elizabeth Philips, who is the editorial director and acquisitions editor at Thistledown Press. She knew he was working on a new novel, and she was looking for new works to publish.
"I almost gave up and just decided to write something else, but I'm not very good at just letting go of all that work that I had already done," Gowan said. "And then I got an e-mail from an old friend. … She's been my dream editor after all those years and almost giving up. Thistledown put it out and I think they did a great job. So it's a happy story in the end, but it took longer than any of my other books."
For Gowan it was simply a case of continuing to believe in his own work and persevering to get it published.
"It's really tough to find a publisher and all I can say to aspiring writers is to just stick to it," he noted. "That's all you can do. Don't take it personally, because it's very, very difficult. And hopefully in the end, you'll get your serendipity, like I did, and your Liz will come and find your book and see the value in it and publish it."