The Great Southwest Shakespeare Festival 2022 happens next week
Posted on 6 July 2022 by Prairie Post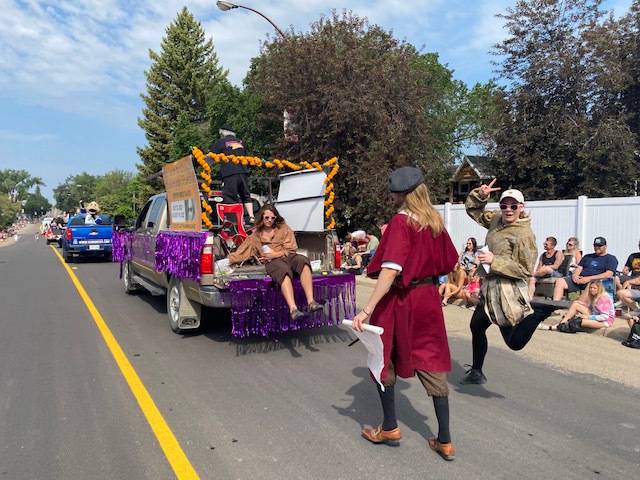 The Great Southwest Shakespeare Festival 2022 were just in the Frontier Days parade.
Contributed
Running from July 23 to August 19th, this summer's Great Southwest Shakespeare Festival will celebrate two of William Shakespeare's greatest plays: the romantic comedy, As You Like It, and his last great drama before he died, the powerful play, The Tempest.
Once again the big festival tent will rise up in Riverside Park and spread it's canopy overtop the amazing outdoor theatre experience that is Swift Current's, Great Southwest Shakespeare Festival.
This summer's performances run from July 23 to August 19. Once again there will be 2 p.m. matinee performances, 7 p.m. evening performances and the highly popular Midnight performances. Between the dates of July 23 and August 19 there will be a total of 15 performances of As You Like It and 9 of The Tempest.
Audiences will enjoy As You Like It's famous love story of Rosalind and Orlando and their escapades in the Forest of Arden, all inspired by the ancient legend of Robin Hood. This show is sure to be a crowd pleaser for people of all ages, including youngsters under the age of 12.
Taking place on an exotic island in the middle of a far away ocean, The Tempest is inspired by one of Shakespeare's greatest character creations, the Elizabethan sorcerer, Prospero. Prospero will be played by acclaimed Shakespearean actor, Kent Allen.
The Elizabethan world view of the newly discovered science of Astronomy and one of his greatest character creations,
Tickets available at Pharmasave or online at lyrictheatre.ca
$25 for adults;
$10 for children 12 and under;
Children under 5 – FREE.
They'll be presenting our Second Annual Shakespeare Summer Day Camp For Youth. July 25 – 29, 2022 – children 8 to 10 years old. August 1 – 5, 2022 – children 10 – 12 years old.
Under Safe Places approved adult instruction led by Swift Current's own Tara Garcia, popular Golden West radio host and instructor of our Fairy Tale Factory children's series.
Located at the Festival tent in Riverside Park, this Shakespeare immersion experience is free of charge to the children. Lunches and all theatrical supplies will be provided by The Great Southwest Shakespeare Festival. Moms and Dads are welcome to participate as volunteers as required. The camp takes place approximately 4 hours daily plus a 1/2 hour lunch break – lunch provided.
Children will experience the wonder and fun of the world of William Shakespeare and Elizabethan England. At the end of their week, the children will participate in a group Shakespeare entertainment for families and friends.
If families would like your children to participate, please contact, Artistic Director, Gordon McCall at thelyrictheatre@gmail.com