Teepee raising at Great Plains College
Posted on 1 July 2022 by Matthew Liebenberg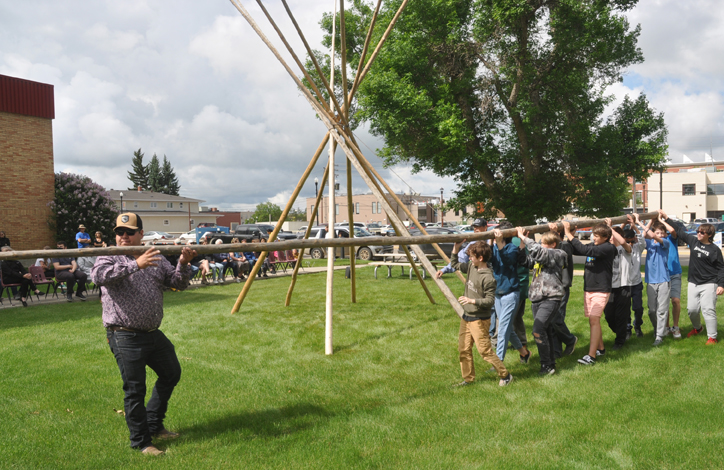 Charles Goforth from Peepeekisis First Nation guides a pole being carried by Grade 7 students from Fairview School.
A teepee raising took place in Swift Current at Great Plains College in celebration of National Indigenous Peoples Day, June 21. Elders Dale Mosquito and Larry Oakes from Nekaneet First Nation guided the process and spoke about the significance of the teepee.
City Councillor Ryan Switzer brought greetings on behalf of the City of Swift Current and Tekeyla Friday, the vice-president of Swift Current Métis Local #35, spoke on behalf of that organization. Members of the public and Grade 7 students from Fairview School attended the event, and students assisted with the raising of the teepee.
The event included a cultural program and round dance at Market Square. It was hosted by the local Truth and Reconciliation Committee and Southwest Multicultural Association as part of a series of Celebrate Canada events in Swift Current in the run-up to Canada Day.
These events were arranged by the City of Swift Current in partnership with various community organizations.