Maverick School graduates celebrate their success at ceremony
Posted on 30 June 2022 by Matthew Liebenberg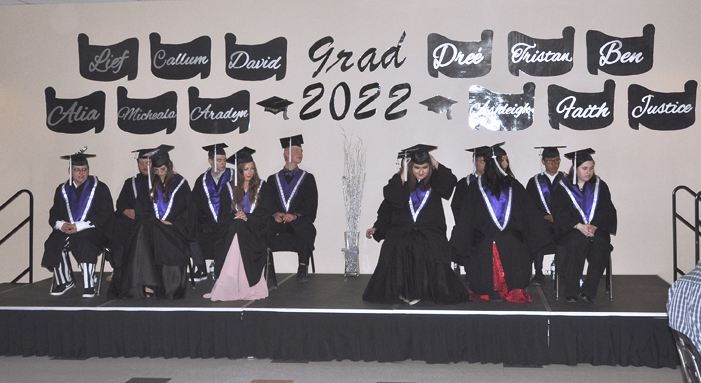 The Class of 2022 on stage during the Maverick School graduation ceremony, June 16.
By Matthew Liebenberg
The graduation ceremony for 12 Maverick School students was a celebration of perseverance to achieve success.
This year's event marked the return to an in-person event for graduates and their family in the Innovation Credit Union iPlex auditorium, June 16. Maverick School held virtual graduation and award ceremonies during the past two years due to the COVID-19 pandemic.
The evening's program included a banquet, dignitary speeches, the grand march of graduates, an awards and bursaries presentation, the presentation of diplomas, and the principal's address to graduates.
The formal portion of the evening's program started with greetings from Chinook Board of Education Chair Kimberly Pridmore and Director of Education Mark Benesh.
Pridmore congratulated graduates on their accomplishments and the growth they have experienced at Maverick School.
"At Maverick you have thrived in an environment that encouraged you to be you and allowed you to work to you potential," she said. "Your challenge now is to build upon your achievements and create a wonderful life for yourselves, which is suitable to the grad theme you chose. You've already made an impact and are leaving behind evidence of what you have built so far while building a promising future along the way."
The Class of 2022 graduation theme was based on the quotation "Life isn't just about passing on your genes. We can leave much more behind than just DNA." This statement is attributed to Solid Snake, a character from the Metal Gear techno-thriller video game series.
Benesh noted that graduation is an important moment for students as they start the next stage of their life.
"High school graduation is a great achievement that will provide an opportunity for many possible pathways in your life," he said. "It's a culmination of all your hard work and dedication over these years. … We hope that you go on to do some remarkable and memorable things, and that you receive many opportunities that match up with your dreams."
He expressed appreciation towards everyone who supported the graduates on their journey over the years.
"As a division, we want to recognize all the support provided by your family and friends to help get you to this moment," he said. "We are also proud of the work and support of your school staff, who did a great job to guide you throughout your educational journey."
Maverick School Principal Jayne Nicholson referred to the school's unique approach, where individualism is honoured and celebrated. The school's guiding principle is Freedom = Responsibility. The school has a student-driven approach to learning, and it provides a place for students to learn and grow.
She encouraged graduates during the principal's address to build on their achievements and to pursue their dreams.
"As you move forward, I want you to know there's no end to the dreams you can achieve and the places you can go," she said. "You've left us with lessons and memories of great days. You've left us with much more than just your DNA. On behalf of all of us at Maverick and everyone here tonight, congratulations graduates. Thanks for sharing your light."
The personal growth of graduates during their time at Maverick School was a common theme during the presentation of diplomas.
"If I look back on all the speeches I've written for grads over the years, without question there is one theme that shines through them all, even this year," teacher Scott Hunter said during one of the diploma presentations. "When I look onto the stage tonight, a common thread that runs through such a diverse group of young people is that of resilience, courage, adaptability and perseverance in the face of sometimes very difficult circumstances. Each of you has faced down your own challenges, and yet here you sit tonight, successful in spite of all that has been thrown your way."
The description of graduates during the diploma presentations provided many examples of the positive influence of the school environment at Maverick School on students. There was reference to a quiet and shy student who became a student leader. Another student felt lost and unwanted before coming to Maverick School, where she has been feeling more content and gradually took responsibility for her choices.
Maverick School helped another student to improve his social skills and to talk in front of a group. Another student came out of his shell during his time at the school, took piano lessons with music teacher Glenna Switzer and performed for the December holiday video as well as for the virtual coffeehouse video.
A student experienced bullying at a school in another community and was made to feel like an outsider. Although it was sometimes scary to start over in Swift Current, she felt accepted at Maverick School and she has become more confident.
One of the graduates came to Maverick School because she had difficulty learning in a regular classroom environment. She struggled with learning when schools were closed during the pandemic and was especially worried about learning math online, but was able to complete two math courses through regular online meetings with math teacher Colin Smith.
Maverick School was the right fit for another student, because he felt welcome and he was able to work while completing high school. The change in environment provided by Maverick School helped several graduates to overcome the struggles they experienced in other school settings.
The following awards and bursaries were presented to students during the graduation ceremony:
Governor General's bronze medallion for academic achievement – Juliana Whalen (2021 graduate).
Ron Thurbide memorial bursary – Aradyn Norman.
Rempel Family award series: Visual art award – Alia Holt; Coffeehouse courage award – Faith Paré; Outdoor education award – Aradyn Norman and Ben Bonifacio.
Leonard Family Control Theory award – Alia Holt.
Maverick School awards: Maverick School Writers' Guild award – Hudson Flaterud; Maverick School Spirit award – Tristan Byers; Maverick School Resilience award – Micheala Episkenew-Pelletier and Ashleigh Declare.
Bryan Tallon Memorial award series: Apprenticeship and trades award – Callum Seth; Perseverance award – Lief Zeeb; Citizenship award – Ben Bonifacio.