Swift Current councillors excited about progress with inclusive playground project
Posted on 23 June 2022 by Ryan Dahlman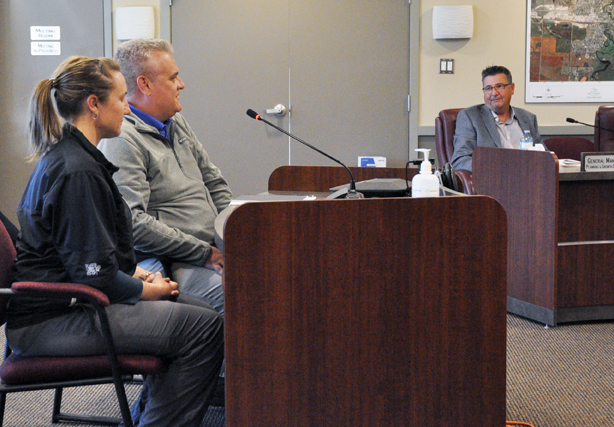 City Events and Program Manager Nicole Spenst (at front) and Parks Manager Michael Newell answer questions from council members about the inclusive playground project during the regular City council meeting, May 30.
The initial phase of an inclusive playground project in Swift Current is going ahead with federal funding support and a long-term land lease agreement with the provincial government.
There was a sense of excitement around the table during the discussion of this project at a regular City council meeting, May 30.
"We sit here as council and sometimes make lots of financial decision, but as far as a decision that I'm going to make up until this point, I'll be quite honest, this is my most exciting decision for me," Mayor Al Bridal said. "It's an inclusive playground, which means all our grandchildren play on it, no matter what their physical or mental abilities, and I'm just excited."
Councillor Ryan Switzer referred to the opportunity that an inclusive playground will provide to all families to enjoy an outdoor space.
"For many families looking back on their time with their kids, some of the best memories are playing at our local parks and now literally everybody with any child can have that same level of memories," he said. "This is awesome."
Councillor Ryan Plewis advocated for this initiative and he spoke about why he felt it is so important to have an inclusive playground in the community.
"We've had the opportunity to hear from a number of people over the last couple of years," he said. "As a dad to young girls, it just breaks my heart to know that there are kids in our community who can't play, and that's what I want to see happen in our community. … This is right up there with me for the things I think this council needs to achieve for this community and I'm just overjoyed that we're at this point."
Council approved a lease agreement with the provincial government to use the site of the former Palliser Care Centre on Central Avenue South for the development of an inclusive playground.
City General Manager of Planning and Development Marty Salberg said the old care centre building was demolished in 2019 and the provincial government sent out requests for proposals for the development or acquisition of the 3.71 acres site, but there were no acceptable submissions.
The City therefore began discussions with the provincial government about using the site for an inclusive playground, because there is currently not any such a facility in the entire southwest region. Those negotiations have been successfully concluded after several months.
"This location is very good for such a development, as it is in a well treed and mature area of the city as well as has a sufficient land base to accommodate all aspects, including an appropriate parking lot," he told the meeting.
The lease agreement stipulates a lease amount of $1 per year. The City is responsible for all costs related to the maintenance and improvements on the property. The lease term is 30 years with a renewal option.
"Should the lease not be renewed, the province will pay an amount equal to fair value for improvements on the property, as determined by a third-party appraiser," he said.
Salberg noted the timing of this lease agreement was really good, because the City's federal grant application to the Canada Community Grant Revitalization Fund was approved recently.
The City will receive $750,000 from the federal government. The total project cost will be $1,471,503 and it will be carried out in three phases. The federal funding is conditional on the City contributing 25 per cent of the phase one project cost, and this amount of $187,500 was already approved at a council meeting in July 2021.
The total cost of phase one will be $1,082,683. The work is expected to start this summer and will include an inclusive playground with pour and play surface and curbing, as well as the construction of an accessible washroom.
The total cost of the other two phases of this project will be $388,820. It will include the addition of a parking lot, shade and picnic areas, inclusive parkways throughout the park, irrigation and landscaping.
"The City is currently sourcing additional partnerships and grant funding opportunities to cost share phases two and three," he said. "These phases will take place in 2023 and 2024 pending budgets."
A second presentation in relation to the inclusive playground project was made during the May 30 council meeting.
City General Manager of Community Services Jim Jones presented the results of the bid process for the accessible playground structure. The City received 11 submissions from eight suppliers.
Council approved the winning bid, which was submitted by Playgrounds-R-Us. The amount to supply and install an inclusive and accessible playground structure cannot exceed the budgeted amount of $437,000 (PST included, GST excluded).
"The next step, after accepting the bid, is for the bid winner to conduct a community consultation session, as required by the bid," Jones said. "This consultation process will allow community members to review the design and provide their input to fully ensure the playground meets the needs of the community."
City Parks Manager Michael Newell and Events and Program Manager Nicole Spenst answered questions from council members about the project. They have been closely involved with the process to develop an inclusive playground.
"We worked with many community members over the past few years, listening to what their needs and wants are, and that's something we're really excited to be able to bring forward here with the community consultation," Spenst said.
She noted that the term inclusive for this playground is based on universal design principles and it does not only refer to mobility.
"We're talking about different designs for social cognitive development as well," she said. "So we've really looked at a lot of those components as well and we've worked with a local occupational therapist as well in the initial consult and design. So we talk about accessibility, but it's really inclusive, because we're looking at all play levels of all individuals in our community, no matter what ability you have."
The playground structure will have several entrance and exit points for individuals with mobility challenges. It will also have a We-Go-Swing, which makes it possible for users to remain in a wheelchair while they are playing on the swing.
Newell said the City did not only consider the cost of the various submissions made for an inclusive playground structure.
"We knew it was going to be an inclusive playground," he said. "We wanted to make sure that design and the design elements were weighted equally to cost. The cost is obviously very important, because we have a budget, but there's a lot of playground structures that you can buy that are off the shelf as it were, and we didn't want something like that coming in and just having a really low price where we weren't taking the design aspects into play."
The overall design and structure of the proposed playground structure provided by Playgrounds-R-Us stood out among the other submissions. He noted the company has designed four accessible inclusive playgrounds with the Canadian Tire Jumpstart program.
"So they have a lot of experience and that really kind of shone through in their presentation," he said.
The City's intention is to make significant progress with this project during 2022, but Newell cautioned that supply chain issues might present some challenges.
"We'd like to try and get that done, but we also have to understand that there are supply chain issues across the board," he said. "So we're trying to push to get this done as quickly as possible, but we have to also accept the reality of the supply chain affecting everything up to and including playgrounds."