Southwest Run for Shelter returns to raise funds for Dorie's House
Posted on 23 June 2022 by Matthew Liebenberg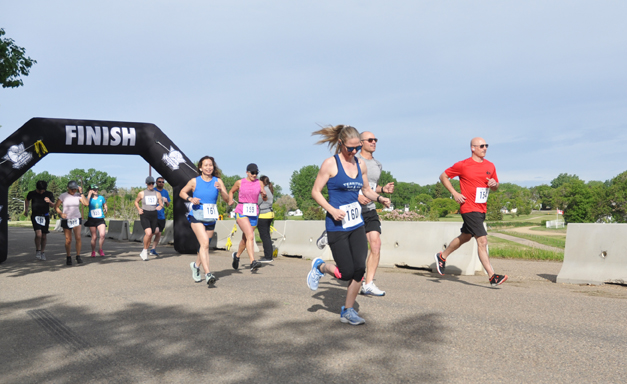 Runners competing in the 10- and 16-kilometre distances sprint away from the starting line at the 2022 Southwest Run for Shelter, June 11.
Runners and walkers were enjoying a good workout along the scenic pathway in Swift Current in support of a fundraising event for the Dorie's House Treatment Centre.
The sixth Southwest Run for Shelter was held June 11. The start/finish line for the different distances was at Kinetic Park.
Participants followed a designated route along the Chinook Parkway based on the distance they entered.
A total of 20 participants supported the event, split evenly between the shorter and longer distances. The starting time for the 10- and 16-kilometre event was 8:30 a.m., while the two- and five-kilometre participants started at 10:30 a.m.
Southwest Run for Shelter committee member Kayla Myers said it was great to have the event return after a two-year gap due to the COVID-19 pandemic.
"It's so lovely to use the Chinook pathways," she mentioned. "We really have a beautiful course. … We have such a beautiful city with the pathways. I'm so excited that we have even new pathways that are being build and extended on, that maybe in the future we will extend the route to utilize some of those new pathways."
She felt this year's lower turnout was still influenced by the pandemic and the fact that the event could not take place for two years might have played a role.
"COVID-19 is still around and we are in our first year back after two years," she said. "So just getting back into that groove of is it safe to come out and of course wanting to get back into some normal activities while still saying safe."
Myers and fellow Southwest Run for Shelter committee members Nicole Dzuba and Charmaine Westbury still had to contend with the uncertainties of the pandemic situation when they started organizing this year's event.
"This year we didn't get quite a head start as we were hoping to," Myers noted. "A lot of it had to do with just waiting to see where this pandemic is taking us, was it going to be masking still in place, how can we safely run an event still. So we did have a delay in that and I think that could have impacted our numbers, but we're already today even brainstorming and getting feedback from runners and participants and volunteers for next year."
This event has been organized since 2015 by the Southwest Youth Emergency Shelter Inc., a non-profit organization, to raise funds for Dorie's House. The amount raised from the 2022 event was unavailable at press time.
"All the funds that are raised are going to go towards the day-to-day operations of Dorie's House," she said. "For the youth and participants that are at Dorie's House to put towards different things, maybe sporting equipment or maybe it's art classes. So things that the youth can use. It will all be benefitting the youth."
The Dorie's House Treatment Centre offers a six-bed in-patient treatment program for youth who struggle with substance misuse. The eight-bed facility also offers emergency housing support for youth who need shelter during a time of crisis.
The Southwest Run for Shelter provides an opportunity for people to support Dorie's House in a fun way.
"We've had people in the past that come and they just want to walk the course, and that's fine, because we're open to runners, walkers, joggers, roller blade, bike, and we're pet-friendly," she said. "Whatever you need. We're not set in our ways on how it is. We're pretty flexible and adaptable to meeting everybody's level of experience of running and if they're not a runner that's OK. We welcome you to come on out."
This year's event saw some changes to the distances available to participants. The full and half marathon distances were dropped and replaced with the 16-kilometre distance.
"We had five runners in our 16-kilometre, which is super exciting, because we wanted to change it up a bit," she said. "This is our second year doing a two kilometre, just to get more families out and to get kids who want to participate. The five-kilometre is a little too long for them, but a two-kilometre is just perfect for kids to get out."
Feedback from this year's event will be helpful in the planning for 2023 and she was already thinking about that.
"Every year it's how can we change it, how can we make it better," she said. "So we're really looking forward to doing a fun run for our two and five kilometre. We're going to brainstorm all those ideas together and create something even bigger and better."