Writers group gets back to hosting public readings
Posted on 16 June 2022 by Matthew Liebenberg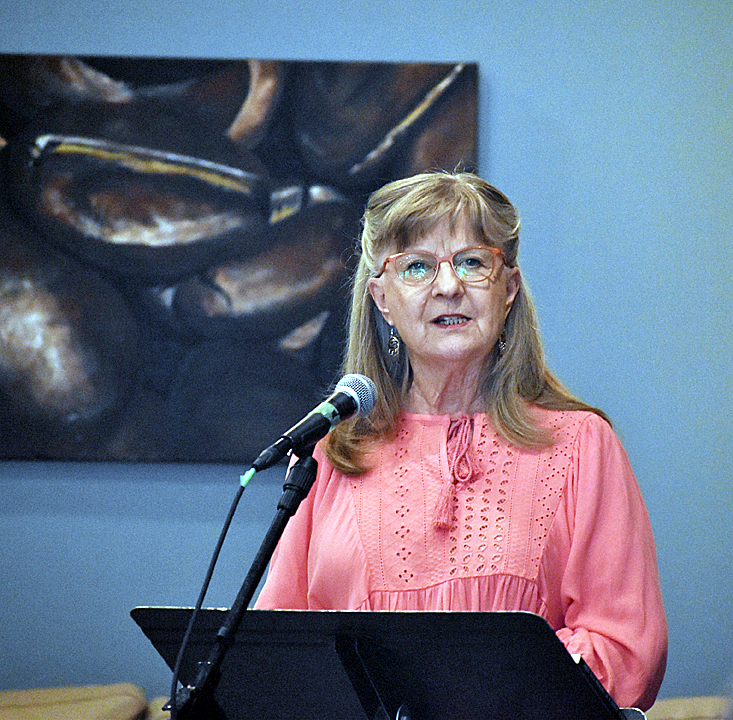 Dianne Miller shared a story based on her grandmother's war experience during the Prairie Quills reading event, June 2.
The Prairie Quills Writers' Group held a relaxed evening of reading by members of the group at the Urban Ground Coffeehouse in downtown Swift Current, June 2.
This was the final of three readings held since the start of the year with the theme On the Road.
Prairie Quills President Peggy Worrell said it was an opportunity for the group to get back to arranging public readings after the two previous years of the COVID-19 pandemic.
"We haven't done any readings and there are community groups that welcome authors to come and visit, bring their books, and read their work," she mentioned.
The initial reading took place at Prairie View Lodge in Swift Current, Jan. 26. The second event was held at the Shaunavon Library, May 12.
"The Shaunavon Library was particularly enthusiastic," she noted. "They applied for funding through the Saskatchewan Writers' Guild Author Readings Program. It meant that those of us who read received a reading fee and funds to cover our travel, which we appreciated."
The Prairie Quills previously held a poetry night at the Urban Ground Coffeehouse several years ago, and they were happy to be back there.
"It's just a really lovely venue for a great atmosphere for any kind of artistic venture," she said. "They were kind enough to host it for us."
Four members of the group read original material that have not been heard before in public. Madelon Smid read a piece about an experience as an eight-year-old child, when she went on a road trip with her dad and the vehicle ran out of gas at night.
Tina-Marie Letwiniuk read a poem about an early morning drive to Saskatoon. She participated in National Poetry Month in April and said she is now "smitten" with poetry. She also read an essay she wrote about her observations and reflections on life while watching people from a library window in Saskatoon.
Dianne Miller read part of a story she wrote based on her paternal grandmother's experience in Poland during the Second World War. The family lived in a village near the capital city of Warsaw, and Russian soldiers placed villagers on an eastbound train during evacuations ahead of advancing German troops.
Peggy Worrell read an abridged version of a story about a couple's separation and the woman's move to a farm to take care of various animals.
The Prairie Quills provides a forum for anyone interested in writing to interact with other writers and develop their skills. New members are always welcome to join.