Southwest artist highlights Métis history and culture in claymation exhibition
Posted on 15 June 2022 by Matthew Liebenberg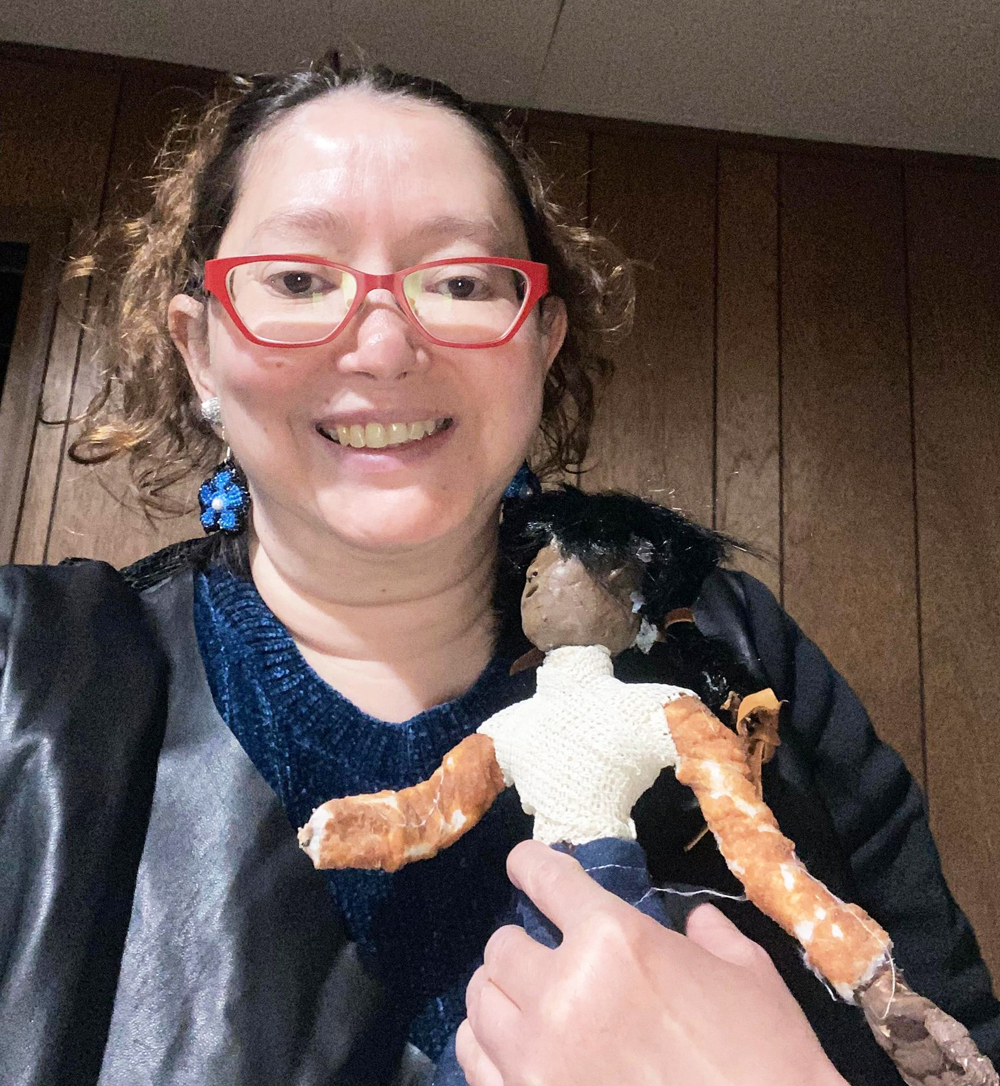 Artist Tekeyla Friday with one of her claymation characters. Photo submitted
Southwest Saskatchewan artist Tekeyla Friday has found a creative way to raise awareness about the region's Métis history and culture.
She is using her interest in the art of claymation (also known as clay animation) to share stories about Métis life and experiences in the Fort Walsh, Cypress Hills, and Lac Pelletier areas.
She discovered these stories through her own research and also from learning more about her family history in the area.
The result of four years of work is currently on show in the gallery at the Grand Coteau Heritage and Cultural Centre in Shaunavon. She did the installation of the claymation figures and backdrops on June 1.
"We had quite a bit of fun putting all the pieces together and I'm really excited about people seeing it," she said. "I'm hoping to get it into other galleries in Saskatchewan."
A part of her excitement about the exhibition is due to the effort that went into creating the claymation figures and backgrounds.
"Claymation takes an insane amount of time," she said. "I had received a Saskatchewan Arts grant in 2018 and had time to build the plasticine backgrounds. I had some health hitches, which slowed me down, on completing it within a couple of years. So I've been slowly picking away at it. … So far, I have three women and half a dozen men and a couple of children as part of the series, and I have an ox and a huge structure resembling the trading post at Fort Walsh. It's all based on historical Métis culture and stories through the southwest area."
She used information received from Métis elders and her own family members, including stories told to her by her mother, to create claymation figures on display in this exhibition. It includes her grandfather, who cut trails and roads in the Cypress Hills. One scene depicts Edward McKay, the first Métis to receive land scrip at Fort Walsh, inside the trading post.
She also wanted to highlight the story of Métis veterans who served in different wars. Another claymation character therefore depicts a Métis soldier. It was inspired by a photograph of Peter Lemere from Lac Pelletier, who served in the First World War.
In addition to the actual figures and backdrops on display, the exhibition includes framed images of claymation scenes that she created and photographed.
She hopes this exhibition can contribute towards a greater awareness and understanding of Métis culture in general, which will help to address stereotypes.
"I feel there are stereotypes around Métis and around First Nations," she said. "By doing a show like this, I'm hoping to open conversations and to debunk some of the stereotypes and to make people less afraid in how they view First Nations and Métis people and be more accepting and more understanding with some of the things that First Nations and Métis people have gone through."
She felt the exhibition can serve as a starting point for visitors to become more curious about aspects of the past they might not be so familiar with.
"Curiosity is a very good tool for learning more or wanting to learn more and maybe wanting to do research on their own or to spark some ideas for their own family history," she said. "I feel regardless of what culture or background you are, you have a story to tell or there are stories in your family that are very interesting or unique."
Her next goal is to use the various claymation figures and backdrops to create short videos as a means to tell the stories of Métis history and culture in the southwest. She also wants to use claymation art to create illustrations for a planned picture book, which will be the story of her mother picking mushrooms in the Cypress Hills when she was a child.
Friday is also a writer and she originally became interested in the art of claymation while looking for options to illustrate her stories. She was inspired by Canadian author and picture book illustrator Barbara Reid, who has used plasticine to create illustrations for her work.
"She has done 2D plasticine illustrations for numerous books, and I was looking at it and wishing I could do this, but I can't draw," Friday recalled. "So I started experimenting and researching, and I came across stuff on stop motion and claymation."
She will create picture book illustrations in the same way as some of the images on display in this exhibition. It has been a steep learning curve for her and along the way she had to improvise and find solutions for challenges she faced in the process of creation claymation art. She continues to learn and find new ways to improve her artmaking process.
"I think the biggest challenge for me is not enough time to do it," she said. "It takes time to create it, and when you're working full-time, you just don't get enough time.
The exhibition Métis claymation by Tekeyla Friday will be on display at the Grand Coteau Heritage and Cultural Centre until June 30. The art gallery is open Monday to Friday from 9 a.m. to 5 p.m. Admission is free, but donations are appreciated. There will be an opportunity to meet the artist during an event at the gallery on June 25 at 2 p.m.