City inviting the public to an Inclusive Park community consultation
Posted on 15 June 2022 by Prairie Post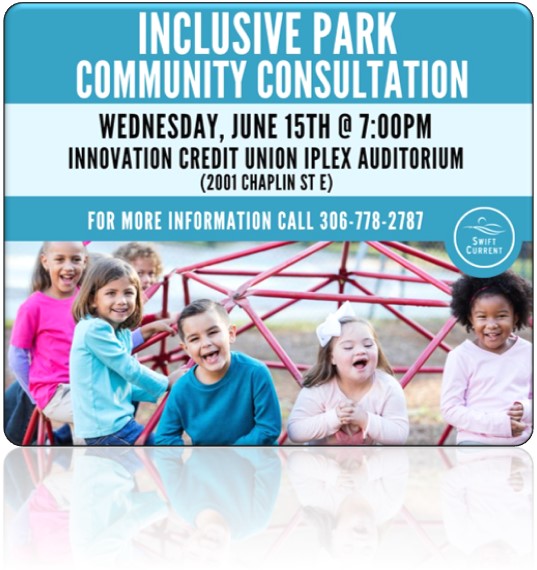 Contributed
A new inclusive park will be built in Swift Current and the City of Swift Current is looking for community feedback on the design.
On Wednesday June 15th community members are invited to the Innovation Credit Union iplex Auditorium at 7:00 pm to discuss the inclusive park and playground design. The project is set to begin construction this summer and will be built in three phases based upon grant funding and budget approvals.
"This is a very special project for us as Council and for our citizens. Therefore, we want to ensure that residents can provide feedback so the park can meet the needs of our community for many years to come," states Mayor Bridal.
With the recent announcement of funding and location at the old Palliser Care Centre site off Gladstone Street and Central Avenue, the project can officially begin the final process of the design and consult phase.
Playgrounds-R-Us Consultants will be on site to review the current playground design and answer questions. In addition, Ingrid M. Kanics, OTR/L. of Kanics Inclusive Design Services and a member of the Landscape Structure Advisory Board since July 2009, will provide a presentation on A Higher Level of Inclusive Play.
The goal of Swift Current's inclusive park is to provide a space that supports the cognitive, emotional, physical, and social development of all community members. Phase one (1) of the park will feature a playground structure with multiple entrance and egress points for individuals with mobility challenges. It will include a We-Go-Swing to allow individuals to swing without having to transfer out of their wheelchair. In addition, it includes accessible washrooms. Phase two (2) and three (3) of the design will focus on and include areas for shelter and shade, space for family picnics, accessible paths, and parking lots.
The City invites residents to come out on June 15th to provide insight and learn more about the park design.
See related story: https://prairiepost.com/saskatchewan/2022/06/09/swift-current-councillors-excited-about-progress-with-inclusive-playground-project/