Popular Windscape Kite Festival and music festival taking place again
Posted on 8 June 2022 by Matthew Liebenberg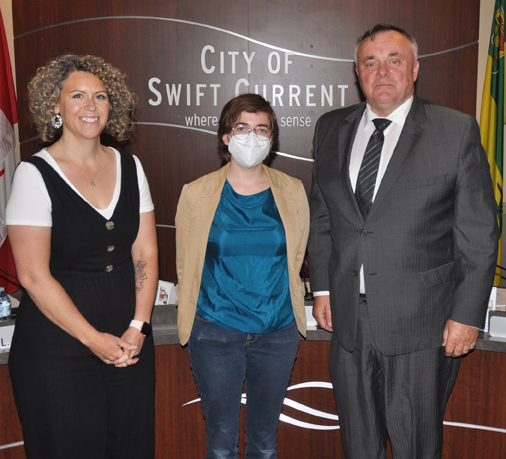 Director of Cultural Festivals Amanda Girardin (at left) and Festival Assistant Keely Williams stand with Swift Current Mayor Al Bridal for a photo after their presentation during a regular City council meeting, May 30.
A popular festival of kite flying and music will be taking place again in Swift Current after a two-year absence due to the COVID-19 pandemic.
Director of Cultural Festivals Amanda Girardin and Festival Assistant Keely Williams provided details about the upcoming SaskPower Windscape Kite Festival and associated Long Day's Night Music Festival during a presentation at a regular City council meeting, May 30.
"As most other events that have not taken place in the past couple of years, we've also been on the break since 2019," Girardin said. "So we're looking forward to having the 15th edition of the Windscape Kite Festival this June 18 and 19 as well as the Long Day's Night Music Festival returning June 15-19."
She expressed appreciation towards the City for being so supportive of the event and also acknowledged the many sponsors that made it possible to host it.
"The businesses in town also deserve a huge recognition," she noted. "We've received both financial support and in-kind donations from hundreds of businesses to be able to put on this event as well, and without their support it just wouldn't take place. So anything from donations of a tractor to in-kind sponsorship of safety vests. All kinds of things that are required to be able to put on this event that we won't be able to do otherwise."
Girardin also emphasized the important role of the large number of volunteers in the success of this event. Close to 200 volunteers are required to put on the kite and music festivals, and she indicated there are still volunteer spots available for various tasks at both Windscape and Long Day's Night.
"There's a range of jobs available," she mentioned. "So whether you want to be in with the public and helping kids build kites or perhaps behind the scenes, there's definitely room for all of the volunteers there."
A variety of colourful kites in various sizes, varying from spectacular kites as big as a house to speedy sport kites, will fill the air above the festival field during the two-day Windscape Kite Festival. Admission to the event is free and visitors receive a free festival program and passport upon arrival.
"We have updated our programming a little bit this year," Keely Williams said. "So we've got some new activities. We've added an obstacle course and a custom button making booth and then we've kept lots of the regular stuff."
There will be free kite lessons, a free straw bale maze, a spatter mural, a flying dragon booth, and the always popular kite building workshops.
"We always try to keep activities low price, which we get big support from businesses that we're allowed to do this," she said. "We've got a bunch of free activities as well and they all get prizes, which is lovely."
Another feature of the Windscape Kite Festival is the celebrity kite flyers and the acrobatic kite flying demonstrations during each day.
"We have a whole bunch of people coming from across Canada and the States," she said. "We focused on people who can drive or were short flights, just because the airlines have been a little bit inconsistent sometimes. We've got people coming from Oregon and Portland, all over Washington, as well as all over Saskatchewan, Alberta, B.C., a couple from Winnipeg, four from Toronto and then we just added two people that we knew of that are kite flyers from the Ukraine. They have just landed in Victoria two weeks ago and they asked if they could come and I said absolutely, we would love to have them. So we're excited to have all sorts of people."
The four-day Long Day's Night Music Festival takes place in a big tent at the festival field. It will feature a great line-up of Canadian musical talent in different genres, varying from reggae to pop, rock and country music.
The music festival will kick off on June 16 with the performance of the Saskatoon based Oral Fuentes Reggae Band playing a mixture of reggae with an Afro/Latin fusion. Band members include musicians from Belize, St. Lucia, Ghana, Nigeria, Philippines, the United States and Canada.
The June 17 performers will be Toronto-based singer-songwriter Elsa Gebremichael, performing as Wild Black, and Vancouver-based rock band Yukon Blonde.
The June 18 artists will be Edmonton alt-pop artist VISSIA and award-winning soul singer Tanika Charles from Toronto, who will be backed by her band The Wonderfuls.
The Long Day's Night Music Festival will conclude on June 19 with the performance of Alberta singer-songwriter J.J. Shiplett, who will perform a combination of Americana and country music.
A shuttlebus will be available during all four nights of the music festival to allow patrons to enjoy their evening in a convenient and safe manner. Girardin said the shuttlebus will start running from around 10 p.m. until the end of the evening's performance.
"They're very flexible," she said. "We're very grateful to the Telebus to be able to transport to and from and basically drop them off to the door. So it's really convenient."
Tickets for each night's music concert varies from $30 to $35 per person and a festival pass is available for $115. Tickets can be purchased online through Eventbrite or at http://www.longdaysnight.ca
More information about the Windscape Kite Festival, including information about the various activities, the celebrity kite flyers and volunteering, is available at http://www.windscapekitefestival.ca