Great Plains College inks agreement with new president and CEO
Posted on 8 June 2022 by Matthew Liebenberg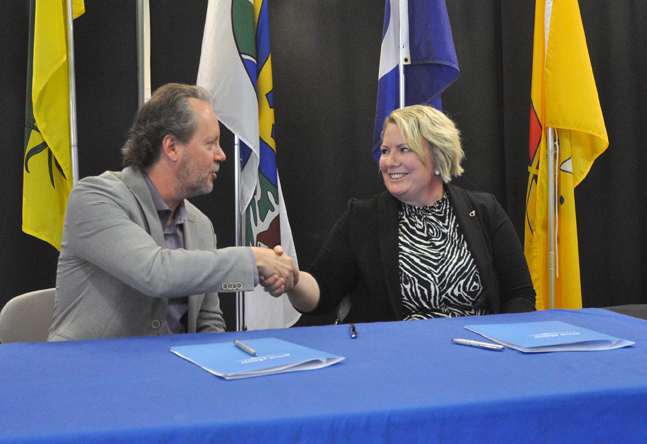 Dr. Brad Mahon and Great Plains College Board Chair Cindy Lowe shake hands after signing the contract agreement that appoints him as the institution's new president and CEO, May 31. Matthew Liebenberg/Prairie Post
The new president and CEO of Great Plains College formally signed his employment contract during an event at the Swift Current campus, May 31.
It was Dr. Brad Mahon's first public introduction to the community since the college announced his appointment in early May.
The college started a search for a new president and CEO in January after Dr. David Keast announced his retirement.
Dr. Keast and invited guests attended the event, which included a formal program before the contract signing.
Mayor Al Bridal brought greetings on behalf of the City of Swift Current. He referred to the important position of Great Plains College in the community.
"Great Plains College has been a pillar of education in the community, offering students first-class post-secondary education that prepares them to move forward with their careers in the southwest and beyond," he said.
He mentioned that Dr. Mahon's many years of experience and knowledge in the post-secondary education sector will be a great value to the board, staff and students at Great Plains College.
"We're grateful that you've chosen Swift Current as your home," Bridal said.
College Board Chair Cindy Lowe introduced the institution's new leader. She said the college is thrilled that he accepted their offer.
"We really felt he'll align with our strategic direction," she noted.
The key pillars of the college's strategic plan are optimizing student success, delivering education to meet labour market development, valuing employees, as well as building and enhancing partnerships.
"Brad has shown to be really cognizant of industry needs and to match them with what students are learning," she said.
Lowe mentioned that he connected with Amazon Web Services in his role as dean of the Faculty of Continuing Education at Mount Royal University in Calgary, which resulted in the development of a job skills training program to prepare individuals for entry-level roles in cloud computing.
"So he's proven to value partnerships and stakeholders through his extensive work at Mount Royal, and that's one of our values as well," she said.
She referred to the online responses from people when he made a post on Facebook about accepting the position at Great Plains College.
"There was numerous feedback on his post," she said. "Extensive congratulations from people he obviously worked with and impacted. Valuing employees was obvious in some of his references we spoke to as well about making an impact on their lives and being a compassionate leader."
Dr. Mahon delivered some remarks before formally signing the contract. He thanked Dr. Keast, the college executive team and the board for the welcome.
"It's been wonderful," he said. "It feels like it's a honeymoon. It's been a lot of fun, but a tremendous honour for me to be here today and talk to all of you."
He spoke about why he wanted to come to Great Plains College. The board shared a lot of information about the college with him during the process.
"I think really what connected me was the values and the mission of the college, more specifically how the college in some ways provides access to students and that access takes shape in some different ways," he said. "For some students the college is providing access and that education provides pathways to further education, while for others it provides a pathway directly to employment."
The small class sizes at the college also appealed to him, because it enables personalized learning for students.
"It's about the students and the instructor getting to know each other," he said. "Students are not just an ID number. There's actually a rapport that's build and mentorship happens, and often those relationships will then carry on for years and I think that's so foundational."
He felt the college offers a good value proposition to students who want to start their studies closer to home before going to another post-secondary institution.
"The other thing that really resonated with me was programming that in many ways meets labour market demand," he said. "I really see a link between education, training and what's necessary in the workforce. I see it as kind of matchmaking."
He referred to the importance of the college's strategic goal to value employees, because he believes in that team mentality. He was also struck by the strategic plan's reference to being a partner of choice.
"That's something that I've always worked towards throughout my career," he said. "I believe in collaboration with other post-secondaries, with industry, with community organizations. … I really see our college as that beacon in the community. So I think when we're working with these different organizations, we're just stronger together."
Dr. Mahon's academic background includes a PhD (musicology) from the University of Calgary and an MBA (executive management) from Royal Roads University in Victoria, B.C.
He was a music faculty member at various colleges and universities, and he held managerial positions at the University of Regina Conservatory of Performing Arts and Medicine Hat College Conservatory of Music and Dance. He has been a long-time examiner and discipline specialist in guitar at the Royal Conservatory of Music, and he has been a freelance professional guitarist for over 30 years.
He has been the director of the Conservatory of Music at Mount Royal College since 2017 and also became the dean of the Faculty of Continuing Education in 2018.
He spoke with the Prairie Post after the contract signing about his career and his new position at Great Plains College.
"When I was 20 years old and planning my life, I didn't see this," he said. "When I was 30 years old and planning my life, I didn't see this. There was a part of my career where the most important thing to me was to be the best guitar player I could be and to continue to improve on that, to play, to teach others, to do guitar related research. But when you start hanging around institutions and you're teaching, they start to give you jobs to do and all of a sudden, you're doing more and more."
He made a choice about 10 years ago to move into full-time administration and musical performances and teaching have become a smaller part of his life. However, his musical background has provided him with relevant skills for his role in administration.
"I would like to think it has helped with the creativity," he said. "We often use the conductor in an orchestra as a great example of leadership where that conductor does not play an instrument, yet their job is to bring that orchestra together. And so I think I've learned a lot through music about collaboration and teamwork."
He still felt a need for further education as he went through various full-time management roles. He therefore enrolled in an MBA program.
"That helped a lot," he said. "I knew I had some intuition and I had some aptitude and I've been hanging around long enough that I understood the sector, but I felt I needed to fill in some gaps and that was a commitment I made to myself to be better. So I'm an advocate of lifelong learning."
He is excited to start his new role as president and CEO of Great Plains College. Some early plans include a tour of the different campuses and meeting stakeholders.
"I'm here to serve," he said. "I don't look at this role as about me. It's what do the students need and that's why it's important to get out there in the community and talk to people, to prospective students, to current students, to people in industry. What are you looking for, what do you need from graduates, how can we help with that. And then looking at some of our educational partners in the province, how can we collaborate together. I think when you're working together, there's efficiencies there."