Swift Current business teacher and financial literacy advocate won prestigious award
Posted on 7 June 2022 by Ryan Dahlman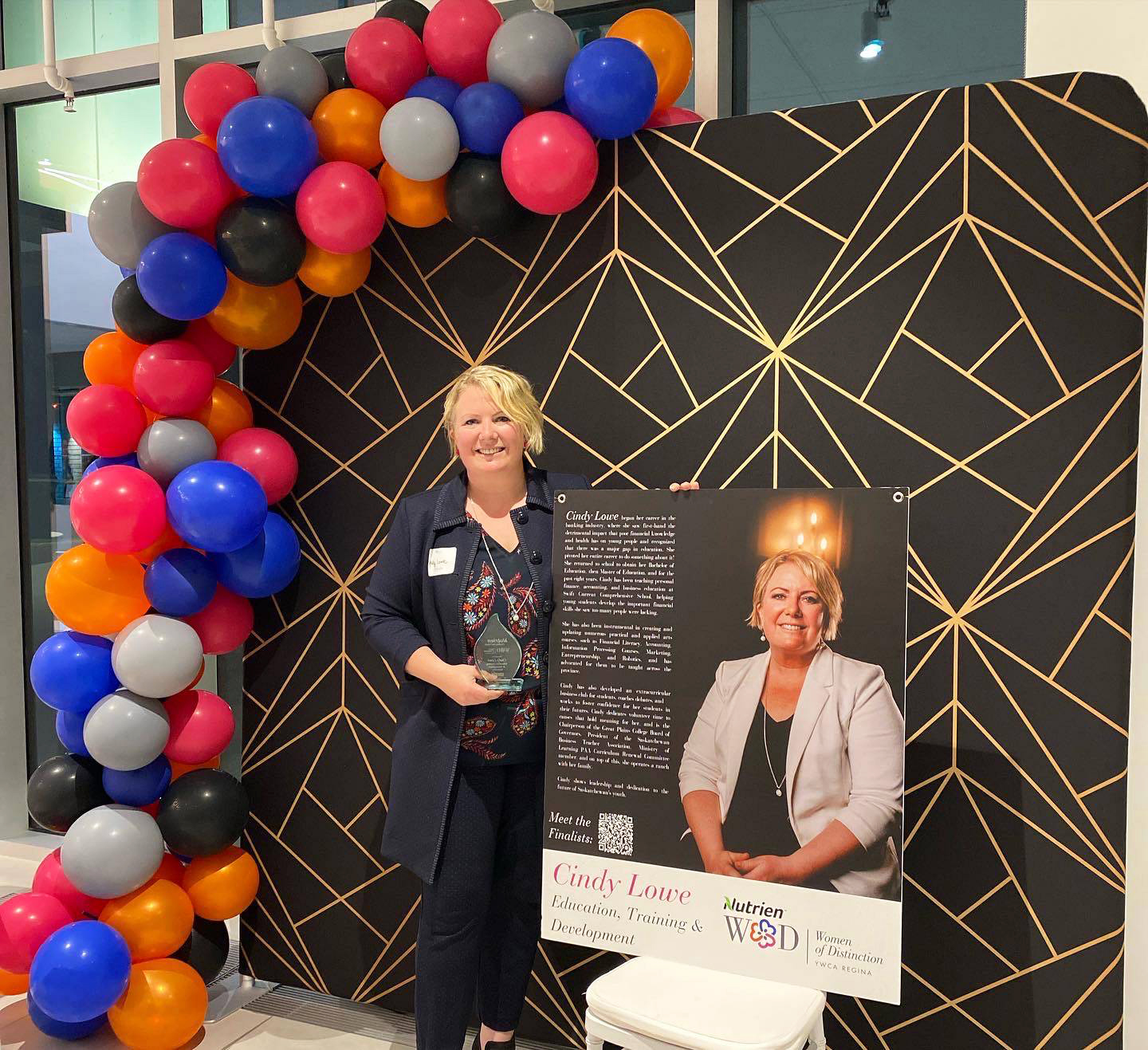 Cindy Lowe pictured at the YWCA Regina 2022 Nutrien Women of Distinction Award event on May 28 after receiving the award in the category for education, training and development.
By Matthew Liebenberg
For Swift Current business education teacher Cindy Lowe the importance of financial literacy goes far beyond someone's ability to make good decisions about personal money affairs.
She feels the knowledge to make informed money decisions can empower and transform lives in many ways.
Her commitment and passion to promote financial literacy has been recognized with a prestigious award. She is the recipient of the YWCA Regina 2022 Nutrien Women of Distinction Award in the category for education, training and development.
This is the 41st year of these awards, which celebrate women of southern Saskatchewan for the difference they make in their communities. The 2022 awards ceremony was held in Regina, May 28.
Awards were presented in seven different categories. The education, training and development award gives recognition to a champion of learning who inspires a passion for lifelong learning and development.
"It's super humbling," Lowe said about receiving this award. "I love my job so much and it's my passion and it's my life's work and it's what I do. So to hear your name called as an award winner in education under Women of Distinction is pretty overwhelming and pretty humbling. You do things just because they're important and you think they're important, but to get recognized at that level is pretty cool."
Family members, colleagues and friends attended the ceremony and celebrated the award with her. She emphasized her success is only possible as a result of support from others.
"They're done with the support of so many people," she said. "You don't do what you do without tons of support around you."
It is especially meaningful to her to win the Women of Distinction Award in the education, training and development category, because the feels educators have the most important job on earth. They are developing the future problem solvers, professionals, leaders and parents.
"We develop the future and the people who are going to help create the future," she said. "We invest a lot of emotion into what we do or at least I do, because it's my passion. I want these kids to be the best they can be, to be the best in whatever they're going to be, and to give them all the skills they can possibly share in the time that I'm with them so that they can be the best."
Her journey as a financial literacy advocate started in 1996, when she completed a commerce degree in finance and started working at Royal Bank of Canada.
"I took my securities course and my mutual funds course, and thought that I would be in the investment world," she recalled. "I loved the appeal of the stock market and investing, but I found every customer I was meeting with didn't have financial knowledge."
She worked at various bank locations and witnessed the impacts of a lack of financial literacy on the lives of her clients.
"The first conversation that I was having with them in my office was talking about what stocks are, what investing are, and mistakes not to make," she recalled. "And seeing huge financial regrets with mistakes that were made credit wise, not saving soon enough, bankruptcy, divorces, really a lot of disputes over financial reasons, and so I just thought I got to teach this."
She therefore refocused her career and went back to school to obtain a Bachelor of Education. She also holds a Master of Education in Adult Learning and Global Change. She initially taught math and French, but her real goal was to focus on business education.
She started teaching the business certificate program at the Great Plains College campus in Swift Current in 2006 and then began teaching at Swift Current Comprehensive High School (SCCHS) in 2013.
"I loved my time at the college, but I also had a B.Ed. and I thought that if I can teach kids younger and make more of an impact earlier, that would be more beneficial, because I was seeing adult learners that also had no financial knowledge. … A lot of my adult learners actually said to me why didn't they learn this in high school. They were the ones putting that idea in my head. So I came to the high school and I've been teaching accounting, and then it evolved into finance since 2013. This is my dream job. This is exactly what I'm meant to do and this is exactly what kids need to learn."
She also teaches work experience classes, which she feels is connected to financial literacy due to the focus on career awareness and career planning.
"Financial literacy to me is an absolute equalizer between everybody," she said. "It can empower everybody to make positive change to their future."
She therefore feels financial literacy education should become a prerequisite for high school graduation, because it is knowledge that will help students in so many aspects of their future lives and it plays a role in mental wellness.
"Domestic disputes happen over money and relationships deteriorate, people can't sleep at night because of overwhelming debt loads, people are worried about retirements and pensions, you see people working longer in their sixties because they simply can't save and can't afford to retire on what they've save," she said.
Her desire to connect with students and promote financial literacy resulted in the establishment of the extracurricular SCCHS Business Club. She already began providing some extracurricular activities with a business focus when she was teaching at Great Plains College, including speaker forums and networking events.
Lowe decided to start a business club at SCCHS after she became aware of the activities of such a club at Campbell Collegiate in Regina.
"I started to see stuff on Twitter and on Instagram of what they're doing," she recalled. "I went to an event in 2014 and saw these Campbell Collegiate kids really talking sharp and networking and dressed up and I thought our Swift Current kids need this too. If other kids in the province are learning, Swift Current kids need to learn this too, and so I started a club."
The club grew from about eight students at initial lunch sessions to over 60 students in 2019. Its activities resumed in March 2022 after a two-year hiatus due to the COVID-19 pandemic and around 30 students participated this year.
SCCHS Business Club students have been strong competitors at the Saskatchewan Business Teacher's Association (SBTA) high school business case competition and they have won the Business School of the Year trophy three times, including in 2022.
Lowe is an active SBTA member and has been serving as the association's president since 2018. She was appointed to the Great Plains College board of governors in 2018 and served as vice chair and interim chair before becoming board chair in 2022.
She has been a member of the Ministry of Learning Practical and Applied Arts Curriculum Renewal Committee and served on several subcommittees. The work of this committee resulted in the creation of several new course electives, including finance, marketing, and entrepreneurship.
"So we were part of that renewal and updating and creation of some of these new classes," she said. "I really felt that was one of my coolest experiences, because you helped shape the future of business education in our province."
She will continue to raise awareness about the importance of financial literacy, because she feels her work is not done yet.
"I would love to see every Saskatchewan student graduate with either Finance 20 or 30," she said. "That is my dream. … If that doesn't happen, then I would love to see every Swift Current student and every Chinook student take financial literacy."
Her other goal is to advocate for changes to the bachelor of education programs offered at Saskatchewan universities to make it possible for students to graduate with a business major.
She got many positive reactions after receiving the Women of Distinction Award, and she hopes this will help to raise more awareness about the importance of financial literacy.
"If this award can help to pivot business education forward, then it's amazing," she said. "It's a true honour to win this award, because the message is about the kids and doing what's best for our students."