Swift Current to host provincial disc golf championships on new 18-hole course
Posted on 3 June 2022 by Matthew Liebenberg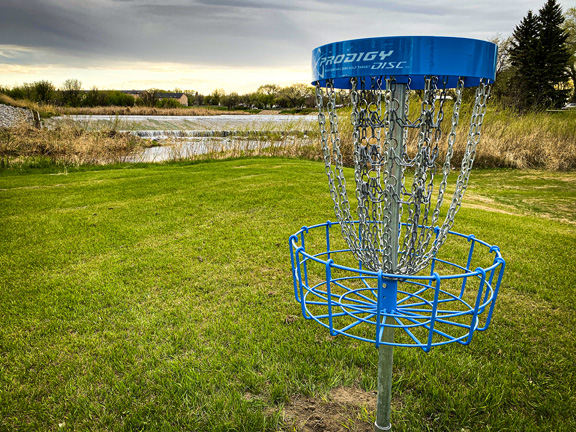 A disc golf basket on one of the new holes of the 18-hole disc golf course in Swift Current. Photo courtesy of BrandonWiebe.com
The 17th Annual Saskatchewan Open provincial disc golf championships will take place in Swift Current at the new 18-hole disc golf course from Aug. 20-21.
Registration for the provincial championships opened June 1 and players of all skill levels can register online at http://www.dgscene.com/saskopen2022
The tournament is open for registration to junior players and to recreational, intermediate, amateur, advanced and professional players in various categories, including B-tier open divisions and amateur/C-tier divisions.
Brandon Wiebe, a spokesperson for the local disc golf community in Swift Current, said the provincial event is expected to fill within the first few days after it opens for registration.
"All serious tournaments are on this one website and the B-tier professionals are very aware of upcoming tournaments and times that you can register," he noted. "They like to play these official tournaments, because it helps their professional ranks. So once it's open, they want to get in, but there are a bunch of different tiers that you can play in. So pretty much anybody can apply and play."
He felt it is certainly exciting for Swift Current to host the provincial championships so soon after the completion of the disc golf course.
"I think it's a fairly big deal," he said. "We'll have these B-tier professionals here that we can enjoy watching some professional disc golf."
The initial nine holes of this Disc Golf Saskatchewan designed course in Swift Current opened last year and the work to install baskets on the remaining nine holes were completed just before the Victoria Day long weekend.
Some detail work is still taking place, such as the installation of tee pads. However, the first local tournament on the full 18-hole course already took place on May 23.
"We had our first ever just spur of the moment tournament on Victoria Day and 10 people came out to it, which was pretty good for having three days advance notice and being on a long weekend," he said.
He expressed appreciation towards Disc Golf Saskatchewan and to tournament director Evan Zimmer for hosting the provincial championships in Swift Current.
"It's a big thank you to Evan," Wiebe said. "He designed our disc golf course and then it was his year to host it. He's in the Battlefords and he thought it would be great to host it in Swift Current. He chose to bring it to our city, because we have a new course. So that's quite humbling to me and I'm very grateful for him doing that and to the rest of the Saskatchewan Disc Golf crew."
The disc golf course is located along a section of the Chinook Parkway on the city's south side. The first and 18th hole are located in Riverside Park, and the Swift Current Creek provides a scenic background for the remaining holes.
"There's a good amount of diversity in our course," he said. "So that's pretty cool, and I think it should be promising to host more sizeable events in the future."
Wiebe started the Swift Current Disc Golf Facebook page for the local disc golf community after the initial nine holes opened last year. It currently has over 100 members. He anticipates that a local club will eventually be established for disc golf players from the area.
The upcoming provincial championships will present a great opportunity to introduce the excitement of disc golf to local residents, especially also with the presence of professional players.
"Our city is still learning that disc golf is even a sport," he said. "So even those of us who have taken to the sport and are playing often, I'm not sure any of us have seen professionals play yet. So it will be new to everybody."
The event is expected to draw B-tier professional disc golfers from Saskatchewan and Alberta, and most likely also from British Columbia and Manitoba. Spectators will be able to watch players along any of the 18 holes.
There will also be a viewing area with seating in Riverside Park at the tennis and volleyball courts, from where spectators will be able to view the first and 18th holes. This area will be "disc golf central" during the tournament with food and beer gardens provided by Night Jar and Lucky Charlie's. There will also be a pop-up disc golf store provided by JK Discs from Strathmore, Alberta.
Another unique feature of the provincial championships in Swift Current will be the creation of a second temporary disc golf course at the Highland coulee trail, which is the site for local mountain biking. It will provide a challenging course for disc golf competitors during the championships.
"That's going to be very neat, because it will be very hilly," he said. "It will be a completely different experience than our permanent course."
The junior players will not compete on this second course, but all other competitors will play on both courses and all rounds will count towards the final results.
This disc golf tournament will take place during the same weekend as the Come Together event in Swift Current, which will include a variety of activities such as sidewalk days, Market Square, food truck wars, a baseball championship, and the Taking it to the Streets concert.
"I think it's Swift Current's busiest weekend of the year," he said. "There's just a lot going on. So our city is going to be hopping, and if we can bring another 100 or 200 people because of the disc golf tournament, we're going to see the financial benefits to that around the city."
Wiebe noted that they are still looking for some hole sponsors for the disc golf championships. Any business that wants to get involved as a sponsor or anyone interested in volunteering at the event can indicate their interest by contacting the Swift Current Disc Golf Facebook page.