Celebrate Canada – June 20 to July 2 in Swift Current
Posted on 2 June 2022 by Prairie Post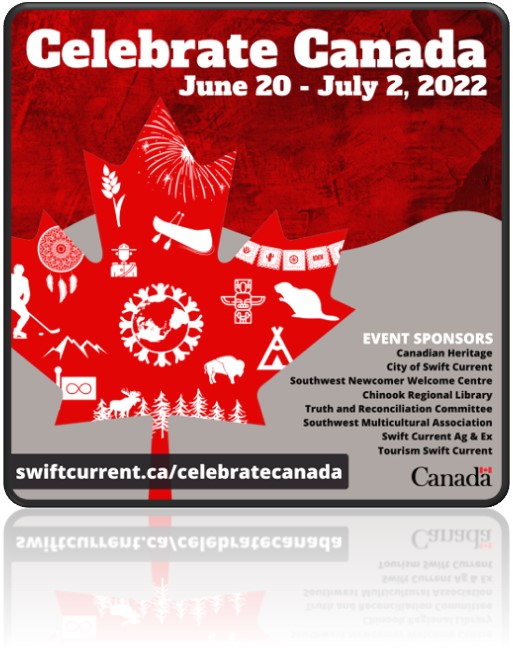 Contributed
The City of Swift Current is excited to introduce the "Celebrate Canada" event, in partnership with several local community organizations including Southwest Newcomer Welcome Centre, Chinook Regional Library, Truth and Reconciliation Committee, Southwest Multicultural Association, Swift Current Ag & Ex and Tourism Swift Current, with funding from Heritage Canada.
Celebrate Canada will take place June 20 – July 2, showcasing a variety of events celebrating the diversity and cultures that make up Canada and our community. The two-week celebration will be highlighted by the following events:
June 20: Capote Making Workshop
Learn more about aboriginal culture with Capote making, coordinated by Chinook Regional Library. Space is limited and pre-registration is required.
June 21: National Indigenous Peoples Day
A teepee raising will take place at Great Plains College, followed by a Cultural Program at Market Square.
June 25: Multicultural Party
Join the Southwest Newcomer Welcome Centre and many other partnering organizations at Market Square for performances, music, and karaoke. Everyone is welcome and admission is free.
June 27: Canadian Multiculturalism Day
For only $15.00/plate, try a variety of foods from five different cultures during the Newcomer Welcome Centre's fundraising lunch at Market Square.
June 29 – July 2: Innovation Credit Union Cultural & Community Stage
Located at Hansen Park during Frontier Days, the stage will showcase performers in multiple areas of entertainment!
July 1: Canada Day
Canada Day will kick off with the return of the Frontier Days Canada Day Parade. Following the parade, residents are invited to Memorial Park for a Flag Raising ceremony and complimentary hot dogs and cake. The day will wrap up with the Living Sky Casino fireworks from the Kinetic Park Grandstand, which can be viewed all throughout the city.
"We are excited to partner with local organizations to put on two weeks of unique events and Celebrate Canada in our community," said Nicole Spenst, Event and Program Manager with the City of Swift Current. "Not only is Canada a diverse country, so is our own community of Swift Current and Southwest Saskatchewan. Canada means something different to everyone, and this is an opportunity for individuals to celebrate being Canadian in a way that is significant to them. These two weeks will provide community members many opportunities to learn or try something new and experience the different cultures around us."
For more information and to stay up to date with all the event details, visit http://www.swiftcurrent.ca/celebratecanada.