Outdoor school at Swift Current creates new connections with nature
Posted on 1 June 2022 by Matthew Liebenberg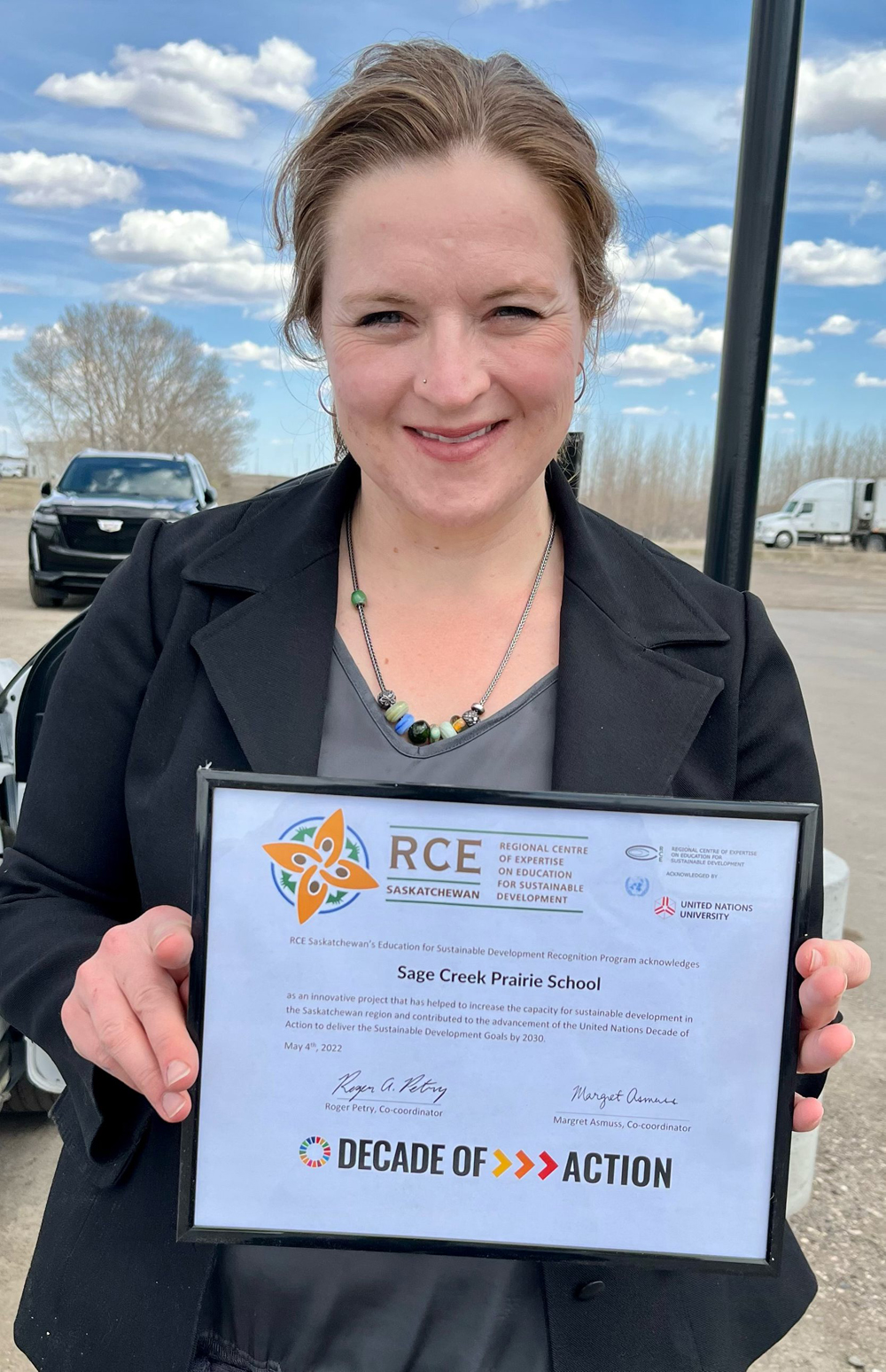 Kristen Simonson with the RCE Saskatchewan award certificate received by Sage Creek Prairie School for being an innovative project promoting sustainable development principles. Photo submitted
An outdoor school just outside Swift Current is providing new opportunities for participants to reconnect with nature.
Kristen Simonson's own passion for outdoor education and nature was the motivation for the start of Sage Creek Prairie School two years ago.
It has already attracted a lot of interest and recently received an award that recognizes initiatives in Saskatchewan for promoting the goals of sustainable development.
She has been a science and outdoor education teacher for over two decades with degrees in biology and education. She became increasingly interested in starting an outdoor school after the was introduced to the Forest School concept about five years ago at a conference in Vancouver.
"I just thought it was unbelievable what the kids were being allowed to experience and how their behaviour changed," she said. "I'm also an outdoor education teacher here in Swift Current and I just thought it would be a really nice way to combine all of the things that I love. Then we decided we're just going to try it, especially during the pandemic. We thought maybe kids are going to be locked inside and maybe not having the chance to get out and experience nature, and that's something near and dear to my heart. So we decided to try a couple of sessions and then it took off from there."
The initial sessions took place during 2020 with the help of a group of friends, who allowed their children to participate in the activities.
"We took them out and I think it was a pleasant surprise for everybody, kind of what happened in our first sessions," she recalled. "The kids were so happy to be outside and have unstructured playtime. To watch their confidence grow over the season was amazing."
Simonson is the director and lead educator at Sage Creek Prairie School. She has been trained in Forest School and National Geographic teaching and learning styles. She noted that both staff members are Forest School certified.
The Forest School philosophy combines positive outdoor experiences with a child-led approach. Activities and learning take place in small groups, and Forest School teachers will teach skills and intervene only when asked for or required.
"We've been so used to putting kids in very regimented instruction, and freedom just really isn't something that they get to experience very often," she said. "So one of the things that we wanted to make sure that we offer is unstructured playtime. If they decide that they want to make a fort, we try to make that happen, and if they decide they want to go exploring and have a picnic somewhere, we try to make that happen. So it's very much what kids think is important and a little less as to what the adults think is important."
This approach also allows risky play, which means that children might climb trees, explore rougher terrain or learn new skills through the use of tools such as a bush knife.
"The Forest School pedagogy is that they're not that risky, especially when you scaffold the activity so that they learn how to do it properly and that special equipment are their tools, not weapons," she explained. "We're finding that as kids come through this process, that their confidence is going through the roof and they're learning how to properly do things in an outdoor environment, which for me, that's how I grew up. So it's really nice to see little kids climb a tree and to know they can do it safely and they know where to put their feet and they know how to grab a branch and they know how high they can go."
Sage Creek Prairie School opened in June 2021 for its first full season of activities. It ran four different programs from June to October that included an adult education series. It hosted over 50 children from ages two to 15.
"It's been overwhelming, actually, which is amazing for us," she said. "Word of mouth has been amazing and we've got some very loyal participants that have come back a few times. Now we're starting to see school groups want to come out and we've had a few, like the Girl Guides came out and spent some time with us. So it's been fantastic so far."
The 2022 season is scheduled to be another busy season with spring, summer and fall sessions. The Forest School sessions are for children aged 3-5.
"The goal for that group is just to get them outside and having fun, and using their creativity and basically unstructured play," she said. "We provide them lots of different little environments to play in. We have water for them to play in, we have mud, and there's lots of plants, and lots of crafts."
The Kids in the Coulee sessions are for ages 6-8. These child-led free play sessions will include den building, tool use, exploration and orienteering, creative play, fire building, foraging, and time spent in the garden.
"That's usually our rambunctious bunch," she said. "They like to make forts and they like to go exploring and do all kinds of things. They're very active, lots of hiking, just lots of exploring, and so we help them do that."
Introduction to Bushcraft is a session for ages nine and up. It provides them an opportunity to learn outdoor skills such as knife work, fire building, rope making and axe throwing.
"These are the teenagers and they're not usually as much into the explore mode," she said. "They want to learn how to do things and so this is where we really focus on doing some survival skills and it depends what they want. The group I have now is very interested in doing some fireside cooking. They really want to be able to start fires without matches. We're learning to do some survival camp setups, they want to do some medicinal plant foraging, and we're going to make some balms and salves."
She will offer outdoor sessions for adults if there is a demand for it. Activities for several independent groups have already been scheduled for 2022.
The activities take place on private property located two minutes north of Swift Current, just beyond the city limits.
"Parents can just drop off their kids and come pick them up again, which is fantastic," she said. "We actually have a parcel of native prairie, which is also fairly rare in these parts, and so we just thought what a great place to educate kids a bit on native prairie and what's on it and how it functions. Then right off our property we have a really deep treed coulee that we've been using as an outdoor classroom. So it's a perfect place for what we're using it for. We're so lucky to have it."
Simonson attended the 14th annual awards ceremony for achievement in education for sustainable development at the Royal Saskatchewan Museum in Regina, May 4. These awards are presented by the
Saskatchewan Regional Centre of Expertise (RCE) on Education for Sustainable Development, which is part of a global network of similar centres promoting sustainable development principles on a local level.
The award presentations were done by RCE Saskatchewan's patron, Lieutenant Governor Russ Mirasty. Sage Creek Prairie School was one of 26 initiatives in the province recognized at the 2022 awards ceremony.
"Some of them are research based, some of them are environmental action, some of them are food security and then there's a section that's designated for education, and that's the award that we won," Simonson said. "So it's pretty cool when you haven't been around for very long and then you got nominated for this award, because of what you're promoting and letting kids experience."
For more information about Sage Creek Prairie School or to register for upcoming sessions, visit their website at: http://www.sagecreekprairieschool.ca