Chinook Regional Library children's programmer receives provincial literacy award
Posted on 1 June 2022 by Matthew Liebenberg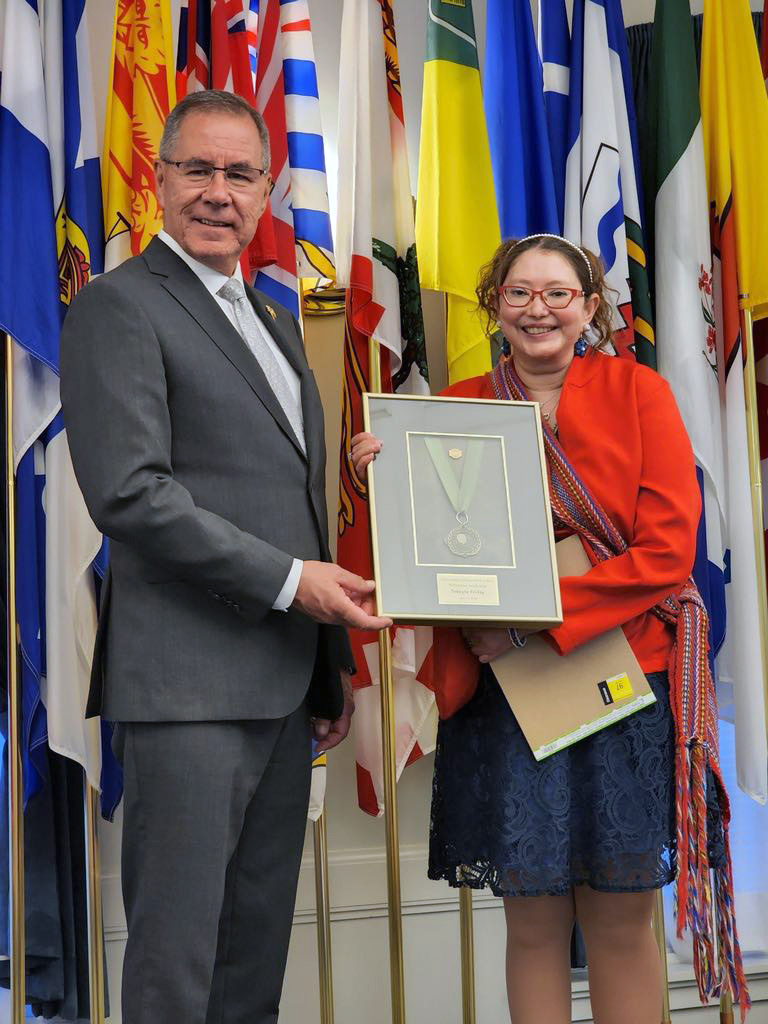 Saskatchewan Lieutenant Governor Russ Mirasty presents the Professional Leadership in Literacy Award to Tekeyla Friday, May 11.
Tekeyla Friday's enduring passion to be an advocate for literary in the community and through her work as children's programmer for the Chinook Regional Library has received provincial recognition.
She received the Professional Leadership in Literacy Award at the 2022 Saskatchewan Literacy Awards of Merit ceremony, May 11.
The event took place at Government House in Regina and Lieutenant Governor Russ Mirasty presented the awards to recipients. The awards program is coordinated by the Saskatchewan Literacy Network and the different award categories give recognition to an outstanding literacy learner, volunteer, professional, program, and business.
The Professional Leadership in Literacy Award recognizes the dedication of a leader, employee, or other professional who supports literacy advancement in their organization and community.
"It actually means a lot to have received this recognition," she told the Prairie Post. "Partly because I've spent over a decade working with the Chinook Regional Library in the area of children's services and promoting literacy, but also because it's been my goal to promote early literacy skills in children as young as infancy up to school age and beyond in order to assist parents in teaching early literacy skills to children as well as supporting children who may not otherwise have access to early literacy skills."
Her commitment to literacy promotion is firmly rooted in her own struggles as a young child to learn the alphabet and to read. She spent a lot of time during her childhood years in the Maple Creek Hospital due to health issues and she credits a group of nurses for supporting her reading development.
"It's been through my own medical team of nurses who took the time to teach me nursery rhymes, to work with me on reading, to even helping me to understand how to tell time on a conventional clock," she recalled. "They were an incredible team of very busy and often very haggard ladies who worked hard, but they took time for one little curious child who needed the attention and the care that they were giving, and I can't be more grateful to those women."
She also found support at school to improve her reading skills, specifically a teacher assistant who worked with her until she went to high school.
"That's when I became an avid reader and started expanding my understanding of the English language," she said.
She noted that the support of an individual can make a significant difference to a child's progress, and her goal has therefore been to be a literacy champion.
"I have a lot of joy in what I do with the library, because often I'm that resource or support for the mom, grandma, auntie, uncle, dad et cetera who is coming in, looking for support for their kids," she said.
She has been able to explore her creativity and find different ways to reach children through literacy activities provided by the different branch libraries within the Chinook Regional Library area.
"Some of the ways that I have reached my goal is through storytime for three- to four-year-olds, and through a half-hour program called Baby Steps, which is rhymes and songs for infants up to 18 months," she said. "We do other types of weekend programs where we have guests come in and talk about literacy or share stories. We've done different types of programs, because literacy is broad. There are different things that we incorporate, like environmental awareness, or how to grow a garden in a box or literacy through STEM – science, technology, engineering and mathematics."
She noted that literacy development can often take place during other activities that does not appear to have such a focus.
"It's like baking with a grandparent," she said. "So you learn how to read the recipe and understand the ingredients and how to make that recipe, but at the same time you're also using fractions."
Her role in the Chinook Regional Library has expanded and she is also offering Métis and First Nations cultural programming.
"I am Métis and as part of our cultural awareness aspect we're bringing literacy skills into that stream that is more specific to those cultures," she said. "The purpose that serves is not only are we assisting with literacy skills in the cultures, but we're also helping to bring awareness to the culture for other people who may not be part of that culture, but would like some learning and knowledge around it."
Friday is also a visual artist and a writer, and she has used those skills towards literacy promotion. She used her experience in clay animation to create the mascot for the Mo literacy program, which was initiated by Chinook Regional Library Director Kathryn Foley. Mo is a reference to the fossil of an Elasmosaurus, a prehistoric marine reptile, that was found near Ponteix.
"I've had so much fun creating his character and having this program, which is five weeks," Friday said. "We start the first two weeks, which is focused on the alphabet, and then we use music, which is also another type of literacy, and we talk about oral stories and family traditions. Then about the fourth or fifth week we start including numeracy and learning numbers and all sorts of things. Parents get free resources that they can take home and help them continue teaching their children these literacy skills, and one of the goals is to have a First Nations and Métis component to it."
She will continue to be involved with this program, including the creation of more resource material with a clear connection to the Mo character.
She has been a long-time member of the Prairie Quills Writers' Group, which has been a really good support group to her. She has written a picture book for children and her short stories have been published in a children's magazine. She also has plans to publish more of her work.
"I also love making up songs and rhymes for my nephews and niece, and sometimes will write them down and use them in my rhyme time program," she said.
She appreciates the recognition through this award, but she emphasized a point she also made during her speech during the award ceremony. There have been many individuals who contributed towards her own success in literacy and learning, and who gave her the passion to be a literacy advocate.
"I couldn't name every individual who has been a supporter or cheer leader in my life, because I'm sure I've got about 500, but as I said in my speech, each one has been like a spark lighter for my passion in literacy," she noted.