City receives $750,000 for Inclusive Park through the Canada Community Revitalization Fund
Posted on 30 May 2022 by Prairie Post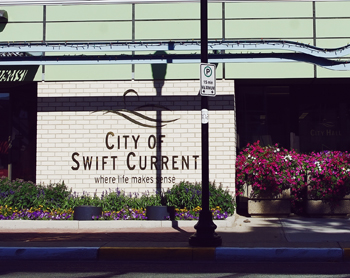 Contributed
A new inclusive park will be built in Swift Current – thanks, in part, to a $750,000 investment from the Government of Canada.
Through the Canada Community Revitalization Fund (CCRF), the Government of Canada is investing in community initiatives that revitalize downtown cores and main streets, reinvent outdoor spaces, create green infrastructure and increase accessibility. The CCRF is a two-year, $500 million national infrastructure program meant to support communities across the country in building and improving community infrastructure.
"It is always an exciting day to receive news of a successful partnership funding announcement from other levels of government coming to our city. We are very grateful for this contribution from the federal government," stated Mayor Bridal. "The inclusive park project has been a concept for many years and thanks to this funding commitment from the federal government and land acquisition partnership with the provincial government, our inclusive park will soon become a reality in Swift Current. We look forward to collaborating with our stakeholders to build and bring this new space to life."
The goal of Swift Current's inclusive park is to provide a space that supports the cognitive, emotional, physical, and social development of all community members. Phase one (1) of the park will feature a playground structure with multiple entrance and egress points for individuals with mobility challenges. It will also include a We-Go-Swing to allow individuals to swing without having to transfer out of their wheelchair. The accessible park design will include areas for shelter and shade, space for family picnics, accessible paths, playground surfaces, parking lots, and washrooms.
"Our government continues to support community infrastructure through the Canada Community Revitalization Fund to bring people back together in our public spaces," said the Honourable Daniel Vandal, Minister for PrairiesCan. "Recreational spaces, like the new accessible playground in Swift Current, provide the community and visitors with a place to come together and enjoy outdoor activities."
"We are thrilled that our federal government is investing in community projects like the inclusive park," said General Manager of Community Services, Jim Jones. "This funding will be used to support the transformation of a vacant lot into an innovative and inclusive community space. With this contribution, phase one (1) of the three (3) phase project will begin. The additional phases of the project will continue based upon budget approval and additional funding partnerships and support."
The City invites residents to stay tuned for more details on how to become involved in the design of the inclusive park.