Dedication ceremony for new plaques honours veterans at Swift Current cenotaph
Posted on 25 May 2022 by Matthew Liebenberg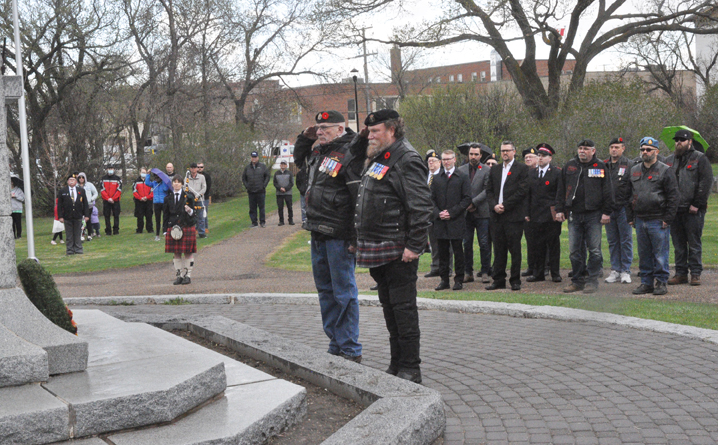 Two members of the Comrades Forever Motorcycle Club give a salute after laying a wreath during the dedication ceremony, May 14.
By Matthew Liebenberg
A dedication ceremony and unveiling of two new plaques took place at the Memorial Park cenotaph in Swift Current, May 14.
The plaques are honouring Canadian peacekeepers (1954-present) and Canadians who served in Afghanistan (2001-2014).
The project was a partnership between the Royal Canadian Legion Branch No. 56 Swift Current, Comrades Forever Motorcycle Club, and the City of Swift Current.
"This day means a great deal to the Legion," Swift Current Legion spokesperson John Griffin told the Prairie Post. "Not only for those who served on these missions who are members of our organization, but just to the organization itself. We very much pride ourselves on honouring veterans and we always like to get them the honour they deserve for their service. It means a great deal to myself personally. My father served on peacekeeping missions in Cyprus, Egypt and elsewhere. So it means a great deal to myself and I know it means a great deal to my dad, who was here today. He's a member of the Legion as well."
A donation of $1,000 from the Comrades Forever Motorcycle Club made it possible to purchase and install the two plaques on the west side of the cenotaph.
"They've been instrumental," he said. "It couldn't happen without them. When we were going around fundraising for the plaque, they ended up pulling out of their own pockets to fund both plaques, as a lot of their members served in peacekeeping operations as well as Afghanistan. It was a real honour to have them here as guest of honour."
The Legion started an initiative known as Operation Remember to raise funds for the purchase and installation of the new plaques. It included an online auction, which raised just over $1,200. The large donation from the motorcycle club meant this money was not used to fund the new plaques and it will now benefit local veterans.
"That money is going to go into Legion programs that will benefit local veterans," he said. "All the money is going to stay local. I don't know what programs it will go into yet. That's still being decided, but it will go to benefit local veterans here in Swift Current and area."
The dedication ceremony for the new plaques followed a similar format to the annual D-Day and Remembrance Day services at the cenotaph. The parade detail included a flag party of Navy League cadets, dignitaries, and representatives from local emergency services.
The scripture reading was done by Salvation Army Lieut. Bill Mailman. Speakers during the ceremony included Cypress Hills-Grasslands MP Jeremy Patzer, Swift Current MLA Everett Hindley, City Councillor Ryan Switzer, and Comrades Forever Motorcycle Club President Steve Stanford.
The plaques were unveiled by two members of the Comrades Forever Motorcycle Club, who are both veterans. Club President Steve Stanford from Gull Lake was a master bombardier with the 1st Regiment Royal Canadian Horse Artillery in Afghanistan. Darren Maruska from Moose Jaw, the club's sergeant-at-arms, served two tours as a Canadian peacekeeper on United Nation peacekeeping missions in Cyprus and on the border between Israel and Syria.
"It's outstanding that the City and the Legion wanted to do this," Maruska said after the ceremony. "Not every place is doing it, and getting the recognition for the Afghan veterans and the peacekeepers that have paid the price is outstanding."
Canada has a proud and longstanding peacekeeping tradition in countries around the world. More than 125,000 Canadian Armed Forces members have served in international peacekeeping missions and approximately 130 died during these operations.
"If you look at Canada's contribution, it's amazing," he said. "Canada won the Nobel peace price for UN operations in 1988. So it's important that this kind of recognition happens for those people."
Canada's military role in Afghanistan was the country's largest deployment since the Second World War. It involved more than 40,000 Canadian Armed Forces personnel and 158 soldiers died.
Stanford served for seven months in Afghanistan in 2008. He was attached to the 2nd Battalion Princess Patricia's Canadian Light Infantry as a forward observer to call in artillery fire on enemy positions.
He felt the cenotaph in Memorial Park is now complete with the installation of the two new plaques.
"Everyone is represented now," he said. "I can only imagine a family member of an Afghan veteran who died or a UN peacekeeper who died and their families come to a cenotaph and they're not represented on the cenotaph. It's completely wrong in our eyes. So now they can come to this cenotaph and at least they're honoured. Their families can go home in peace and know that their loved one is honoured at this cenotaph."
The Comrades Forever Motorcycle Club was founded in Moose Jaw in 2018 with the goal to support veterans living with post-traumatic stress disorder.
"We provide a non-judgmental support group for our own members," he said. "A lot of our own members have post traumatic stress disorder."
He added that the club's activities include what they refer to as "wind therapy" for members during their trips.
"We get out on the road and your head gets clear," he explained. "You just have fun and it just helps lower the symptoms of post traumatic stress disorder. And it's a brotherhood. A lot of us, when we left the military, one of the things that we missed the most is the camaraderie, and we have that with our club. So this is next best thing to still being in the military."