Taking it to the Streets to host another entertaining concert in Swift Current
Posted on 24 May 2022 by Matthew Liebenberg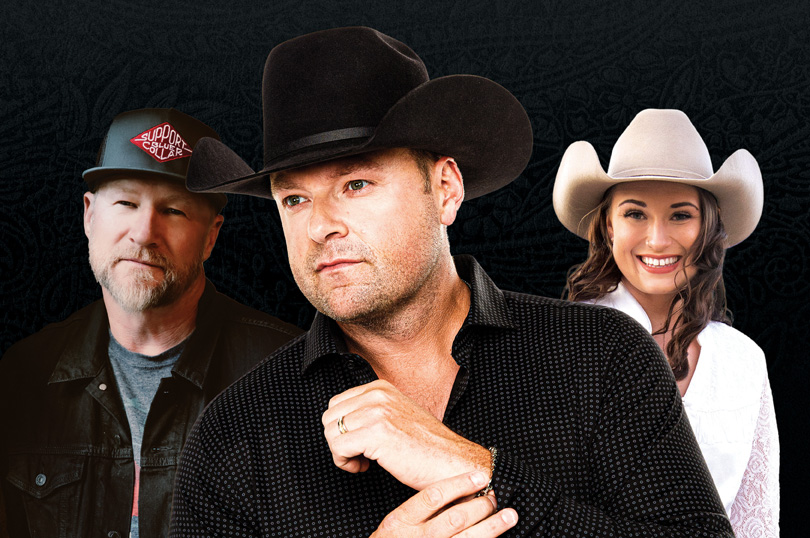 The family-friendly community concert Taking it to the Streets will be back for the fourth year running to entertain music fans with a great line-up of entertainers.
The 2022 Taking it to the Streets concert takes place at Kinetic Park on Swift Current on Aug. 20, featuring country star Gord Bamford.
The concert will also feature award-winning country artist and songwriter Duane Steele and emerging country artist Karissa Hoffart.
Concert tickets are going on sale on June 1 and event co-organizer Leanne Tuntland-Wiebe from Bumper to Bumper Great West Auto Electric is already looking forward to get on stage to introduce the performers.
"Isn't it crazy that we're doing another one?" she said with a happy laugh.
It has become a tradition since the inaugural concert in 2019 for Tuntland-Wiebe and Gordon Frank, who is a staff member at Bumper to Bumper Great West Auto Electric, to introduce the performers during the evening.
"So Gord and I are going to have our cowboy hats on," she said. "We're going country!"
She is excited to have Bamford, who has received 26 Canadian Country Music Association awards and multiple JUNO award nominations, as the headline performer.
"We've been toying with the idea of having him come before, because his wife Kendra is actually from the Herbert area," Tuntland-Wiebe said. "We thought we'd have a little bit of a pull with getting him here and of course he said yes. So I'm thinking there's going to be lots of people from out east of town coming to the concert."
Bamford's 10th studio album Diamonds in a Whiskey Glass was released in 2021. The hit single Heaven on Dirt has already been streamed over 5.5 million times worldwide.
"He's got a new hit on the charts right now that he recorded with Terri Clark," Tuntland-Wiebe said. "He and his band just want to play and have fun after getting out of COVID. So he was just awesome to talk to and to work with."
It was actually during their conversation that Bamford surprised her with the suggestion that fellow country musician Duane Steele also performs at the concert. She was happy to add Steele, who is a multi-award-winning artist. He has released six studio albums and a greatest hit album. His most recent album Bonfires and Guitars was released in 2020 and included a duet with Bamford.
Tuntland-Wiebe is also excited to have Saskatchewan country artist Karissa Hoffart as the concert's opening act. She recalled hearing Hoffart during the 2020 Taking it to the Streets drive-in concert in Assiniboia with country musician Justin LaBrash.
"She came out and sang one of her original songs just with Justin accompanying her on the guitar," she said. "You could hear a pin drop on that field in Assiniboia. She just wowed me. So I've been waiting for the right time to bring her up here and to present her, and I think she's just going to fit in absolutely wonderful with Gord Bamford and Duane Steele."
The Taking it to the Streets concert already experienced various changes since it initially took place in downtown Swift Current in 2019. The COVID-19 pandemic meant the 2020 concert had a drive-in format at Kinetic Park. The 2021 concert had a seated arrangement, but was still held in the parking lot at Kinetic Park to allow enough room for attendees to maintain a distance from others.
For 2022 the concert will move to the grandstand at Kinetic Park with plenty of room in front of the stage for people to dance during the performances.
Another addition at this year's concert will be food truck wars, with several food trucks in the parking lot providing various meal options for concert-goers.
Something that will remain the same is a commitment to use the concert as a means to give back to the community. Various non-profit organizations have been able to raise funds and benefit through their involvement with Taking it to the Streets.
The Swift Current 57's will again be running a beer garden concession to raise funds for the baseball club. Last year's concert resulted in a donation of $8,000 to the Swift Current Agricultural and Exhibition Association.
"The first year we had the cadets involved and it was a fundraiser for them for selling concessions," Tuntland-Wiebe recalled. "We've always had that aspect to it, except for the drive-in year, when we had the cars come and we couldn't do concessions then. … So it's not only involving more of the community, but perhaps a chance to give back to non-profit groups in Swift Current as well."
She has a number of non-profit organizations in mind as beneficiaries of funds raised from ticket sales for this year's concert after all expenses are covered.
There are various sponsorship opportunities available for local businesses who want to use this concert to give back to the community and clients.
"We try to make it so any business or any entrepreneur that doesn't have a budget to do a customer appreciation can come in at some level on this event," she said. "They can take their own ownership of this event and say this is my customer appreciation event for you."
Armstrong Implements is joining Bumper to Bumper Great West Auto Electric as a key sponsor of this year's concert, and various other businesses are also involved. There is a sponsorship category for community involvement for businesses that want to give support in that way, for example by sponsoring some tickets for attendees from non-profit organizations.
"So it's just a fit with what we're trying to do, whether it's community appreciation or whether it's showing inclusiveness and including all these different groups.," she said. "We want to grow that way where we don't want to leave anybody out."
This year's concert will again coincide with the Come Together weekend of activities in Swift Current, which promises to be even busier than last year. Market Square and sidewalk days take place on Aug. 20 and other activities in the city during the weekend include the Eliminators Riverside Rod Run, 13U National Western baseball championship, and the provincial disc golf championship.
"It's going to be a very busy weekend," she said. "So mark it on your calendar. Swift Current is going to be the place to be in the southwest on Aug. 20."
Tickets for the 2022 Taking it to the Streets concert are $20 per person aged 18 and older. Entrance is free for those under 18. Tickets go on sale starting June 1, and are available at City Hall, Pharmasave, Bumper to Bumper, Voth's, Swift Current Ag and Ex, and Market Square (starting June 11 on Saturdays). Gate tickets at the concert will be cash only. Gates will open 6 p.m. and the concert will start 7 p.m.