Martial arts club fundraiser breaks boards to end slavery
Posted on 24 May 2022 by Matthew Liebenberg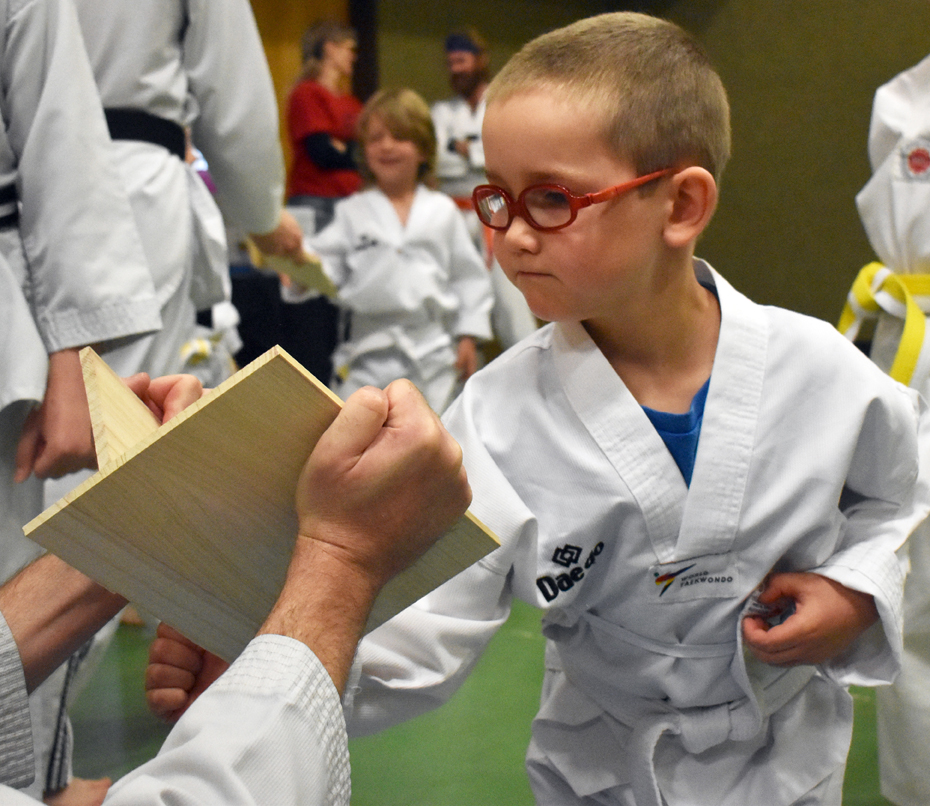 Seven-year-old Dane McKillop uses his fist to break a board at Breaking Boards for Freedom, May 14.
By Matthew Liebenberg
The dedicated fundraising efforts of a martial arts club in Swift Current continues to make a difference in the global fight against slavery and human trafficking.
Swift Current Christian Taekwondo hosted its annual Breaking Boards for Freedom fundraiser in the Church of the Open Bible gym, May 14.
Students have been gathering pledges in the run-up to the event and they used various taekwondo techniques to break close to 400 boards. The event and an online auction raised close to $17,000 for International Justice Mission (IJM) Canada.
The club has been breaking boards to raise funds for nine years and donated a total of nearly $90,000 to IJM.
Swift Current Christian Taekwondo head instructor Gary Voysey appreciates the ongoing support from students, their families, sponsors and the community for this fundraiser.
"My students really believe in the cause and work hard to raise awareness," he said.
He felt this fundraising initiative by the club helped to raise awareness in the community about the issue of slavery and human trafficking in Canada and around the world.
"I think about five years or so ago there was a little bit hesitancy from people here in Swift Current," he said. "Human trafficking wasn't even on their radar, even though it was happening here. … So more people are more likely now to donate to the cause."
He recalled a recent situation to highlight the fact that human trafficking is not something that only happens on other countries. In early 2020 the RCMP arrested several individuals from British Columbia on charges of human trafficking after a traffic stop on the TransCanada Highway near Swift Current.
The breaking of boards has some symbolic meaning to highlight the efforts been undertaken by IJM to free people from bondage.
"It's a little bit of symbolism when we're breaking the boards," he said. "We're sending a message. This is Swift Current, we know it happens here in Canada, but people like us and you can end it. If we're making a small dent today, then praise God, because every dent is going to chip away at those taking advantage of other human beings."
Voysey has a strong personal commitment to the work done by IJM in countries around the world.
"For me, I look at slavery and human trafficking as just one of the most obscene things that a human being can do to another being," he said. "To actually say that you own a person and to make them do whatever you want them to do, because they owe you money or they're living in fear of violence, which is a big part of trafficking. I just think that's obscene and for women in particularly, violence against women, it's increasing. You know, we're in the 21st century, and this is just not acceptable."
According to IJM Canada, more than 40 million people around the world are living in slavery. One in four victims of forced labour slavery is a child. Human trafficking is a multi-billion dollar industry that generates $150 billion annually.
IJM Canada Director of Development Growth David Pollendine attended the event. He previously visited the city to present fundraising awards to Swift Current Christian Taekwondo, but this was the first time he saw club members breaking boards.
"That is amazing," he said about their fundraising success. "A taekwondo club raising that much money. Who would think that is possible? It's incredible."
IJM partners with local authorities through 24 program offices in 14 countries to combat slavery, violence against women and children, and other forms of abuse against people living in poverty. Its approach includes efforts to locate and rescue victims, to provide survivors with support and tools to heal, to take action to bring abusers to justice in courts, and to work with authorities to strengthen justice systems.
According to Pollendine the fundraising efforts by various groups are crucial to the success of IJM's work around the world to end abuse and exploitation.
"We love partnership and so we partner with many people across Canada," he said. "This kind of fundraising where you've got a club that's willing to put all their energy and effort into coming together is no small feat. It's incredible and this is the money that we need if we're going to end slavery by 2030. We need taekwondo clubs, we need organizations, we need churches, we need individuals, we need people to come together and actually say how can we help in ending slavery, and that's one of the biggest ways we can help here in the western world is actually using the privilege that we've got to send funds to the field."
IJM has set an ambitious goal to protect half a billion people against slavery and human trafficking by 2030. It is a big challenge and conflicts such as the war in Ukraine create more vulnerable people for abusers to prey on. He felt it can be done through coordinated efforts and partnerships.
"We can't do it on our own," he said. "We can't do it with just fundraising. We have to involve everybody. Everybody has to come to the table. We have to challenge governments to fund this as well. We need to speak to corporations, because they have supply chains. … Often times slavery will have touched that product. We need to engage people that we don't always just blindly buy things without questioning. Financial institutions and banks, money transfers, we need to question where that money is going. So everybody has to come to the table and so we engage everybody in this fight to end slavery."
He noted that modern slavery can take place in many forms and it is not always visible, because the victims are not in actual chains.
"It could be boys on a boat in Ghana being forced into the water to mend fishing nets," he said. "It could be girls in a bar in the Dominican Republic who are there because they've been trafficked for sexual exploitation. It could be children that are sexually exploited online, sometimes by their own families or relatives. It could be a family in India who have been tricked by a loan into working in a factory. We call it bonded slavery. That can trap somebody for years, even generations."
He added that regardless of the form of this slavery and exploitation, there is a common threat faced by all victims that prevent them from escaping.
"The people aren't in chains, it's not like they can't get away," he said. "It's usually because they're threatened by violence. Their day-to-day life is a very violent one, and it's either violence that's done to them or it's the threat of violence if they were to step out of line. So that keeps people trapped in slavery."