Live It Every Day – June is Recreation and Parks Month in Swift Current
Posted on 24 May 2022 by Ryan Dahlman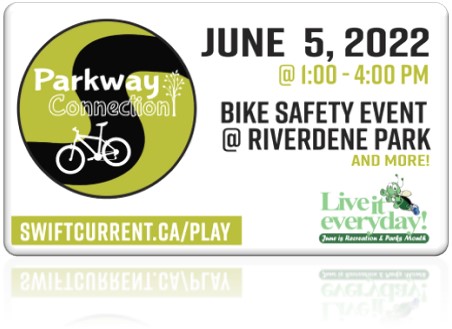 Contributed
Every June, communities across Canada celebrate "June is Recreation and Parks Month" (JRPM). JPRM is recognized by municipalities, community organizations, and schools as a means of promoting the benefits of being active by recognizing the contribution that Recreation and Parks make to our quality of life.
Our Parks help to foster personal health, strong communities, and social inclusion. Residents of Swift Current love our park spaces which encompass over 19% of our City's large footprint. Swift Current's Park areas remain as some of the City's most utilized public and facility spaces.
The City has seventy (70) parks or open space sites that cover over 566 hectares (ha) of land. Our parkland provides residents with access to nature and opportunities to be active outdoors. The City's recent addition of eleven (11) km of sidewalk and pathway supports activities for all ages and abilities that are for pure enjoyment, exercise, and active transportation.
The City of Swift Current's Community Services Department is encouraging residents to celebrate JPRM with a kickoff event on Sunday June 5th at Riverdene Park between the hours of 1-4 pm. Several free activities will highlight the day, like the Bicycle Safety Event, Editors Ride, and a Parkway Connection experience which involves participants visiting selected park locations to take part in organized activities including treats and refreshments.
"As we emerge from the challenges of the past couple of years, it is important for our residents to reintegrate leisure for pleasure, get more activity and take advantage of our Parks, Pathways and our many local recreational opportunities," said Jim Jones, General Manager of Community Services for the City of Swift Current.
A new initiative for JPRM this year is the Community Passport. The Community Passport will be a fun approach to participating in many different activities and events with the goal of visiting as many pre-determined locations as possible. Then at the end of June, participants may drop off their passports at the West Wing Gallery in Kinetic Park during Frontier Days or, to City Hall to be entered to win several prizes.
To learn more about what Swift Current is doing to celebrate JRPM, please visit: http://www.swiftcurrent.ca/divisions/community-services.
Community Services is the division responsible for Recreation, Parks, and Culture. We are committed to "Promoting Healthy Lifestyles in our Community." Please check out our Community Services Guide for more information about community organizations, clubs, sports and more, that are available in the City.