Pyrotechnician enjoys unique career of entertaining crowds with firework shows
Posted on 19 May 2022 by Matthew Liebenberg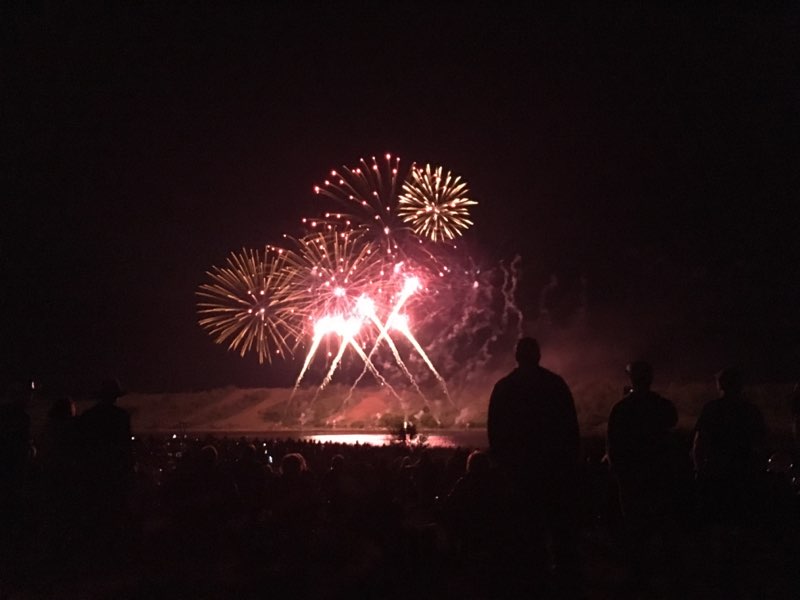 A fireworks display during an international fireworks competition at Moosomin Lake Regional Park, 2018. Andrea Erlandson's involvement with this event has been a career highlight.
By Matthew Liebenberg
A fireworks show can be a captivating and memorable experience, but for Andrea Erlandson it is a passion that has become an exciting career.
Her interest in fireworks started while she was growing up in Swift Current. She now works as a pyrotechnician at Paradise Fireworks in Regina and for several years she has been arranging an annual fireworks show for family and friends on an acreage just outside Swift Current.
"My dad was actually the reason," she said about her interest in fireworks. "He has a friend from high school that has a fireworks company, and my dad got his licence. We were able to see what they were doing on sites and it looked like a lot of fun. So as soon as I was of age, I went for my licence and then it was just such a good opportunity that I just kept going with it."
She has completed a variety of training and apprenticeships during the past six years. She has received a fireworks operator certificate from the Explosives Regulatory Division (ERD), which is the federal body responsible for regulating the explosives industry in Canada.
She is qualified to work with display fireworks, which are items such as aerial shells, cakes, roman candles, waterfalls, lances and wheels that are typically used for public firework displays at various events such as on Canada Day.
As a result of ongoing training, she became a display fireworks supervisor in 2017 and in early 2022 she received several supervisor endorsements. These endorsements are issued after the completion of additional training in the use of specific types of fireworks. She has received her large shell, floating platform (barges, pontoon or multihull), nautical effects, and flying saucer endorsements.
"Normally with the apprenticeship, people do their three shows and then they want to get their supervisors right away," she said. "I'm a little more of a cautious person. So I took about two years with my apprentice and then in 2017 I went for my supervisors and then only this year I went for my endorsements. Sometimes the endorsements are a little hard to get, just because you have to go to very specific shows in order to get your large shell or your barge, because there are not as many of those."
According to Erlandson the most challenging aspect of her career as a pyrotechnician has been the process to learn all the details of this specialized work.
"So just trying to learn everything you need to know in order to become a supervisor and to become confident enough in yourself that you can become a supervisor, because being a supervisor is a lot of responsibility," she said. "If something goes wrong, it's on you. So to be able to work through all of the challenges in order to get to becoming a supervisor. … It's a bit of a challenge going from an apprentice knowing nothing to becoming that supervisor, but once you've made it to a supervisor you understand the majority of the things."
It is an ongoing process of learning and she also wants to continue her training until she can qualify to receive further endorsements.
"I would love to be able to get the last three endorsements," she said. "There's the bridge, the rooftop and the flat deck trailer still. They're going to be a lot harder to get, because there's not many of those shows, but that is definitely a goal I have. And then, people shoot off fireworks all around the world. So to get the proper licence to be able to shoot off in different countries, that would be a spectacular thing to do as well."
Another option for someone interested in working as a pyrotechnician is to obtain an operator certificate in special effect pyrotechnics, which are used in theatre productions, concerts and on film sets.
"I have actually been very interested in doing that as well," she said. "It's just again getting on with the right people. … So one would have to find someone who has their special effect pyrotechnics ticket in order to go into that."
She has been involved with over 100 fireworks show as a pyrotechnician, of which 60 have been in her role as display fireworks supervisor. She still recalls the excitement of shooting off her first show after becoming a supervisor.
"It was both great and slightly terrifying," she said. "Turning that key to turn on your system and just hoping that everything is going to go well and then once the show is done you can finally breathe."
There is still a sense of anticipation when she gets ready to launch a fireworks show, but she now has the benefit of experience.
"The biggest part is that time of waiting," she said. "As soon as I pull the trigger and that first shell goes, I'm relaxed. But it's just you know you're shooting at 10:30, you're getting the system ready, it's 10:25 and you have those five minutes to wait and the nerves kick in. But as soon as you pull the trigger and that first shell goes, you know this is going to go fine, you breathe, and you're relaxed."
Paradise Fireworks specializes in pyromusicals. It means that the entire fireworks show is programmed to music.
"That always takes us a little bit longer to get the fireworks all figured out," she said. "We have a program on the computer and it makes our lives a lot easier. So you basically add music to this program and then you have all of your shells and cakes in an inventory that you can just slide in on the section of music you want that specific effect. So the programming stage used to take me a few days just to get a show done, but within six hours one can program a pretty decent show and have it all ready to be printed."
She works mostly in Saskatchewan, but she once did a show in Lethbridge, Alberta. Her involvement with an international fireworks competition held at Moosomin Lake Regional Park for three years from 2017 to 2019 had been a career highlight.
"All of the Moosomin shows were definitely memorable for me," she said. "We do some shows out at Cypress Hills, which we get to use barges for. Those ones are always a lot of fun to do."
She travelled abroad to attend various fireworks shows and in some cases she also helped out at these events, but she was not a shooter at any of them. She went to events in New Orleans and Nebraska and also attended an annual fireworks show in Iceland.
"My friends and I like travelling and having fireworks involved, since they're certified shooters as well," she said.
She attended a Pyrotechnics Guild International event held in Gillette, Wyoming, in 2019, where pyrotechnicians and hobbyists gathered to make shells and shoot them off. She was able to make Italian shells, which are cylindrical shells instead of the typical spherical shells used in Canada.
"So being able to make a cylinder shell rather than a spherical shell was a challenge and it was super exciting to do," she said. "We actually put them in a competition down there and then would shoot off our shells and be judged."
Erlandson has been organizing a fireworks show for several years on her aunt and uncle's acreage just north of Swift Current.
"Once I became a supervisor, I decided that it would be a lot of fun to bring my family together for Christmas and we would just make it extra special and we would shoot off fireworks," she said. "It's been four or five years now that I've been programming, setting up and shooting off this show."
These shows are organized in accordance with all the legal and safety requirements that apply to any public fireworks show. She therefore obtains the necessary approval from relevant authorities and follow all the precautions required in her role as a licensed fireworks operator. She will choreograph the show to appropriate music.
Poor weather made it impossible to have this show last Christmas, and as a result it took place recently in April. People in the community have become aware of this fireworks show and they would also watch it from a distance. For the show in April the public was even able to tune in to a radio frequency to listen to the music accompanying the show.
"It started out just my family and then one person talks to another person and eventually you have a lot more people out watching the fireworks," she said. "You could see them from the hospital and the Swift Current Mall area there. So we tried doing the radio this year so we could bring in more of the community. We just used the FM transmitter and attached our music to it and then you tune in to the right radio station and you can actually pick up that music."