Local dance teacher shares love for dance with country-wide dance initiative
Posted on 11 May 2022 by Matthew Liebenberg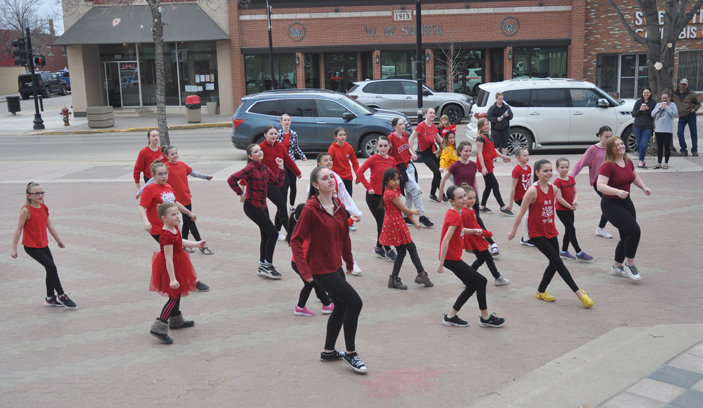 Dancers perform a choreographed dance piece on Market Square during International Dance Day, April 29. Matthew Liebenberg/Prairie Post
A Swift Current dance teacher spearheaded a country-wide initiative that brought dancers together in a virtual dance performance on International Dance Day.
Melissa Wallace, the owner and artistic director of The Dance Studio of Swift Current, felt International Dance Day on April 29 was a perfect opportunity to bring dancers, dance teachers and studios together to perform the same choreographed dance and then post their videos online using the hashtag #CDTAdancesacrossCanada.
She was inspired by a similar provincial virtual dance event, called #SKdancestogether, that was held in October 2021.
"We had a lot of fun doing our #SKdancestogether combo and that felt really awesome to see all the different dancers and everyone coming together online in the fall," she said. "Things have just been getting more positive and feeling better as we get deeper into the spring with everyone being able to return to the stage and to get to perform live."
She therefore felt it would be good timing to have a similar event, but to expand it to a national level involving dance studios affiliated with the Canadian Dance Teachers' Association (CDTA) as well as other studios.
"There's lots of competitions that have been happening during March and April and recitals that are happening," she said. "So with International Dance Day on April 29 and right in the middle of all the competitions and recital season, it just felt like another fun way to come together and celebrate dance."
Wallace cooperated with two other dance teachers to create a dance piece for the virtual event that was performed by dancers on International Dance Day.
"The combination that was choreographed was put together by myself, a teacher from Nova Scotia, and a teacher from Alberta, and then I filmed some of our dancers doing it and put together a tutorial video that went out to all the members of the CDTA across Canada," she said. "Teachers had access to the video and they could teach it during class at the studio and it was also on YouTube. They could share it with their students and they could learn it at home from the video."
It is a high-energy dance piece with a lot of movement and upbeat music. The choreography of the dance makes it suitable for dancers of different age and skill levels.
"It's a lot like the combination we did in October for our #SKdancestogether," she noted. "The combination was created with a flash mob kind of feeling to it. It could be learned to encompass a few people or a whole bunch of people, and there's no set patterning or formation that needed to change. So that makes it a little easier to learn it wherever you are."
The tutorial video that was created with dancers from The Dance Studio was sent out to a large number of studios and dance teachers across Canada.
"It went out not necessarily to a number of studios, because we keep track of the number of teachers that are part of our organization," she explained. "So that should encompass more studios, if they keep satellite locations or it could be several teachers at the same studio. It went out to over 700 different CDTA teachers and then we reached out to different organizations who are not part of CDTA. So it could have hit closer to 1,000 teachers."
She felt there was a good response to this initiative and she saw many videos shared on social media under the hashtag #CDTAdancesacrossCanada.
"It was pretty quick notice and we really had about a month to get the information out to the whole country and put things together," she said. "Right now, in the spring during competition season everything is all extra busy and there are lots of studios who are doing multiple competition weekends back-to-back and it doesn't leave a lot of time for extra stuff. So I was really inspired and excited by the videos that I did see and appreciate the time that the studios that participated took to do the combo."
She received a positive response to this initiative and she is looking forward to it taking place again.
"I talked to some other studios and they did the combo in their class, but maybe didn't have a chance to film it," she said. "For the first time trying something like this Canada-wide and on a month's notice, I feel like it was a positive outcome and really look forward to make it an annual event."
Dancers wore red and black or included those colours in their dance performances. Red is a reference to Canada and the two colours are representative of the CDTA colours.
"It was nice to keep that theme of the red to celebrate Canada and also bring the CDTA colours into it as well," she said. "In some of the videos I saw they had red pom poms or they had red and white balloons and they were wearing red and black. In one video that I saw, which was fantastic, they were wearing red and black tutus and they did the dance on white shoes."
Two performances of this dance by dancers from several dance studios took place in Swift Current on April 29. There was an outdoor perform at Market Square in the afternoon and an on-stage evening performance at the Swift Current Festival of Friends dance competition. The participating dancers in the two performances were from The Dance Studio and Backstage Dance Co. (both from Swift Current), Southwest Dance Co. (Gull Lake and Herbert), Shaunavon Dance Co., Dance Plus Inc. (Regina), Dance Plus Lumsden, and Dance Plus Emerald Park.
The Dance Studio used the process of learning and rehearsing the dance as a fun break from their regular class routine.
"It gave the dancers something different and new that was fun to do," she said. "Challenging for some of the younger ages and just a fun warmup for some of the older dancers."
Another benefit was that it provided dancers of different ages an opportunity to dance together as they practised this dance in preparation for International Dance Day.
"We love having the different ages intermingle and having the younger dancers come in and dance with the older dancers or show them their dance and watch the older dancers perform, and sometimes just do a fun free combo together or do warmups together," she said.
According to Wallace this initiative helped to share the positivity of dance across Canada. It also helped to highlight the benefits of dance to promote physical and mental health.
"That was another bonus to this combination is that it was just a fun dance that let you kind of let loose and just get into the dance and the movement, and not have any other thoughts other than having a good time," she said. "Mental health and stress relief is what everybody needs right now, and that was another big goal with this. If we can keep doing that, that's really important for all of our youth and our adults."