Swift Current Comprehensive High School to host unified basketball provincials
Posted on 4 May 2022 by Matthew Liebenberg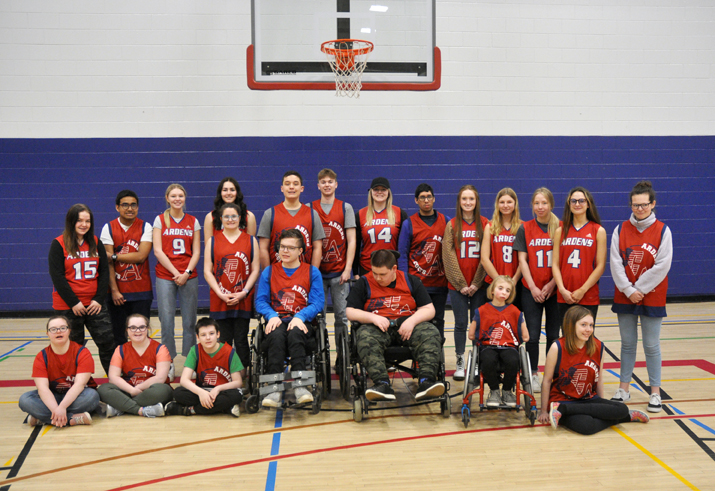 The Swift Current Comprehensive High School unified basketball team will be participating in the unified basketball provincials taking place in Swift Current, May 14.
The Swift Current Comprehensive High School (SCCHS) is hosting the unified basketball provincials for the first time on May 14 and is looking forward to good crowd support for all the teams participating in this inclusive sport.
Sarah McDonald, who is one of the coaches of the local team, said they are looking forward to hosting the provincials and providing local spectators an opportunity to experience the fun atmosphere at unified basketball games.
"There's no cost to attend the tournament," she noted. "We're hoping that we get a lot of people out. The cafeteria will be open. People can come in and just see some really fun, unique basketball. And the athletes feed off the spectators and the enjoyment that they get from hearing all the cheers."
She added that spectators at these games do not only cheer for their own team, but they celebrate scoring by all players.
"Everybody cheers for every basket," she said. "It doesn't matter if it's your team or not. Everyone cheers."
Unified basketball is an inclusive sport program that brings athletes of different intellectual abilities together on the same team. The game has a three-on-three format. Each team must have two players with an intellectual disability and one peer player on the court at all times.
Teams are competing in three divisions, with division three being recreational and the other two divisions more competitive.
"In division three, which is where a lot of my students will be playing, they only play on half the court and both team shoots at the same basket," she explained. "And there will be people on the court if we have a student in a wheelchair who needs somebody to push them. The peer player will maybe get the rebounds, but won't necessarily take the basket. They will give it to the student to try to let them get the basket. You'll see both teams trying to help each other get baskets. It's really unique. It's really fun. There's a level of competitiveness to it, but they're also looking out for the other team."
McDonald expects there will only one team in division two at the tournament from Carlton Comprehensive High School in Prince Albert. A Swift Current team of local celebrity players will therefore also be participating in this division.
Other teams that are expected to participate at unified basketball provincials include Martin Collegiate, Scott Collegiate and Thom Collegiate from Regina.
SCCHS has been participating in unified basketball since around 2016. It was scheduled to host provincials in 2020, but the tournament did not take place for the past two years due to the COVID-19 pandemic.
"We have never hosted this tournament before," she said. "We have gone to this tournament in Saskatoon and Regina, but we were supposed to host it in 2020 and then possibly in 2021, and obviously those didn't happen. This is the first time that this tournament is taking place since 2019."
Several of the current peer players with the SCCHS unified basketball team are members of the school's senior girls basketball team and one peer player is from the senior boys team.
McDonald felt unified sport has a real benefit and it allows all students to feel they belong to the student body.
"They are having their tournament just like the other teams are having their tournaments," she said. "We're going to have staff that come out and cheer them on, just like they have with the other tournaments, and we want to invite our community out to see some really unique sport."
The full day of action on the basketball court in the SCCHS gymnasium takes place from 9 a.m. to 5 p.m. on Saturday, May 14.