Dead Prairies Productions celebrates 10-year milestone with a new movie release
Posted on 27 April 2022 by Matthew Liebenberg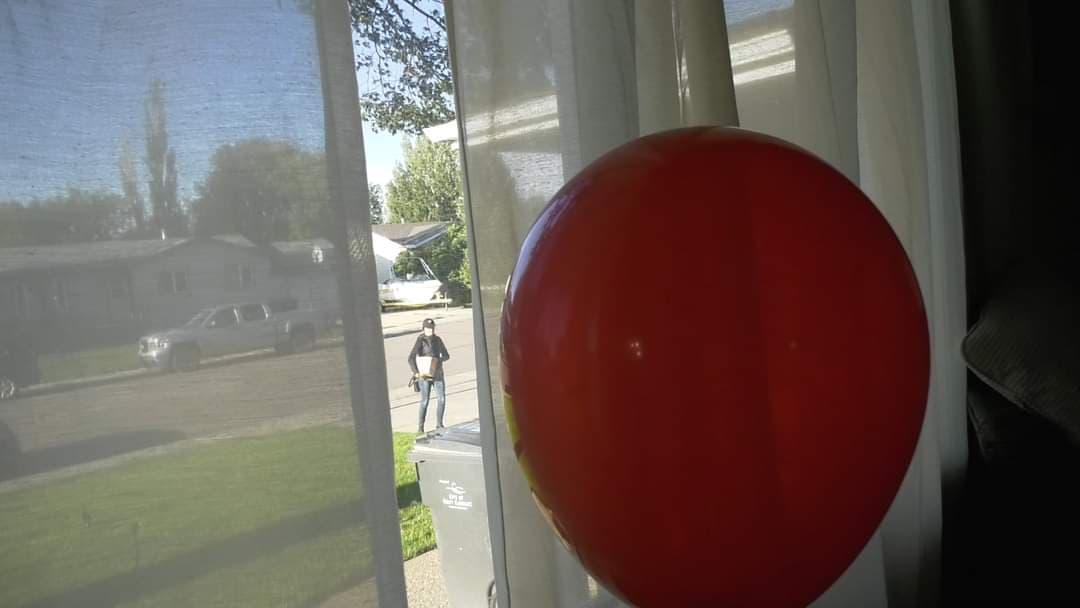 A scene from the new Dead Prairies Productions movie The Killer Balloon.
Swift Current resident Devon Oman continues to use his passion for moviemaking to support the local animal shelter.
His latest movie, The Killer Balloon, was officially released during a sold-out screening at Lucky Charlie's Pub on April 2 that raised $1,300 for the Swift Current SPCA.
This horror comedy is the 14th movie produced by Dead Prairies Productions since 2012. He is a founding member of this non-profit movie company, which creates low-budget, independent horror movies and then donates proceeds from movie screenings and DVD sales to the Swift Current SPCA.
Dead Prairies Productions has raised close to $26,000 to the Swift Current SPCA over the past 10 years, but this amount does not include personal donations made by Oman to the shelter.
His involvement with Dead Prairies Productions has included being a producer, director, writer and actor. It all started with the creation of Zombageddon, a zombie apocalypse movie, in 2012.
Oman told the Prairie Post he is actually "quite surprised" that Dead Prairies Productions has made it to the 10th anniversary year.
"Things change and people move on, and Zombageddon was going to be a standalone film, but a lot of people wanted it to continue," he said. "I myself wanted to continue as a passion, and it just got going and we started snowballing. Ten years later and 14 movies later we're still going. It's mind-blowing to me."
He wrote, produced and acted in The Killer Balloon, a story about various human encounters with an unusual balloon.
"This balloon has a spirit inside of it, and it can talk," he said. "It can do different actions. We actually spoof horror movies too. … This one is more a dark comedy horror and it has that same vibe as those B-movie horror films, basically on the cheesy side."
The movie is for an adult audience only of 19 and older due to some scenes that include strong language, violence and nudity. It has a cast of 17 human actors and the red balloon was the eighteenth cast member.
"That balloon actually signed a contract to do a few more projects for us in the future," he noted. "We have a few other projects in line for it. I actually want to do a sequel to Killer Balloon. I have a whole trilogy in my head, if it works out well."
He added that the 17 roles in the film, which were played by both adult and children actors, all contributed to the success of the movie.
"Every one of them was amazing," he said. "They took their characters and made them their own, and they all played a part to make the plot work."
Jarod Johnson, who has been involved with Dead Prairies Productions since it started, is the voice of the balloon and he also made a cameo appearance in the movie.
"He's the man with the thousand voices," Oman said. "When I wrote the movie, I was like I need Jarod as the balloon, and he was down for it. He's down for most roles as well. He loves using his voice. So I thought it was very suitable to have that unique voice."
This movie will always have special significance for him, because it marked the final acting performance of Darnelle Bahnuick in a Dead Prairies Productions film. She passed away on Sept. 23, 2021 at the age of 34 and Oman paid special tribute to her at the film's premiere.
"It was one of the hardest nights for me for movie events since 2016, when my parents passed away," he said. "I remember when my parents passed away and me being on stage for Zombageddon 2. I was super emotional, because it was the first time not having my parents there. … "So Killer Balloon was a very emotional night too, because my friend passed away. Darnelle was a huge part of Dead Prairies and she was a very great friend to me."
She acted in several Dead Prairies Productions films since 2014, but her involvement and contributions were much wider.
"She helped inspire me quite a bit," he said. "Every project I did, she brought so much excitement to it and she made me more excited for the projects, no matter what. It could be a haunted barn, it could be a movie, it could be double features, whatever. Her excitement just enhanced mine so much and we'd be talking weekly about projects and how we're excited for filming, what we were going to do for the future stuff. So talking about her on stage was very rough, because knowing this was her last film."
The editing of this film was also a difficult process for him, because he had to go through all the scenes in which she made an appearance.
"That's like the last scene you'll ever see of her," he said. "I'm so glad I got to work with her again. I'm glad I got to act with her too, because it's something I'll cherish for a long time. I acted with her once before and I loved it, and I'm glad I got a chance to do it again. I'm happy that she was able to be with us for another movie. We did a tribute for her at the movie release, showing all her clips from movies. It's about 35 minutes long and then I talked to the audience about how much she meant to Dead Prairies and talked about each movie, about what she did to it. With every movie I found she connected with the character. She actually took that character and made it her own, and she brought it to life."
Oman also did another tribute at the movie's premiere to his beloved dog Cujo, who passed away a few months ago. He adopted Cujo from the Swift Current SPCA in 2010 and he was a loyal companion.
The premiere of Killer Balloon was therefore an emotional evening for Oman, but his spirit was also lifted by the positive reaction of audience members to the movie.
"It was mind blowing," he said. "I'm always nervous when I watch my movies, because I don't know how people are going to react to scenes or the movie itself."
He was on stage during the screening of the movie and he was closely watching the reactions of audience members to the various scenes.
"I was listening to people laughing or gasping," he recalled. "Scenes that I never thought people would react to, there was a huge reaction. So it made me super happy. There are scenes where everybody got quiet, because it was a very emotional scene. People came on stage and told me that was their favourite Dead Prairies movie so far, saying it's the best edited, best sound track, and it was just amazing to hear that. I truly wish Darnelle could have seen this final product. That's one thing I really wish I could have shown her."
Oman got the idea for a movie about a killer balloon while filming took place in 2020 for the previous Dead Prairies Productions movie, Vile Spirit.
"I was trying to figure out an idea that's never been done before and that's so bizarre, and I was like what if we do a movie about a balloon," he recalled. "I started to plot things in my head and it actually has a lot of life in it. I didn't think there was going to be a plot to it, but I started rolling with it and this movie actually has a lot of meaning behind it. It has dark humour and there's actually some pretty serious moments that make you think about life."
In addition to providing opportunities for local residents to participate in the making of a movie, Dead Prairies Productions has also featured music of Saskatchewan artists as part of the soundtrack of several movies. The Killer Balloon continues this tradition and the soundtrack includes songs of nine different Saskatchewan band and musicians from various musical genres.
"We have bluegrass, hip-hop, metal, pop, all types," he said. "It's awesome. It's such a variety. … We got a lot of response and going through each band was very difficult, picking the one that fits the scene. There's a lot of Saskatchewan artists out there that I find a lot of people don't know about, and hopefully this opens up doors for them too."
Oman, who has been nominated four times for the SCBEX Citizen of the Year award in Swift Current, feels Dead Prairies Productions grew a lot in the last couple of years. There has been increased support for its events, whether it is the release of a new movie or a haunted barn event, and all funds raised have been donated to the Swift Current SPCA.
He also feels he has gained a lot of experience in the techniques of filmmaking during the past decade and he continues to learn. He is already working on the next movie project, which will be a more serious horror film.
"I like to have the goofy ones and I like to have the serious ones," he said. "I don't like doing the same thing over and over. The next one will be more serious. I'm looking at doing a slasher, kind of like Friday the 13th style. I have the whole plot in my head. I just have to start writing it."
He is planning some future screenings of The Killer Balloon before it is released on DVD. All previous Dead Prairies Productions movies are available on DVD. They are available at the Lyceum Theatre in Gull Lake or through the Dead Prairies Productions Facebook page (@deadprairiesproductions).