Lyric Theatre's Munschapalooza dedicated, will try to help children of the Ukraine
Posted on 22 April 2022 by Prairie Post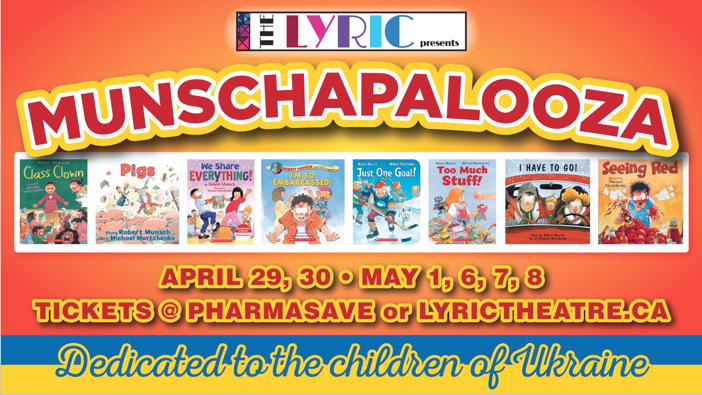 Not to be missed! Opening April 29th The Lyric Theatre's theatrical tribute and dedication to the children of Swift Current and the children of Ukraine.
Opening Friday, April 29 at 7 p.m. at the Lyric Theatre, this year's Robert Munsch festival of stories, brought to life on the Lyric stage, is a fun-filled, fast-paced celebration of the stories of Robert Munsch – SEEING RED, I HAVE TO GO, WE SHARE EVERYTHING, PIGS, CLASS CLOWN, TOO MUCH STUFF, I'M SO EMBARRASSED, JUST ONE GOAL.
This show is dedicated to the children of Ukraine. We call it Children helping children. But for the horror of the war Ukrainian children are suffering, they might be enjoying an innocent, happy childhood, experiencing the joy of children's stories of their own. If you can, please help us help the children of Ukraine by making a donation to the children of Ukraine when you come to the show or by e-transfer – treasurer@lyrictheatre.ca or cheque or money order to The Lyric Theatre, PO Box 1143, Swift Current, SK S9H 3X3. All funds raised will go to the children of Ukraine through the Canadian Red Cross.
Munschapalooza is for the young and young at heart. Bring the whole family! Looking forward to seeing you at the show.
SHOW TIMES
FRIDAY, APRIL 29 – 7 p.m.
SATURDAY, APRIL 30 – 2 P.M. & 7 P.M.
SUNDAY, MAY 1 – 2 P.M.
FRIDAY, MAY 6 – 7 P.M
SATURDAY, MAY 7 – 2 P.M. & 7 P.M.
SUNDAY, MAY 8 – 2 P.M. & 7 P.M.
TICKETS
5 YEARS OLD AND UNDER – FREE!
5 TO 12 YEARS OLD – $5.00
12 YEARS AND UP – $20.00
Tickets available at Pharmasave or online: lyrictheatre.ca, or at the door at the time of performance.