Swift Current Oratorio Choir set to perform
Posted on 13 April 2022 by Prairie Post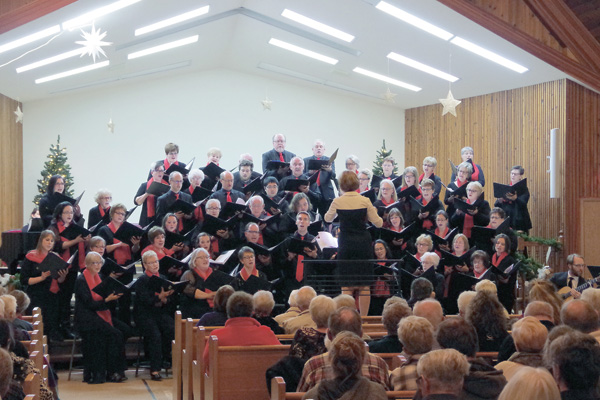 Not a lot of live performances for the Oratorio Choir since this one at Christmas 2019.
The Swift Current Oratorio Choir is back singing! "Light Beyond Shadow," a mini-concert, will be presented at 7:30 on Monday, April 25 at Zion Mennonite Church. Admission is by donation only. This marks the first open concert in two years. Of special note, the choir will perform the haunting hymn, "A Ukrainian Prayer," which will be sung in Ukrainian and English. Acclaimed composer John Rutter has graciously provided the music at no charge, and half of the concert proceeds will be sent to Ukrainian war relief.
Since the spring concert in 2020 was cancelled due to COVID, the choir has slowly been regaining form. September 2021 marked the first time members gathered to rehearse, culminating in an invitation-only "Christmas with Friends" performance—in masks—that was a joy to offer and well received by the appreciative guests.
This spring the choir rehearsed as usual on Mondays, despite numerous storms that forced out-of-towners to stay home. Respecting Zion's pandemic protocols throughout the process, while thrilled to be making harmony again, the loyal choristers are now pleased to present a shorter but special program.
"Light beyond Shadow," by Dan Forrest is in response to the darkness that the COVID pandemic has brought to our lives. It conveys the hope and light that we will experience when the pandemic is over. Other choral music presented will be "Missa True Love," a beautiful four-movement Mass by Korean composer Karl Kang. Each movement has a different flavour – some up-tempo and rhythmic, others lyrical with lush harmonies. The concert will conclude with a rousing piece entitled "I've Got a River of Life" which celebrates the joy of being alive.
The Swift Current Oratorio Choir began in 1973 under the direction of John Poettcker of the Swift Current Bible Institute. Current director Marcia McLean has been at the helm since January 2004 and will lead the choir into its 50th season next year.