Swift Current SPCA launches $22 for '22 fundraising campaign
Posted on 12 April 2022 by Matthew Liebenberg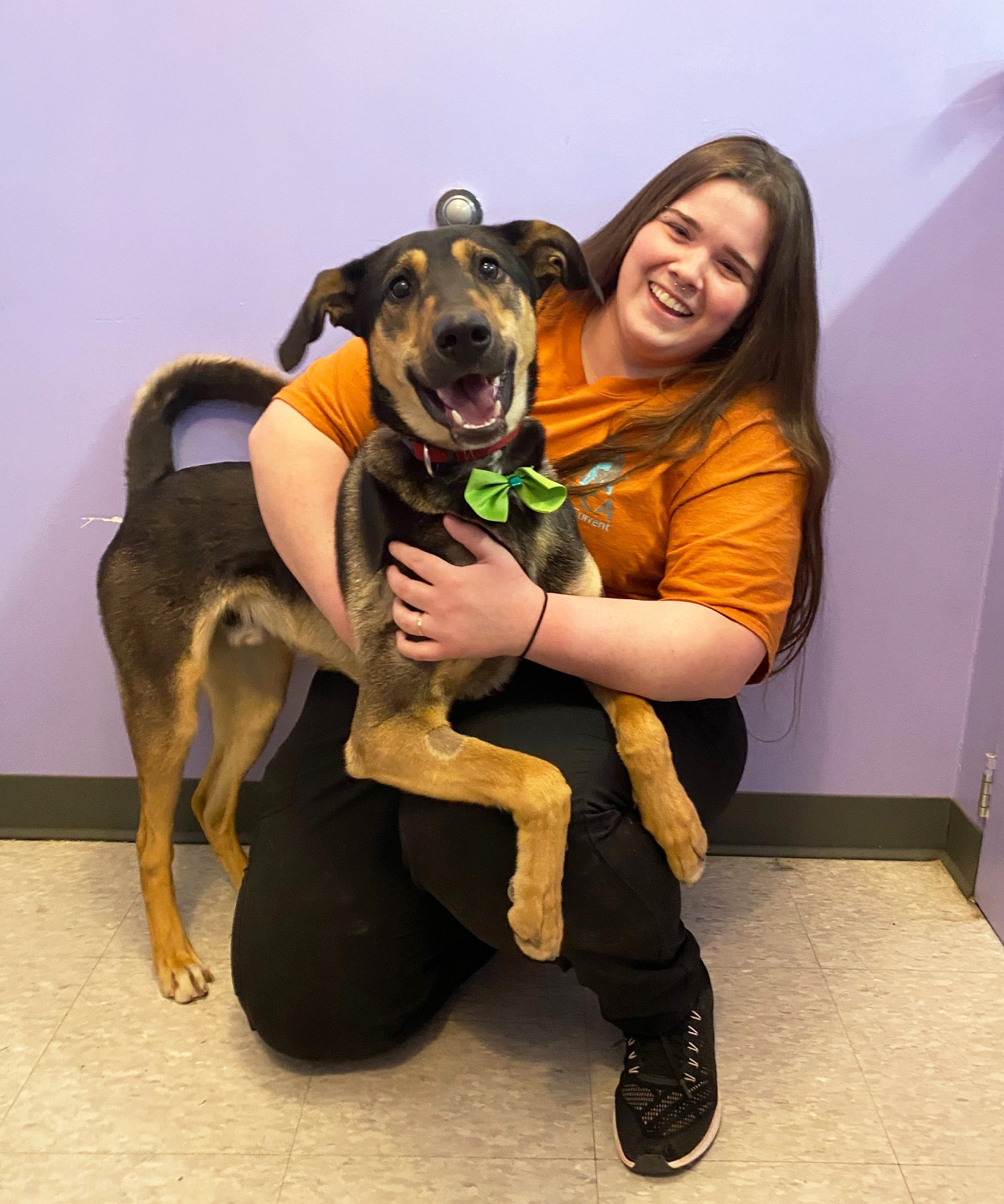 Swift Current SPCA canine kennel attendant Samantha Giroux with one-year-old Orzo, an energetic shepherd mix looking for a new home. Photo courtesy of Swift Current SPCA
The Swift Current SPCA's annual financial appeal is raising much-needed funds for the care of stray, lost and unwanted pets.
The $22 for '22 campaign is asking southwest residents to support the shelter operations with a donation towards the provision of a vital service to the region.
Board President Melanie Weinbender said this annual appeal is an important component of the organization's annual fundraising efforts.
"This is actually one of our big campaigns every year that we do and trying to get people to support," she mentioned.
It has become a tradition to connect the donation amount with the campaign year, and therefore residents are requested to consider making a donation of $22 in 2022. However, any donation amount is welcome and tax receipts are issued for donations of $10 or more.
For 2022 there is also a campaign theme, Keep Calm and Carry On. This theme highlights the challenges the shelter has faced in recent years.
"The last couple of years with the pandemic has been very difficult for charities and any kind of fundraising, because we haven't been able to really go out and do our normal events," she explained. "So the whole theory behind that is let's not panic, let's just keep calm, let's carry on and let's just get it done. Let's get back to some resemblance of normalcy and keep plugging along."
Every dollar raised through this annual appeal will be essential to ensure the continuation of shelter services, because the Swift Current SPCA does not receive any provincial or federal core funding and it is also not affiliated with or funded by the Saskatchewan SPCA.
The Swift Current SPCA is a volunteer-directed, registered charity serving the entire southwest region. It relies on community support in the area to raise more than 80 per cent of its annual budget.
"We're always struggling, but we have to say that the community has been very supportive of us through COVID and we're not in terrible condition, by any means," she said. "However, we basically just make ends meet every month. There are never any extras."
It has been difficult to organize in-person events such as paint nights, Walmart merchandise sales and the annual pet walk since the pandemic started.
"We really have pushed a lot of online presence through Facebook, GoFundMe and stuff like that to try to get people to donate online," she said.
A new and ongoing fundraising initiative that started during the pandemic is income from the donation of recyclable beverage containers. Items can be dropped off directly at SARCAN (use the code SCSPCA) or at the shelter.
Weinbender said they are hoping to resume more in-person fundraising activities during this year, depending on the future COVID-19 situation.
The Swift Current SPCA is a no-kill shelter, and staff and volunteers will care for animals until they are adopted by new owners.
"We never euthanize a healthy animal," she emphasized. "Our euthanization rate for last year was two, and the only reason that we had to do euthanasia is because two animals were very sick and after exhausting any possibility of trying to save them, it became a quality-of-life issue for the animals and it was more humane for us to let them go."
Sometimes it can take a while before an animal will find a new home. In the meantime, the shelter will have a variety of expenses, including daily care and food as well as spay, neutering, vaccinations and other medical costs.
"When we adopt a cat or dog out, we actually lose money," she said. "The cost for the care, the spaying, the neutering, the vaccinations, exceed our adoption rates by far. We always say there's nothing like a free animal. So if you were to go out and grab a kitten because it was free, by the time you spay and neuter and vaccinate that animal, you've paid more than double than what you would do for adopting at the shelter."
The shelter took care of over 400 animals in 2021. There was a large influx of cats that needed care during the past year, and as a result there was a waiting list for animals to be submitted to the shelter.
"There was a lot of stray kittens and a lot of litters of kittens," she said. "So we cannot say often enough, please if you do get a kitten from somewhere other than the shelter, make sure that animal gets spayed or neutered right away. It is very difficult with the size of shelter we have to manage the number of kittens that come into our shelter every month. Right now, we aren't in a bad place, but we are literally within a few weeks of kitten season again. So I anticipate to see that waiting list start to skyrocket again in the next few weeks."
The Swift Current SPCA has been providing shelter services since 1973 and it has been using the current shelter facility since 1990. The aging building adds to the annual expenses due to the need for maintenance and equipment renewal.
The Swift Current SPCA serves the entire southwest and the $22 for '22 campaign is therefore also looking for support from residents across the region.
"We are the only shelter in the southwest corner of Saskatchewan," Weinbender said. "So although we primarily service Swift Current, we do what we can to help out anywhere else and people adopt from us all throughout the southwest."
There are various ways to make a donation to the $22 for '22 campaign. Donations can be mailed to the Swift Current SPCA at P.O. Box 1163 Stn Main, Swift Current, S9H 3X3.
In-person donations can be made at the animal shelter at 2101 Knight Crescent from Monday to Friday, 10 a.m. to 5 p.m., and on Saturday, 10 a.m. to 4 p.m. Another option is to drop off donations at the SPCA Used Book Store at 37 1st Ave NE from Monday to Saturday, 9:30 a.m. to 11:30 a.m. and 1-5 p.m.
Donations can also be made online at the Swift Current SPCA website (www.spcaswiftcurrent.com). Another option is to send donations through an electronic funds transfer (EFT) to treasurer@spcaswiftcurrent.com