City clerks gather in Swift Current for annual spring conference
Posted on 8 April 2022 by Matthew Liebenberg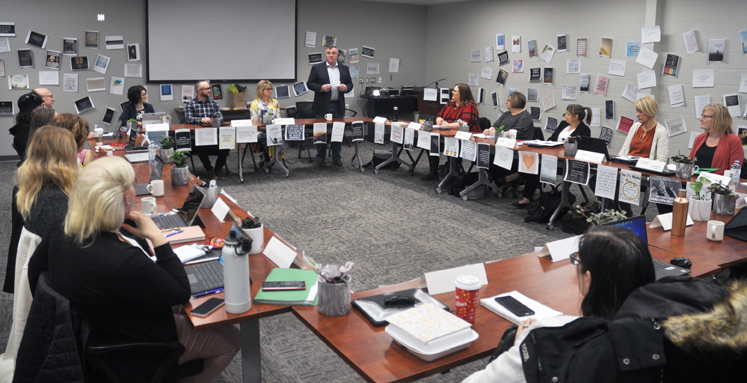 Swift Current Mayor Al Bridal (standing) brings greetings on behalf of the City at the 2022 SACC spring conference, March 31. Seated next to him is Swift Current City Clerk and SACC President Jackie Schlamp.
City clerks from across Saskatchewan gathered in Swift Current for their annual spring conference.
The 2022 Saskatchewan Association of City Clerks (SACC) spring meeting was held in the conference room at the Innovation Credit Union iPlex, March 30 to April 1.
The conference was chaired by Swift Current City Clerk Jackie Schlamp, who was elected in October 2021 as SACC president for a two-year term.
The SACC was established in 1990 and her election is notable, because it is the first time that a city clerk from outside Regina or Saskatoon was elected to serve as president of the association.
"It was unanimous by my peers," she told the Prairie Post. "So that was a true honour."
The hosting of the SACC spring conference in Swift Current during her term as president is a coincidence, but she said it is certainly nice to have the event in the city while she is in this role.
Swift Current Mayor Al Bridal brought greetings on behalf of the City at the start of the second day of proceedings, March 31.
"It's always great to have an opportunity to show off our city," he said during his remarks.
He referred to the important role of city clerks within a municipal administration, and noted that his role as mayor will certainly be more challenging without that support.
"Mayors like myself and councils, you know how heavily we rely on you as city clerks," he said. "Beyond keeping us organized and up to date with all the pertinent information we need to govern within our communities, you ensure that we follow appropriate legislation and procedures in our efforts, and you keep the lines of communication open between administration, council and the general public."
He expressed appreciation towards the group of city clerks for their contribution towards their local authority and community.
"I think it is very safe to say on behalf of all mayors and councils in the province of Saskatchewan how much we sincerely appreciate your professionalism, your dedication and your commitment to your communities," he said. "I don't know each one of you, but I know our city clerk and I know our assistant city clerk and I know how much effort they put in and I can't imagine it's any different. I think it's almost like a calling."
The walls of the conference room were covered with a variety of motivational messages, some with a more serious tone and others more lighthearted. Schlamp said it reflects a conference theme, which is about the need for balance and self-care for city clerks in their busy working lives.
"Because we're always looking after everybody else and everything else that we forget to take care of ourselves," she noted.
The duties of a city clerk are varied and responsibilities include administering a city's legislative obligations in accordance with various acts and serving as electoral officer during municipal elections.
"A city clerk is the historian of the records of the city," she explained. "City clerk jobs are based on legislation. It's ensuring that the working of the city is following the legislative act that we're governed by. So our bylaw processes, the tax enforcement, those kind of things are all legislative works and the role of the city clerk. We not only prepare and do everything for council meetings, but it is the historian of the city and making sure the city is following the legislative processes."
A community must have a population of 5,000 or more to receive city status in Saskatchewan. There are currently 16 cities represented within the association.
"We do offer for non-members to come and join us on our meetings when they are bordering the 5,000 and then once they reach it, they become part of our association," she said.
The SACC serves as a forum for the profession in the province. It provides members with an opportunity to connect with other city clerks. The association's objectives include to lobby for legislative improvements in their area of jurisdiction and to liaise with relevant groups and organizations.
"Our association is currently developing a strategic plan, setting out our vision and goals as to what we want to establish over the term of the next four years," she said.
The program for the SACC spring conference in Swift Current included discussions about their strategic plan, presentations by officials from the Saskatchewan Ministry of Government Relations about changes to legislation of relevance to local authorities, and a professional development session on the final day.